Nearly two months after the Taliban seized power in Afghanistan, the human rights crisis continues to worsen. Afghan media and their families have become targets as the Taliban has detained some journalists, arrested and shot others, and forced female reporters off the air.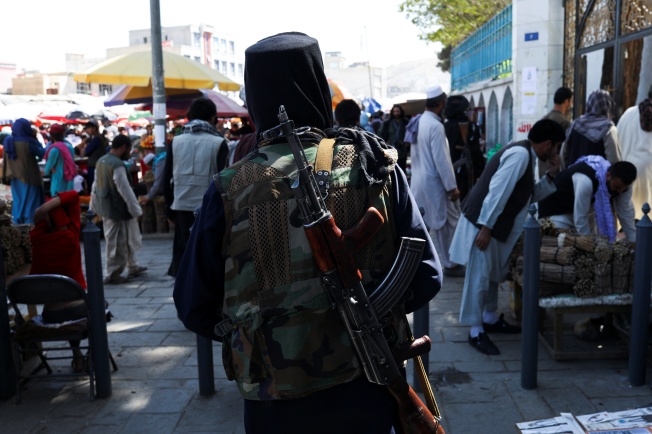 CPJ continues to support Afghan journalists. To date, we have helped 46 journalists and their families flee the country and have assisted in the evacuations of hundreds more. Our work in Afghanistan has inspired an outpouring of support, which has included major gifts by the Emerson Collective, the Leon Levy Foundation, Jennifer Krach, the Hollywood Foreign Press Association, the Pulitzer Prize Board, and Google.
This month's edition of CPJ Insider follows up on last month's Q&A with CPJ Emergencies Director Maria Salazar-Ferro. Here, we speak to Lucy Westcott, CPJ's Emergencies associate, who traveled in September to Qatar to help Afghan journalists we evacuated. (Here, check out Westcott's diary from Doha.)
Can you talk about what you did in Doha?
I went to Doha to follow up on some of the incredible groundwork laid by CPJ consultant Elisabeth Witchel, who met with Afghan journalists there in late August.
Our work consisted of figuring out the logistics of resettlement for the journalists. We made sure their passports and visas were up to date. We purchased their airline tickets and made sure the flights were direct as many of them didn't have clearance to enter other countries. We helped the Qataris organize COVID-19 tests and transport them to the airport. We sent the journalists' documents to the resettlement countries ahead of time. We shepherded them onto the plane. And, of course, we prayed—and felt really ill—until they arrived safely at their destination countries.
Many of these journalists went to Canada and Ireland. Some are involved in processes that will eventually bring them to the United States. For some of the journalists, the path was very clear-cut. For others, it was not. But this is the nature of our work.
Tell me about some of the journalists you met.
I got to know a woman named Wajiha Sayar, who worked for the BBC for 20 years as a radio journalist and gave literacy lessons to children and adults through the radio. She also reported on women's rights, which is what drew the attention of the Taliban to her. When CPJ got her on a flight out of Kabul, "With the clothes that we had and a few things, we left our home," she told me. "We left everything we had."
She and six of her family members are now in Ireland.
I also got to know journalist Ahmad Wali Sarhadi, whose relationship with his housemate, Khalid Andish, in Doha was great. They got along so well. Andish doesn't speak English as well as Sarhadi, so they were a team. Andish told us that his family in Kabul is still being threatened because of him, but that they are happy that he is safe. If CPJ hadn't contacted him, he told me, "we would have been arrested or killed."
CPJ is taking a three-pronged approach to helping journalists in Afghanistan. Tell me about it.
The first part of this effort is getting journalists out of Afghanistan, which the whole team is working on. Just last week, we helped get a group of journalists to Pakistan. But the evacuation efforts come together at the last minute. If someone learns of a flight from Kabul and tells us about it, we immediately see who on our list can be on it. But that process is piecemeal.
It's a very difficult situation because so many would like to leave. So we're trying to be as supportive as possible. That's why we're here.
The second part of this effort is helping journalists who get out of Afghanistan resettle in another country, sometimes by way of a third country. We know the pathways for some of them, but not for all of them. So for those who don't have a clear path, our staff and our board members speak to governments to see if they're willing to accept Afghan journalists and their families. Ireland was a great example. They were willing to do it, and that was fantastic. Our board member Jon Williams helped us to support an amazing group of women who worked with Zan TV and get them from Afghanistan to Qatar and then on to Ireland.
The third part of our effort, of course, is grantmaking. We are giving financial grants to journalists who have been resettled and are making sure they're safe and happy and able to have a new life and hopefully continue their journalism. We're also still supporting the journalists in Afghanistan. Together with our partners in the Journalists in Distress network, which has been an incredible resource, we are assessing who has been in touch with us and are determining their status, their needs, and the ways we can help them.
Meanwhile, of course, we're also helping journalists under threat in the rest of the world. It's just that the scale of this crisis is really quite unprecedented, so our efforts are focused here.
What can readers do?
You can support CPJ, which is a really great way to help. You can also support the work of Afghan journalists who continue to report from their home countries. If you work for a newsroom or a media outlet and you're reading this, please consider creating paid opportunities for Afghan journalists in exile. Some news outlets have provided tremendous opportunities for Afghan refugee journalists this way.
Every little bit helps.
---
Must-reads
In her "Doha Diary," CPJ's Lucy Westcott recounts her meetings with Afghan journalists and her work to ensure they were able to find new homes.
CPJ's Emergencies director Maria Salazar Ferro highlights CPJ's efforts on helping Afghan journalists and describes how there "remains a lot of uncertainty and a lot of fear about what's to come."
In a Q&A with CPJ, Saad Mohseni—CEO of the Moby Group, which heads Tolo News—discusses how the Afghan media is playing "an important role in providing people with hope."
---
Spotlight on press freedom: #NotAllHeroesWearCapes
In a book released last year, Forbes' Jessica Bohrer and her father, Sandy Bohrer, teach children the importance of free speech by likening it to a superpower.
"Your Voice Is Your Superpower" describes how everyone has a superpower: their voice. "It might be hard to listen, when we disagree," the book says, "but that's what makes it possible for ALL speech to be free."
Buy a copy of the book today and teach your child how, by using their voice, they can help people and can change the world.
---
CPJ in the news
"How the US helped, and hampered, the escape of Afghan journalists," The New York Times
"Afghan journalists need US help," The Wall Street Journal
"'I thought this was the end of my life': Afghan journalists describe savage beatings by Taliban," CNN
"Violent attacks on Afghan journalists by Taliban prompt growing alarm," The Guardian
"Top Afghan TV network stays on-air despite fear of Taliban," Dawn
"Afghan VOA reporters stuck in Kabul fear they will be forgotten, says colleague who made it out," NBC