CPJ in 2020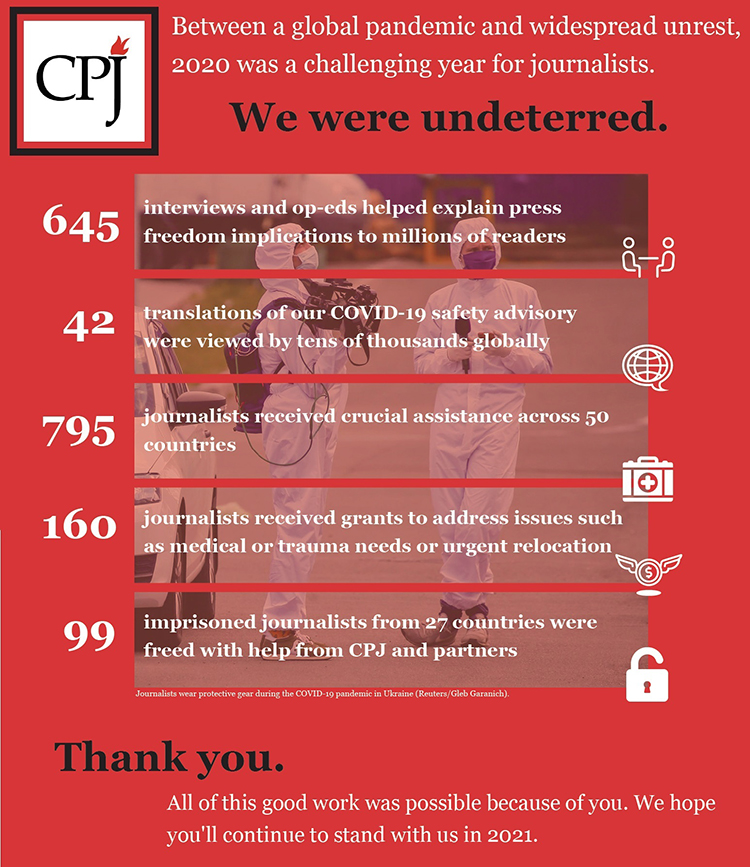 ---
In US, threats to journalists persist after transition of power
For months, CPJ's Emergencies team has been issuing safety advice for journalists covering the U.S. election and election-related protests. When on January 6 pro-Trump supporters stormed the Capitol in Washington, we immediately published a statement urging all people to respect the work of the press. The next day, we called on U.S. authorities to thoroughly investigate attacks on journalists and hold the perpetrators to account. "Journalists and news crews covering these events, which are of paramount public interest, must be able to do so freely and safely, with the support and protection of law enforcement," our executive director, Joel Simon, said.
During the riot, journalists, including outlets such as The New York Times, The Washington Post, and Politico, were harassed, threatened, and attacked, and some had their equipment broken. (In one case, a journalist photographed a noose that was fashioned out of a camera cord and hung from a tree.) CPJ spoke to journalists and highlighted short interviews with them in a feature we published the next day. One told CPJ she was hit with rubber bullets and that three different people threatened to shoot her that day. Another described being briefly detained by police.
In the lead-up to and during the presidential inauguration, CPJ monitored social media and news reports and continued to distribute safety information across all of our channels, alert to the possibility of further violence.
Despite the transition in Washington—and Twitter's banning of Donald Trump, who it says incited violence on the platform—threats to journalists persist. For years, Trump's rhetoric has served to villainize, demean, and discredit the media. In a short feature published in January, CPJ's U.S. researcher Katherine Jacobsen examined how and why hostility against the press in the U.S. is unlikely to diminish any time soon.
"Donald Trump made anti-media rhetoric a staple during his time in office," Jacobsen said. "While distrust in the media certainly predated his presidency, Trump framed the press as an 'enemy of the people' and stoked a deep hatred of the media among his supporters. We expect these anti-press sentiments will linger, even with the change in administrations."
---
Turkey will not deport Mosaed, Iranian journalist and CPJ awardee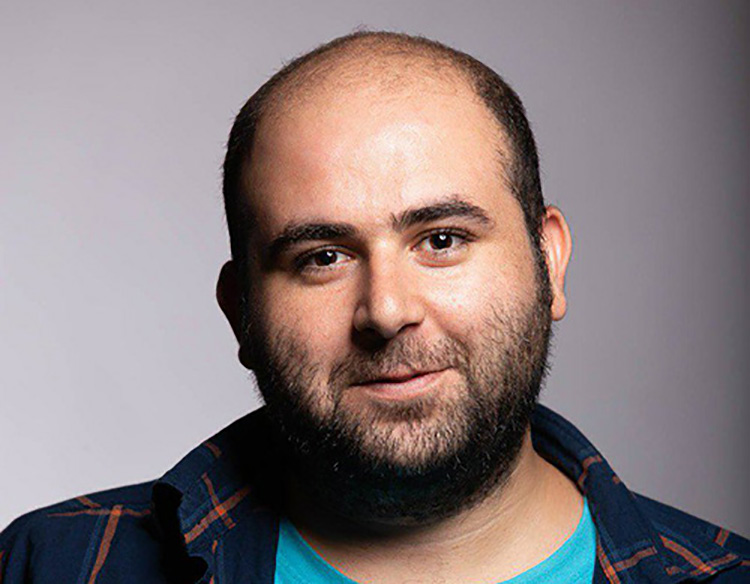 Just before midnight on January 18, Mohammad Mosaed crossed into Turkey from Iran on foot. When the Iranian journalist and winner of CPJ's 2020 International Press Freedom Award was detained by border police, he contacted CPJ and told us he feared he would soon be handed over to Iranian border control. He said he fled Iran after he was summoned by authorities to begin serving his jail sentence in two days' time.
Mosaed, who has long been a target of the Iranian government, was sentenced to four years and nine months in prison in August on charges of "colluding against national security" and "spreading propaganda against the system." CPJ in November honored him with an award to highlight the risks that he and other Iranian journalists face in their work.
Mosaed told Turkish authorities he was a journalist and had fled his country to avoid imprisonment–and he requested international protection.
CPJ immediately issued an alert, calling on Turkish officials to halt the deportation of Mosaed. "We believe that Mohammad Mosaed has a well-founded fear of persecution should he be returned to Iran," we said, urging Turkish authorities to ensure his rights are protected and to consider his request for political asylum. CPJ directly contacted Turkish authorities and began coordinating support with our international partners. We also made a financial grant for Mosaed to retain a Turkish lawyer and ensure an expedited review of his application.
On January 19, Mosaed's lawyer and a government spokesperson told CPJ that the journalist would be held at a Turkish migration center for 14 days, according to the country's COVID-19 regulations, and that, according to senior Turkish officials, deportation was "not on the table." On January 27, the journalist was released from custody. He is staying with friends.
---
Our next step in the quest for justice for Khashoggi
When it comes to seeking justice in the murder of Washington Post columnist Jamal Khashoggi, the question remains: What did the U.S. government know and when did it know it?
CPJ continues to demand answers. This past month, before the U.S. Court of Appeals in Washington, CPJ argued that the U.S. intelligence community should confirm or deny the existence of documents that may provide information on its duty to warn the journalist of any threats to his life before his murder—or provide a more detailed explanation of their refusal to do so. In 2019, we filed requests under the Freedom of Information Act with members of the intelligence community seeking information related to their awareness of threats to Khashoggi. After those requests were ignored, CPJ joined a lawsuit, which it now leads.
About a week after the hearing in Washington, during a Senate confirmation for the role of Director of National Intelligence in the Biden administration, Avril Haines said that if she was confirmed she would order the release of an unclassified report about Khashoggi's murder. "I will follow the law," she said.
CPJ and others have worked for years to keep a spotlight on Khashoggi's murder. Our work has been helped immensely by two recently released documentaries: Bryan Fogel's new film, "The Dissident," highlights efforts by Khashoggi's fiancée and global dissidents to expose his killers, and Rick Rowley's "Kingdom of Silence" examines Khashoggi's career and the lasting impact his killing has had on U.S.-Saudi relations.
To stay updated on CPJ's efforts to secure justice in Khashoggi's murder, click here.
---
Must-reads
A decade after the Arab Spring, journalists in the media still face grave threats. In this feature post, CPJ's Middle East and North Africa team examines the state of press freedom in the region.
The decision not to extradite WikiLeaks founder Julian Assange to the United States benefits Assange—but imperils press freedom, writes CPJ's U.S. researcher, Katherine Jacobsen.
CPJ's consultant technology editor, Madeline Earp, analyzes how Twitter's permanent suspension of Trump's account has reinvigorated the debate on Section 230—and how the statute's reform could have unintended consequences for the press.
---
CPJ in the news
"Covering pro-Trump mobs, the news media became a target," The New York Times
"Reporters covering the Capitol attack were used to harassment and heckling. But Wednesday was different," Poynter
"CPJ recommends reporters covering inauguration avoid wearing press lanyards," The Hill
"'It was pure rage and fury': Journalists under fire while covering chaotic attack on the Capitol," Variety
"Threats against journalists feel more dangerous in 2021," Crosscut
"Turkey refuses to deport Iranian journalist," Middle East Monitor
"Turkey will not deport dissident journalist to Iran," TRT World
"Imprisoned Chinese journalist Zhang Zhan tops January ranking of One Free Press Coalition's '10 Most Urgent' press freedom cases," Forbes