CPJ Insider: Spring 2020 Edition
Thank you for your incredible support of CPJ during these unprecedented times. We are especially grateful to Twitter for its recent gift of $500,000 in support of our work to confront press freedom violations during the COVID-19 pandemic.
Our staff is working remotely—as a result, we may be slightly delayed in acknowledging checks that are mailed to our office. We encourage you to donate online instead. Thank you for your patience and for continuing to stand with CPJ.
---
CPJ launches #FreeThePress campaign
CPJ launched a global campaign to #FreeThePress amid the COVID-19 pandemic. The virus could deliver a death sentence to journalists in prison, many of whom languish in close quarters and unsanitary conditions. Just a few months ago, in our 2019 prison census, CPJ found at least 250 journalists behind bars for their work.
We also wrote an open letter to world leaders, calling on them to release all jailed journalists immediately. That letter was featured in our full-page ad in The Washington Post.
Committee to Protect Journalists (@pressfreedom), a @wppressfreedom partner, today published an ad in The Post calling on governments to release all journalists from their prisons in the midst of the covid-19 pandemic. #FreeThePress pic.twitter.com/OqXp68E2bb

— The Washington Post Press Freedom Partnership (@wppressfreedom) March 30, 2020
Now we need your help. Join our campaign, urge leaders to take action, and help save the lives of jailed journalists worldwide. Please sign our petition and consider sharing it among your friends, family, and colleagues.
---
CPJ provides crucial support to journalists amid COVID-19 pandemic
In a recent letter to our supporters, CPJ Executive Director Joel Simon described how we remain dedicated to our essential mission of defending the rights of journalists reporting the news all over the world. As Tedros Adhanom, director-general of the World Health Organization, has made clear, accurate and timely information is essential to fighting the COVID-19 pandemic. We couldn't agree more.
This is why CPJ is so concerned that governments around the world are cracking down on the media instead of protecting journalists. In South Africa, the government enacted a new law that criminalizes the publication of "disinformation" about the pandemic, and in Turkey, officials detained seven journalists in reprisal for their reporting. Today, amid this unprecedented global pandemic, CPJ is working hard to ensure the free flow of information.
We are also committed to keeping journalists safe. We have disseminated detailed, accurate, and timely safety information in dozens of languages, and are working closely with newsrooms and journalists. We recently introduced an "Ask the Expert" feature, in which individual journalists can ask specific questions or newsrooms can request an online session with our safety experts. Both of these resources are available on our website, where we are publishing all of our research and safety information. We are also featuring a series of Q&As with journalists covering the pandemic all over the world.
Meanwhile, we continue to post updates on our coronavirus coverage on Facebook, Twitter, and Instagram.
---
Beyond Coronavirus: CPJ fights for Khashoggi, urges Guatemala to improve media environment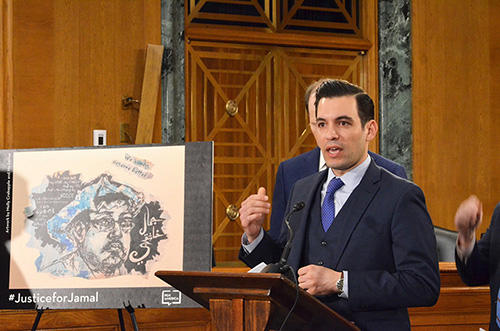 In early March, CPJ's Washington advocacy manager, Michael De Dora, spoke at a press briefing on Capitol Hill alongside Senator Ron Wyden (D-OR); Representative Tom Malinowski (D-NJ); Hatice Cengiz, the widow of Washington Post columnist Jamal Khashoggi; and representatives from other press freedom organizations to demand that the U.S. government seek #JusticeForJamal.
More than two years after The Washington Post published a report showing that the CIA concluded with high confidence that Saudi Crown Prince Mohammad bin Salman had ordered Khashoggi's murder, Congress passed a defense funding bill, later signed into law by President Trump, which required the Office of the Director of National Intelligence to send legislative bodies an unclassified report on Khashoggi's murder by the end of January 2020.
The report was sent to Congress a month late, and was heavily redacted. The bulk of it was classified.
"The administration must release an unclassified report on Khashoggi immediately," De Dora said at the press briefing. "And Congress must help ensure that both the Saudis and this administration are held accountable for their failures."
Watch the full press briefing here:
Besides ensuring that journalists can safely report on elections, we also work to encourage elected leaders to promote press freedom and urge them to improve the media environment in their countries.
A perfect example of CPJ's two-pronged approach is in Guatemala.
In the run-up to the June 2019 election in Guatemala, journalists told CPJ they were being attacked and harassed, especially online, over their coverage of ongoing corruption investigations. CPJ's Emergencies team worked closely with our Central and South America program to develop a Journalist Safety Kit for journalists reporting on the elections, and distributed it in Guatemala in both English and Spanish. The toolkit contained information for editors, reporters, and photographers on how best to prepare for the election and mitigate digital, physical, and psychological risks.
Late last month, CPJ published "Trust deficit," a report highlighting how the new administration of President Alejandro Giammattei has the opportunity to reverse years of declining press freedom. For instance, a series of restrictive laws, highlighted in an infographic, are still on the books. But in order to put the country on the right track, Giammattei and his administration have some work ahead of them.
Alongside the report, CPJ also published a series of recommendations to the president, the attorney-general, and Congress. The recommendations highlight the need to implement and fund a journalist protection plan; to fund and provide resources for the Special Prosecutor's Office for Crimes Against Journalists; to prioritize investigations into journalist murders; to allow the media unrestricted access to all regions to report on the news; and to reform laws that restrict the press. For a full list of the recommendations, click here.
---
Stay tuned!
In April, CPJ will publish a report on the Trump administration and the press written by Len Downie, Jr., former executive editor of The Washington Post, who also wrote CPJ's 2013 report on Obama and the press.
---
CPJ Mentions & Op-Eds
"COVID-19 is spawning a global press-freedom crackdown," Columbia Journalism Review
"Coronavirus Consequence: Crackdown on Press Freedom World-Wide," The Wall Street Journal
"Journalism hit hard by corona crisis," EUObserver
"All journalists jailed globally must be freed amid COVID-19 pandemic," The Nigerian Voice
"Simon says 'repeal laws curbing press freedom'," Malaysiakini
"Turkey Seeks To Release 90,000 Inmates From Overcrowded Jails, But Not Political Prisoners," International Business Times
"World in Progress: Press freedom during the coronavirus pandemic," Deutsche Welle
"Watchdog: Guatemala Needs to Win Back Trust of Media," Voice of America
"Greenwald charges are 'existential threat' to journalism in Brazil, says Edward Snowden," The Guardian
"Justice for Aziz Memon," Tribune
"CPJ demands release of 2 Kashmir journalists," Kashmir Reader
"Mexican Journalist Shot to Death in Eastern State of Veracruz," Voice of America
"The United States Can't Win Playing China's Media Games," Foreign Policy
---