Thank you for standing with us in our work protecting journalists around the world. Together, we will defend freedom of expression, democracy, and the public's right to know. Here are some highlights of 2019, made possible only with your support:
---
Journalist killings dropped sharply in 2019, though imprisoned tally remained high
The number of journalists killed around the world because of their work fell sharply in 2019, as wars subsided and a record low number of journalists were murdered in reprisal for their reporting. Twenty-five journalists were killed, the lowest number CPJ has recorded in 17 years and a decline from 56 in 2018. However, for the fourth straight year, at least 250 journalists were behind bars when CPJ conducted its annual prison census on December 1.
At least 10 journalists were targeted for murder in 2019, the smallest number we've seen since we began tracking in 1992. The drop comes at a time of unprecedented global attention on the high-profile cases of Saudi journalist Jamal Khashoggi, Malta's Daphne Caruana Galizia, and Ján Kuciak of Slovakia, whose brazen assassinations have been major focuses of CPJ advocacy.
The drop in killings and renewed focus on impunity are welcome after several years that have been the most dangerous for journalists in CPJ's history. However, the threats have not passed. The number of journalists imprisoned globally for their work in 2019 remained near record highs, as China tightened its iron grip on the press and Turkey stamped out virtually all independent reporting. While the majority of journalists imprisoned worldwide face anti-state charges, the number charged with "false news" rose to 30 this year.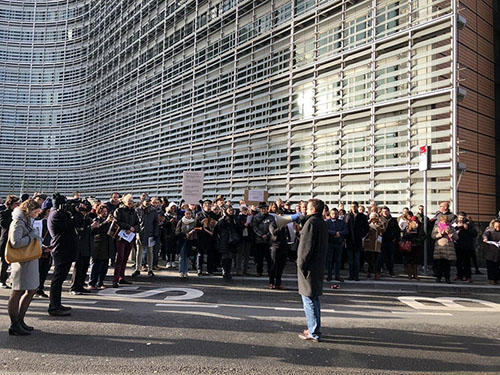 Murder is still a grave problem in Mexico, which remains extremely dangerous. At least five journalists were murdered in Mexico in retaliation to their work this year, and CPJ is investigating another six killings to determine if journalism was the motive. In response, CPJ held a summit on press freedom in Mexico in June with an array of local partners that engaged more than 400 journalists, activists, and government officials in frank conversations about how to tackle the epidemic of journalist murders and improve the media climate. In November at a press conference, CPJ's Mexico representative, Jan-Albert Hootsen, asked President Andrés Manuel López Obrador if he would commit to strengthening the Federal Mechanism for the Protection of Human Rights Defenders and Journalists, which provides protective measures to some 365 journalists. The president said he is fully committed to supporting and funding the mechanism "with no limits in the budget to protect journalists."
We do all we can to spotlight what is lost when journalists' voices are silenced. In March, CPJ launched a creative multimedia initiative called "The Last Column" that memorializes journalists who lost their lives by presenting 24 moving, hard-hitting, and sometimes chilling final works of fallen journalists. We also put on a special exhibit at the annual Photoville festival in New York City's Brooklyn Bridge Park. "Journalists Under Fire" featured photographs by journalists from around the world who were killed, imprisoned, or threatened in connection to their work.
---
Our fight against impunity continues
Murder is the ultimate form of censorship, and impunity breeds fear. That is why CPJ has carried out a global campaign for justice in journalist murders for the past 12 years. We report on and document each case, meet with government officials, and campaign for convictions. In 2019, CPJ helped win convictions in 38 journalist murders, a record for our organization. The number includes 32 Philippine journalists and media workers who were slain during the Maguindanao massacre of 2009 in the single deadliest event for the press in history. CPJ has advocated for years for justice in their case.
In December, after 10 years of impunity, a Philippine court handed down murder convictions to the massacre's masterminds, Andal Ampatuan Jr., his brother Zaldy Ampatuan, and 26 accomplices, including senior police officials, and sentenced them to up to 40 years in prison, without parole. Their brother, Sajid Islam Ampatuan, was acquitted. "It is a long-awaited moment in the global fight against impunity in journalist killings, but it is also bittersweet," wrote CPJ's impunity campaign consultant, Elisabeth Witchel. "For more than 10 years, friends and families of the victims have waited for justice and closure." Still, today, at least 80 suspects remain at large.
Sometimes justice takes even longer. In April, almost 20 years to the day, we celebrated the conviction of four former Serbian state security officers for the April 1999 murder of Slavko Ćuruvija, a newspaper and magazine owner who was an outspoken critic of Slobodan Milosevic's regime.
Among the major fights we waged this year was for justice for Washington Post columnist and U.S. resident Jamal Khashoggi, who was brutally murdered in the Saudi consulate in Istanbul in October 2018. We repeatedly urged the U.S. government and the United Nations to provide transparency and justice. In May, CPJ Executive Director Joel Simon testified alongside Hatice Cengiz, Khashoggi's fiancée, at a hearing of a subcommittee of the House Committee on Foreign Affairs, where he called on Congress to speak out against press freedom violations. We worked with U.N. Special Rapporteur Agnès Callamard on her investigation, and stood beside her when she presented a hard-hitting report in June. In September, CPJ filed a brief in the U.S. District Court for the District of Columbia seeking to force the Trump administration to disclose documents about any threats to Khashoggi that the intelligence community knew of before his murder—and what, if any, warning he was given.
We also took to the streets. In February, we rallied with allies in the #JusticeForJamal campaign in front of the White House to demand that the Trump administration share information it had about the murder of Khashoggi, as required by the Global Magnitsky Act. And on the one-year anniversary of his killing in October, CPJ and press freedom partners held a vigil outside the Embassy of the Kingdom of Saudi Arabia in Washington, D.C.
One impunity case CPJ is keenly focused on resolving is the assassination of Caruana Galizia, an investigative journalist who was killed in a car bombing in Malta in late 2017. After almost two years of inaction, authorities in November arrested an alleged mastermind, Yorgen Fenech–Malta's wealthiest businessman and a subject of Caruana Galizia's Panama Papers investigation–as he tried to flee in his yacht. Fenech's close ties to government officials led to a string of high-level resignations, including the prime minister, though he aims to hold on until early 2020. Working closely with the Caruana Galizia family, CPJ has called on Maltese authorities to ensure an independent and impartial investigation and provide justice that holds every person involved in her death to account.
---
We helped free imprisoned journalists
The number of journalists in jail for their work remains extremely high, but CPJ continues to fight for their freedom.
We helped free 81 journalists in 2019, among them Lucía Pineda and Miguel Mora of Nicaraguan broadcaster 100% Noticias, who spent six grim months in detention on anti-state charges in connection with their coverage of political unrest that swept the country. Their release on June 11, with all charges dropped, came one day after The Washington Post ran a full-page ad demanding their liberty as part of our Press Freedom Partnership. CPJ's advocacy helped ensure that Mora and Pineda were included as part of a mass release of political prisoners.
In November, the two journalists stood onstage in New York City and received CPJ's 2019 International Press Freedom Award from New York Times publisher A.G. Sulzberger. "Never before had we understood the true value of press freedom as we do in these trying times for our people and our homeland," Mora said in his speech. "It is a freedom that holds within itself all other freedoms. We cannot minimize it, trivialize it, give it away or delay it. It is a matter of life or death."
---
We expanded our work in the United States
CPJ continues to expand our work in the U.S. to protect the rights of the press during a time of extraordinary pressure as President Donald Trump has continued to wage a self-declared "war" on the news media.
In January, we reported on U.S. border agents' questioning of at least eight journalists about their reporting on a migrant caravan in Mexico, and we demanded that U.S. Customs and Border Protection stop its harassment of journalists crossing the border. In February, we raised concerns about the safety of journalists covering President Trump's rallies, following the assault of a BBC camera operator at a rally in El Paso, Texas, and called on the president to moderate his inflammatory rhetoric against the press. We also surveyed women and gender non-conforming journalists about the harassment they experience, especially online; published a report on what we learned; and incorporated those lessons in updated safety guidance.
In August, CPJ produced LA Press Freedom Week in partnership with the Hollywood Foreign Press Association and the Los Angeles Times. Over five days we engaged the local public and the journalistic community in a conversation about the challenges to press freedom and how to preserve a vigorous press.
We continued to work with the U.S. Press Freedom Tracker, a website we co-founded in 2017 with the Freedom of the Press Foundation that documents press freedom incident in the U.S. The Tracker's arrest data reveals that the vast majority of journalists detained in the U.S. are caught up in "kettling" procedures to arrest demonstrators. With this insight, we have begun advocating with cities to stop journalist arrests at protests. In March, we sent a letter to the Sacramento chief of police objecting to the arrest of three journalists at a protest and asking for a meeting to discuss police conduct. In April, CPJ and other press freedom groups met with the chief, where he committed to changes in police protocols. Fulfillment of those promises has been slow in coming, but our coalition is currently engaging with the police department on new guidelines, being drafted now, that will overhaul how Sacramento police deal with the media, including at protests.
We are also fighting back against the deteriorating media climate in the country. CPJ is working closely with the Reporters Committee for Freedom of the Press and more than 40 media partners on the "Protect Press Freedom" campaign, which we launched in November to drive home the message that journalism and a vocal press are vital to a democracy and free society and to inspire the American public to stand up for press freedom and its right to be informed.
---
We raised a record-breaking $2.7 million at our 2019 IPFA fundraiser
In November, CPJ honored four journalists at its 2019 International Press Freedom Awards dinner for bravery in the course of their work: Brazilian reporter and columnist Patrícia Campos Mello, Indian freelance investigative journalist Neha Dixit, Nicaraguan broadcasters Lucía Pineda Ubau and Miguel Mora, and Tanzanian digital publisher Maxence Melo Mubyazi.
Zaffar Abbas, the editor of Dawn, Pakistan's leading daily, received CPJ's Gwen Ifill Press Freedom Award, which is presented annually to an individual who has shown extraordinary and sustained achievement in the cause of press freedom.
The gala dinner, attended by nearly 1,000 guests, raised more than $2.7 million for CPJ's work protecting journalists around the world. This new record was achieved with the generous support of dinner chairs Laurene Powell Jobs and Peter Lattman of the Emerson Collective, an appeal matched by the John S. and James L. Knight Foundation, and host Shep Smith's surprise announcement of a $500,000 donation.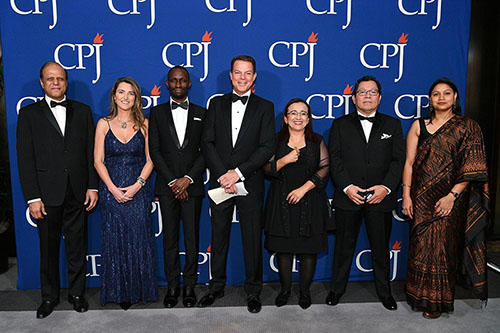 The honorees and a CPJ delegation met with Vice President Mike Pence at the White House a few days before the dinner. The journalists shared their concerns with the vice president that President Trump's "war" on the media is endangering journalists abroad, where authoritarian leaders are mirroring his rhetoric and cracking down on the press.
CPJ also welcomed Wa Lone and Kyaw Soe Oo to the stage. The reporters for Reuters in Myanmar were imprisoned for more than 500 days for their work investigating a massacre of Rohingya men and boys by Myanmar security forces—work that earned them a 2019 Pulitzer Prize. CPJ waged a global pressure campaign for their release with Reuters and other partners. Wa Lone and Kyaw Soe Oo were released in May as part of a mass amnesty of prisoners.
---
Thank you for your ongoing support of our work–we could not do what we do without you.
Happy holidays, and we look forward to seeing you in 2020!