Beirut, November 11, 2019—The Committee to Protect Journalists today condemned the killing of Syrian journalist Abdul Hameed al-Yousef and urged all sides in the Syrian conflict to guarantee the safety of civilians, including journalists.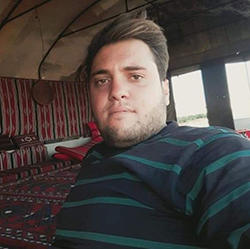 Abdul Hameed al-Yousef, a photographer and camera operator for the pro civil rights opposition Kafr Rumah Media Office, was killed yesterday when forces supporting President Bashar al-Assad shelled Kafr Rumah, a town in Idlib governorate, according to Facebook posts by al-Yousef's employer, the local press freedom group the Syrian Journalists' Association, and Faiz al-Doghaim, a Syrian journalist, who spoke with CPJ via messaging app. At the time of the attack, the journalist was covering Russian airstrikes and Syrian Army artillery shelling, al-Doghaim, who works for the pro-opposition broadcaster Syria TV, said.
"The rising toll of journalists killed covering the Syrian conflict is a tragic reminder of the risks that local media face to report the news," said CPJ Middle East and North Africa Representative Ignacio Miguel Delgado. "We call on all parties in the Syrian conflict to do their utmost to allow journalists to report safely."
A media activist named Mohammad Adel Belilou was cited by the Syrian Journalists' Association as saying that al-Yousef was hit by shrapnel in the head and the abdomen, and died instantly. A Facebook post from the Kafr Rumah Media Office said that at least six other civilians, including three children, were killed in the shelling.
Al-Yousef worked on a volunteer basis for the Kafr Rumah Media Office and he covered airstrikes and bombings, human interest stories, and life in the camps of internally displaced Syrians, al-Doghaim told CPJ.
On the day of the attack, al-Yousef was helping al-Doghaim prepare reports for Syria TV. "I waited until the shelling stopped to go to the targeted area to document the victims, but I didn't know he was among them. I saw him in an ambulance of the rescue teams and he was dead," al-Doghaim said.
The Syrian Defense Ministry did not immediately reply to CPJ's emailed request for comment.
At least five other journalists have been killed in Syria this year, including three killed in crossfire last month, according to CPJ research.