Mexico City, August 1, 2019 — Mexican authorities must immediately investigate an attack on the newspaper El Monitor de Parral in the northern state of Chihuahua and provide its employees with adequate protection, the Committee to Protect Journalists said today.
On July 30, unidentified individuals threw Molotov cocktails at the paper's offices in Parral, according to its news director and local news reports. None of El Monitor's employees were injured in the attack but it caused substantial damage, Esteban Villalobos, the news director, told CPJ. In a statement published yesterday, the newspaper announced that it has temporarily halted the publication of its print edition until safer working conditions are met, without specifying what those conditions were. The statement added that its website will continue, but it will cease to report on crime or publish stories that could "represent political bias."
Several news outlets in Mexico have ceased publication in recent years because of violence, including the Chihuahua-based newspaper Norte. Shortly after the murder of its reporter Miroslava Breach in March 2017, the paper announced that it was closing.
"Mexican authorities must take all appropriate steps to protect the staff of El Monitor de Parral from further harm and ensure that the perpetrators are brought to justice as soon as possible," said CPJ Mexico Representative Jan-Albert Hootsen. "No news outlet should have to choose between publishing or safety. The inaction of President Andrés Manuel López Obrador's government in addressing acts of violence against the press only exacerbates the problem and emboldens would-be assailants."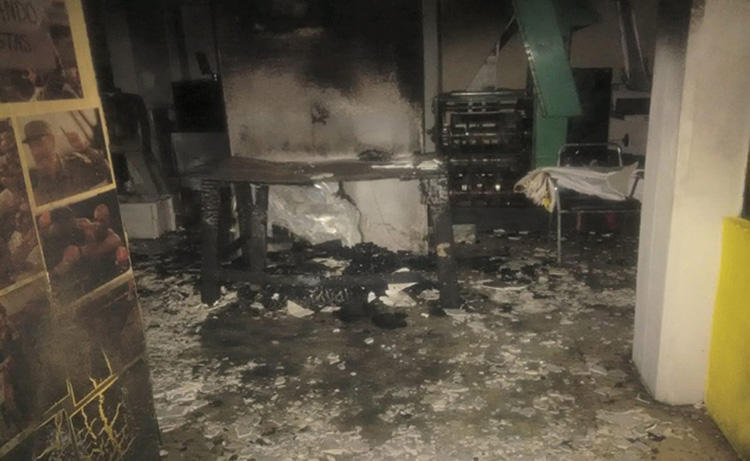 Villalobos told CPJ that assailants attacked the building at approximately 11:30 p.m. on July 30, when several employees, including himself, were present. "We were about to close Tuesday's edition, when we heard a noise downstairs," he said. "Within a few minutes, a room with computers had caught on fire."
Several computers and printers were destroyed and the fire caused extensive damage to the three-story building, including the owner's residence, Villalobos said.
Villalobos told CPJ that he had no knowledge of any recent threats against the newspaper's staff or owner. "There are sometimes people who may be a bit upset with something we publish, but nothing that I would consider a threat or that would result in violence," he said.
The newspaper's owner, Jorge Salayandía, did not immediately return CPJ's phone call.
El Monitor de Parral is one of the principal newspapers in Parral, a town of approximately 130,000 inhabitants, some 350 miles south of the U.S. border. The daily covers regional news including politics, crime, and social events.
Authorities in Chihuahua condemned the attack yesterday. The municipal government of Parral told local media that it would collaborate with state authorities. Carlos Huerta, a spokesperson for the Chihuahua state attorney general's office, told CPJ that his office had opened an investigation.
Chihuahua was one of Mexico's most violent states in 2018, with over 2,000 murders last year, according to statistics provided by the state attorney general's office. Mexico is the most dangerous country in the Western Hemisphere for journalists. According to CPJ research, at least three journalists have been killed in direct relation to their work in 2019. CPJ is investigating four other killings to determine whether the motive was related to the journalists' work.