CPJ summit spotlights journalist murders, press freedom climate in Mexico
CPJ held a summit on press freedom in Mexico on June 18 with an array of local partners that engaged more than 400 journalists, activists, and government officials in frank conversations about how to tackle an epidemic of journalist murders and improve the media climate in the country.
Journalists at the summit called on the government of President Andrés Manuel López Obrador to address an entrenched cycle of violence and impunity in crimes against journalists, cease its rhetorical attacks on the press, reform federal spending on advertisements used to gain positive coverage, and commit to transparency in rooting out illegal surveillance, CPJ Mexico Representative Jan-Albert Hootsen reported.
Corruption and organized crime in Mexico have combined with deadly consequences for journalists. Mexico has long been the deadliest country for the media in the Western Hemisphere. Seven journalists have been killed there this year, three of them murdered in direct relation to their work. Over the last six years alone, there have been 21 journalists murdered in Mexico in direct relation to their work–and in not one of those cases have all of the perpetrators been held accountable.
López Obrador's reformist mandate following his sweeping electoral win in July 2018 raised hopes that the relationship between the Mexican government and media might change for the better. But his first six months in office have been mixed, with the president both assuring Mexicans of his support for freedom of the press and contributing to a hostile climate by railing at journalists as sensationalist and fifi, or elitist and out-of-touch.
CPJ invited López Obrador to speak at the summit, hoping he would take the opportunity to address a security crisis for journalists that threatens Mexican democracy. We went to great lengths to secure his participation and offered him a unique forum to engage in a dialogue about concrete measures to stem the violence and address an entrenched culture of impunity. The summit proved a high-profile event, generating at least 85 reports and columns, and coverage in every major Mexican media outlet.
While the president in the end did not attend, Alejandro Encinas Rodríguez, Mexico's sub-secretary for human rights, represented the government along with presidential spokesperson Jesús Cantú. Encinas acknowledged the problems of impunity and state-level violence against journalists, and committed to strengthening a federal protection mechanism that CPJ advocated aggressively for and, today, offers protective measures to hundreds of journalists and human rights defenders under threat. Amid unrelenting attacks on these groups, it's a commitment we intend to hold him to.
---
CPJ delegation travels to Tunisia for talks and global digital rights gathering
Tunisian officials promised a CPJ delegation visiting Tunis in mid-June that there will be no restrictions on journalists covering the country's national elections this fall. The CPJ delegation included Deputy Executive Director Robert Mahoney; Mhamed Krichen, a CPJ board member and Doha-based anchor for Al-Jazeera; Sherif Mansour, Middle East and North Africa program coordinator; and Justin Shilad, MENA program researcher.
Independent High Electoral Commission officials assured CPJ that journalists will be free to work and expressed a willingness to collaborate with CPJ during the election period as a non-governmental organization or as an election observer, should we seek official status. Separately, the minister in charge of civil society relations promised no disruptions to internet services during the elections of the kind CPJ has seen in many other countries.
Tunisia, the birthplace of the Arab Spring and its greatest success, has been transitioning to a democracy with a relatively free press since longtime President Zine El Abidine Ben Ali was driven from office eight years ago. The North African country's 12 million people enjoy the freest media of any of the 22 countries that make up the Arab world.
CPJ's Mahoney wrote in a post-mission report that the strength of this new democracy will be tested as Tunisia gears up for the parliamentary and presidential elections, whose integrity will rest with independent regulatory bodies set up after the revolution and the fledgling independent press. "The political situation is still shaky," he said.
CPJ also met with the broadcast regulator, the Independent High Authority of Audiovisual Communication (HAICA), and raised concerns about potential media outlet shutdowns during the campaign period. We asked that the government commit to a more open and transparent decision-making process and only adopt regulations that garner support from the journalist community, including the journalists syndicate. HAICA agreed. The regulator pulled the license of privately owned TV channel Nessma in July 2018 for pushing the political agenda of its owner Nabil Karoui, who planned to run for president.
While in Tunis, CPJ also attended RightsCon, an annual global gathering of digital freedom advocates and technology innovators, where three CPJ staff members participated in panels that explored how to combat fake news, harassment of women journalists online, spyware, and censorship.
---
Telling the stories of refugee journalists
"I'm Emillio. My reporting on military corruption made me a target. Worried for my life, I fled #Mexico with my young son, seeking asylum in the US. More than a decade later our destiny is still unclear." https://t.co/NHgO3ZFp7I#WorldRefugeeDay #StepWithRefugees pic.twitter.com/6qiqZCm7Gl

— Committee to Protect Journalists (@pressfreedom) June 20, 2019
To mark World Refugee Day, CPJ shared on Twitter the stories of six journalists from around the world who were forced to flee their countries because of their work and currently live in exile.
Read our Twitter thread to learn about Mexican journalist Emilo Gutiérrez Soto; Vietnamese blogger Nguyen Ngoc Nhu Quynh, known as "Mother Mushroom"; Uighur radio journalist Kurban Niyaz; Turkish journalists Can Dündar and Kerim Balcı; and Morocco's Hicham Mansouri. They have all sought asylum after becoming targets in their home countries for reporting the truth.
---
Impact Tracker
CPJ continues to seek justice for Jamal Khashoggi, the Washington Post columnist who was brazenly murdered in the Saudi Arabian consulate in Turkey in October for his criticism of the kingdom's rulers. We have urged the U.N. Secretary General and the U.S. government to conduct independent investigations–including in op-eds last month by CPJ's Courtney Radsch and Michael De Dora–and outlined additional paths to justice. CPJ has worked alongside Agnès Callamard, the U.N. special rapporteur on extrajudicial, summary or arbitrary executions, on her investigation into the Saudi journalist's death. On June 19, Callamard issued a hard-hitting report to the U.N. Human Rights Council calling Khashoggi's murder an "extrajudicial killing" and putting responsibility squarely on the Saudi state. She also called on the U.N. Secretary General and the U.S. Federal Bureau of Investigation to open criminal probes. "The national and international tools to forge justice in this case are already there," CPJ Deputy Executive Director Robert Mahoney said. "The U.S. and U.N. must now summon the political will to use them." At the 41st session of the Human Rights Council in Geneva in late June, CPJ spoke on the panel "Justice for Khashoggi."
On June 3, the One Free Press Coalition, a group of more than 30 outlets, issued its monthly list of "10 Most Urgent" cases of journalists, which are identified by CPJ and the International Women's Media Foundation. Just hours later, Mauritania granted "temporary release" to two bloggers on the list, Abderrahmane Weddady and Cheikh Ould Jiddou, who had been in prison since March 22 on fake news charges. On June 11, Nicaragua released two more journalists on the list. The government freed Lucía Pineda and Miguel Mora, who spent six months in pre-trial detention on anti-state charges, and dropped all charges. Their liberty came one day after The Washington Post ran a full-page ad as part of our Press Freedom Partnership demanding their release. Our work helped ensure that Mora and Pineda were included as part of a mass release of political prisoners.
(Askarov family)

"Thank you so much for your continuous support. I can't find words to describe how grateful I am. As long as my husband has friends like you, I will never feel I am alone," says Khadicha Askarova, the wife of Azimjon Askarov, after CPJ spotlighted his case for the One Free Press Coalition's June list. Askarov crossed his ninth anniversary unjustly imprisoned in Kyrgyzstan during the month.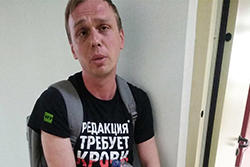 Police arrested Russian investigative journalist Ivan Golunov on June 6 on drug charges, allegedly beat him, and threw him in jail, CPJ reported. We urged Golunov's immediate release in a meeting with the Russian mission to the U.N. on June 7, and called the charges against him retaliatory. His persecution appeared to be tied to an article he wrote that implicated law enforcement officials in a funeral industry racket. Golunov was freed two days later, following a public outcry, and was put under house arrest. But amid mounting public pressure and accusations that police planted drug paraphernalia in his home, Gulonov was freed from house arrest on June 11 and all charges were dropped. The officers who detained him were suspended pending an investigation.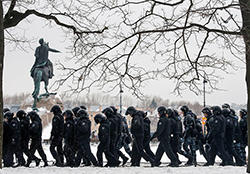 Also in June, CPJ sent a letter to the Russian mission to the U.N. in New York calling for the release of Igor Rudnikov, editor-in-chief and owner of Russian independent weekly Novye Kolyosa, ahead of a court hearing in his case. CPJ has fought for Rudnikov's release since he was imprisoned in November 2017 on charges of extorting a senior investigator, for which he faced a 10-year prison sentence, and provided him with financial assistance. The newspaper's staff believes the charges were punishment for Rudnikov's critical reporting claiming that the senior investigator owned a luxury villa that he didn't claim as an asset. At the hearing on June 17, the court dismissed the extortion charges and released Rudnikov. He was convicted of a lesser charge punishable by community service, but is exempt due to time served in detention.
---
Must-reads from June
Responding to the viral spread on social media of videos showing terrorist assaults, policymakers in Australia and the European Union are separately pursuing aggressive strategies to remove and block the dissemination of violent extremist content online. But doing so without undermining reporting or putting journalists at risk of being considered criminals will prove a significant challenge, writes CPJ's advocacy director, Courtney Radsch. "We need to be able to report the news," one media executive said.
The controversial Espionage Act charges against Wikileaks' Julian Assange have received wide attention, but the hacking charge Assange faces is a source of a significant concern for technology journalists and legal experts, CPJ's Avi Asher-Schapiro reports. U.S. prosecutors allege that Assange violated the Computer Fraud and Abuse Act when he encouraged Chelsea Manning to crack a password and share classified information, even though Assange did not crack the password himself. Now, journalist conversations with sources could be parsed such that "one stray comment could land you in hot water," a lawyer said.
---
Our Take
Misinformation, disinformation, lies, clickbait. How do we save the internet from corrosive content without trampling freedom of expression? In his Columbia Journalism Review column, CPJ Executive Director Joel Simon endorses an answer offered by U.N. Special Rapporteur David Kaye in his new book, "Speech Police: The Global Struggle to Govern the Internet." Kaye argues internet companies should root their "content moderation" decisions in human rights law, rather than "company values" or "community standards." That means, for example, companies would weigh how trolling hurts victims' rights to free expression and how a despot's effort to censor critical journalism as "fake news" impacts freedom of information.
President Donald Trump tweets constant vitriol at the Fourth Estate. He has allegedly discussed jailing reporters with his FBI director, revoked CNN journalist Jim Acosta's press credentials after he asked aggressive questions, and repeatedly called the press the "enemy of the people." The indictment of Julian Assange under the Espionage Act has created anxiety among press freedom groups and media lawyers. Yet despite Trump's hostility toward the media, there are ample signs of press resilience, writes Alexandra Ellerbeck, CPJ's North America program coordinator, in The Progressive. Reporters have not ceased their work, no journalist has received a prison sentence, and strong institutions have so far protected the media's rights.
---
CPJ in the News
"'Get rid of them': Donald Trump and Vladimir Putin bond over dislike of journalists and 'fake news,'" Newsweek
"Journalists detained at border told to turn over devices with confidential source info," The Takeaway, WNYC
"SCOTUS makes FOIA requests more difficult for journalists," Democracy Now
"The media's 'Trump bump' wasn't as big as you might think," Recode
"U.K. satisfied Assange won't face death penalty or torture–signs U.S. extradition request for Wikileaks founder," Forbes
"Canada 'closely following' reports of attacks on journalists in Russia: Freeland," Edmonton Sun
"Vladimir Putin signs new law imposing fines for the distribution of foreign print media," Jurist
"Chechen leader threatens to 'break fingers and tear out tongues'," Radio Free Europe/Radio Liberty
"Russian journalist Ivan Golunov is freed; ministry orders inquiry into drug charges," NPR
"Ukraine's journalists demand action after reporter killed," Al-Jazeera
"Human rights watchdog urges inquiry into Maltese journalist's murder," Financial Times
"Rana Ayyub on online harassment in India: 'I get daily rape & death threats'," Global Editors Network on Medium
"Journalists killed for exposing the illegal sand mining nexus," The Citizen
"Sand mafias silence ​journalists in India," Rappler
"Australia's hunt for leakers has journalists feeling exposed," The Washington Post
"An attack on free speech in Nigeria," The Economist
"Deux journalistes français agressés et arrêtés en Centrafrique," Afrik.com
"Defiant Algerian protesters rally despite spate of arrests," The New Arab
"Houthis must release journalists facing trial say media rights group," The National
"Venezuelan journalists report on their own survival," Deutsche Welle