In Congress, bipartisan condolences for Khashoggi fiancée and calls for action
For a moment, polarized politics took a back seat. Democratic and Republican congressional leaders gathered at an evening reception and lined up to offer condolences to Hatice Cengiz, the fiancée of murdered Washington Post columnist Jamal Khashoggi, who earlier that day shared gut-wrenching testimony before Congress.
The ritual of sympathy was a deeply human moment that acknowledged tragic personal loss as well as a grim crime–her would-be husband's dismemberment by bone saw inside Saudi Arabia's embassy in Istanbul–that has, so far, gone unpunished. It was also an implicit rebuke of the Trump administration's muted sympathy and lack of action in holding the journalist's killers to account. U.S. intelligence agencies believe that Crown Prince Mohammed bin Salman, the de facto leader of the Saudi government, ordered Khashoggi's murder. But the administration has dismissed that conclusion and taken no action.
"Support for press freedom should be an organizing principle of U.S. foreign policy. It's sad that it took the murder of Jamal Khashoggi to remind us what's at stake," said CPJ Executive Director Joel Simon, who testified along with Cengiz at the May 16 afternoon hearing on the dangers of reporting on human held by a subcommittee of the House Committee on Foreign Affairs.
Cengiz began her oral testimony before the subcommittee on painfully personal terms. She recounted buying furniture, planning her wedding, and assembling a dowry. "I was happier to be alive than I had ever been in my life," she said, speaking through a Turkish translator. "The fact that it all got suddenly cut on October 2, I still cannot make human sense of it…. And I still cannot understand that the world has not done anything about this."
Several members of Congress addressed her personally as well. "I hope what you hear today does not sound like empty words. I feel like so many people have let you down and let Jamal down," said Rep. Susan Wild (D-PA). "I want to express what I feel our country has struggled to unequivocally express: my sincere sympathy for your loss and my abiding commitment to speak the truth of the circumstances surrounding his death, so others will not suffer a similar fate."
Rep. Christopher Smith (R-NJ), the subcommittee's ranking Republican, praised Cengiz's written testimony as "very powerful" and "a love letter to your fiancé." He described sanctions imposed by Congress under the Global Magnitsky Act on individuals believed to have been involved in the murder that ban them from doing business and traveling to the United States. Smith also acknowledged concerns that there may never be U.S. prosecution of the perpetrators and the need for an unclassified report describing the findings of U.S. intelligence services. "We need to pursue this more aggressively," he said.
CPJ's Simon laid out what Khashoggi's case means for the cause of press freedom. The cruelty and brazenness of this government-orchestrated killing, and the inability of the U.S. government to apply pressure and ensure justice, "sends a terrible message to tyrants and dictators and enemies of press freedom all around the world, that they can engage in this behavior, that they can murder journalists, that they can censor the media, and that they will not face consequences," he said. "That is a terrible message, a demoralizing message, a message that I believe cannot be allowed to stand."
But it may have been Cengiz–a modestly dressed Ph.D. student, speaking in Turkish about her lost love and shattered future–who laid out the most-cutting description of the stakes in her late fiancé's case. "It wasn't just Jamal that was killed" in the Saudi embassy that day, she observed. "It was the values that the United States represents. Didn't they get murdered as well?"
---
CPJ takes on press freedom threat from charges against Assange under Espionage Act
Julian Assange was being investigated for alleged rape in Sweden and facing extradition from the U.K. when he jumped bail to take refuge in the London embassy of Ecuador, a country that, at the time, had one of the worst press freedom records in Latin America. From this haven, the founder of WikiLeaks published Democratic National Committee emails which, according to an indictment of 12 Russian officers by U.S. Special Counsel Robert Mueller, were hacked by Russian intelligence agents and leaked with the purpose of influencing the U.S. presidential election.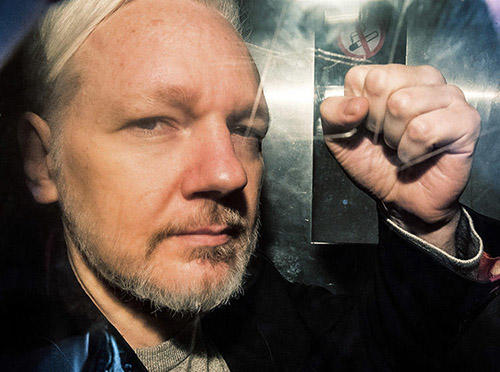 Assange's actions and behavior are troubling on several levels. Nevertheless, as CPJ has said on many occasions, if Assange were ever extradited, prosecuted, and jailed in the U.S. on charges of espionage, the impact would be devastating for press freedom and the rights of journalists in the country and around the world.
Our concerns grew more acute on May 23, when the U.S. Justice Department took a big step in that direction by announcing 17 new charges under the Espionage Act in its indictment of Assange. The charges are related to WikiLeaks' publication of classified State Department cables in 2010 and 2011, material that was also covered by The New York Times, The Guardian, and news organizations around the world. As CPJ said: "If the publication of classified information is deemed to be an act of espionage, then journalism itself is criminalized."
"The Trump administration has bullied reporters, denied press credentials, and covered up for foreign dictators who attack journalists. This indictment, however, may end up being the administration's greatest legal threat to reporters," North America Program Coordinator Alexandra Ellerbeck said. "It is a reckless assault on the First Amendment that crosses a line no previous administration has been willing to cross, and threatens to criminalize the most basic practices of reporting."
We have serious concerns about global repercussions. The U.S. government's extraterritorial prosecution of Assange, an Australian, opens the door for governments from Colombia to Pakistan to France to prosecute American journalists who publish their secret government information, Executive Director Joel Simon wrote in an op-ed in The Washington Post.
"The gloves are off," Simon wrote. "In fact, the sweeping nature of the Assange indictment seems intended to inflict maximum damage on the media."
---
Prison release roundup
A spring rush of prison releases continued in May. Journalists freed include…
…Abdel Halim Kandil, the editor-in-chief of the Sawt al-Umma newspaper and one of 560 prisoners named in a May pardon decree by Egyptian President Abdel Fattah el-Sisi. Kandil, who was released due to health reasons, was convicted and sentenced to three years in prison in December 2017 for "insulting the judiciary." He had criticized the handling of the corruption case against former President Hosni Mubarak in several articles.
…Mohammad Reza Nassab Abdollahi, the editor-in-chief of Iranian news websites Anar Press and Aban Press, who was released on bail on May 20, a source close to the journalist told CPJ. The intelligence unit of the Islamic Revolutionary Guard Corps arrested Abdollahi on April 21 on unknown charges and shut down his websites. He has been arrested several times and served time in prison on charges of spreading false information.
…Libya Alahrar reporter Mohamed al-Qurj and photographer Mohamed al-Shibani. The two journalists disappeared on May 2 while covering clashes in Tripoli, prompting an outcry and local protests. In a statement, Libya Alahrar alleged that the journalists were abducted by the self-styled Libyan National Army, which opposes the internationally recognized Government of National Accord. The men were released on May 24.
…Gohar Wazir, who was released on May 30, two days after being arrested in Bannu, Pakistan. He had reported on demonstrations organized by the Pashtun Tahafuz Movement and interviewed a leader of the Pashtun rights group. Journalists have told CPJ that the military has pressured them not to report on the movement.
---
San Francisco police chief apologizes for illegal raid of journalist
San Francisco Police Chief Bill Scott apologized for raiding freelancer Bryan Carmody's home and office in an effort to unmask a confidential source. Admitting the searches were likely illegal, the chief said he would turn over his department's investigation into the leak to an independent agency. However, just days after the apology, Carmody learned that the police also obtained secret warrants to surveil his cellphone.
CPJ was at the forefront of the pressure campaign following the raid–our alert condemning the raid and demanding the return of Carmody's devices, documents, and other property was picked up by media including CNN, and CPJ Executive Director Joel Simon was interviewed by NPR. And we will continue to monitor this case closely. Under California's shield law, journalists cannot be forced to reveal confidential sources or turn over unpublished information, and police may not obtain such information through searches.
---
Must-reads from May
CPJ called on Colombian lawmakers to stop harassing New York Times journalist Nick Casey, who said "false accusations" of bias and "fake news" lawmakers published on Twitter led him to leave Colombia due to security and safety concerns. The online harassment followed Casey's May 18 article reporting that the head of Colombia's army recently ordered troops to double the number of criminals and militants they kill. "We simply reported what the documents written by the army say, as well as information coming from the same Colombian officers," the Times said.
The government of the Philippines may be preparing to clamp down further on independent media, CPJ's Shawn Crispin writes. A pro-government media campaign is claiming that news outlets, such as Rappler, and a local press freedom group that receive foreign financial support are being illegally funded by the U.S. Central Intelligence Agency. Duterte's government "can apply a legal fig leaf to anything it wants to do," a press freedom advocate told CPJ.
On the campaign trail last year, Andrés Manuel López Obrador, now Mexico's president, promised to slash lavish government spending on media advertising that it has long used to drive favorable coverage. But he appeared to backtrack on his pledge in January by proposing a significantly increased advertising budget, writes CPJ's Mexico representative, Jan-Albert Hootsen. In response to criticism, the president pledged his government would "no longer bribe media and journalists." Yet efforts to regulate the government spending have so far fallen flat, Hootsen says.
---
CPJ selected one of the internet's top nonprofits
CPJ ranked No. 27 on a list of the "Top 100 Nonprofits on the Web" compiled by the website Top Nonprofits. To create its ranking, the site looked at organizations' Facebook likes and Twitter followers; homepage strength in the eyes of search engines, other websites, and Google PageRank; as well as their ratings on Charity Navigator.
Topping the list is the American Civil Liberties Union Foundation, followed by Do Something, a platform that helps young people participate in campaigns for social good. Human Rights Watch ranked No. 19, the Equal Justice Initiative ranked 28, and Doctors Without Borders ranked 34.
---
CPJ in the News
"US efforts to jail Assange for espionage are a grave threat to a free media," The Guardian
"Trump's Charges Against Julian Assange Would Effectively Criminalize Investigative Journalism," The Nation
"Does WikiLeaks matter?" BBC
"'Nothing Has Been Done': Khashoggi's Fiancée Urges Action Against Saudi Arabia," The New York Times
"Khashoggi's fiancee attacks Trump for muted response to journalist's slaying," Fox News
"Jamal Khashoggi's fiancee urges Congress to hold Saudi Arabia accountable in killing," ABC News
"Release of Myanmar Journalists is a Small Win in Fight for Press Freedom," Vice
"Nigerian Journalist Investigating Corruption Arrested for 'Terrorism and Economic Sabotage'," Breitbart
"Journalists Accuse Syrian Government Forces of Targeting Reporters," Voice of America
"Police struggle to solve gangland reporter's killing, others," AP
"Prominent French journalist summoned by police for reporting on corruption in Macron's government," The Washington Post
"SA editors' forum condemns attack on SABC journalists in Free State," The Citizen
"Protection of journalists: Angela Quintal," SABC Digital News
"One step forward, two steps back: The plight of women journalists in Afghanistan," The Daily Star
"'Narcopolítica', una de las principales amenazas contra los periodistas en México, según el CPJ," Univision
"Why Trump's meeting Hungary's Orban is a 'bit controversial'" PBS Newshour
"Singapore passes 'fake news' legislation that threatens press," Kathmandu Tribune
"Ukrainian Police Investigating Attack On Reporter As Attempted Murder," Radio Free Europe
"An interview with NBC's Lester Holt about press freedoms," Poynter
"World Press Freedom Day: Middle East still most dangerous region for journalists," The New Arab