Memorializing the fallen by showcasing their final works
CPJ launched a multimedia initiative in March to memorialize journalists around the world who lost their lives to bring us the news. "The Last Column" presents 24 moving, hard-hitting, and sometimes chilling final works of fallen journalists, including Marie Colvin of The Sunday Times of London and Jamal Khashoggi of The Washington Post.
The project was developed with support from News Corp., the Dow Jones Foundation, and HarperCollins Publishers. It includes a book, a website, mini-documentaries, a podcast, and active social media conversation. The initiative spotlights CPJ's Global Campaign Against Impunity seeking justice in journalist murders, nine out of ten of which go unpunished.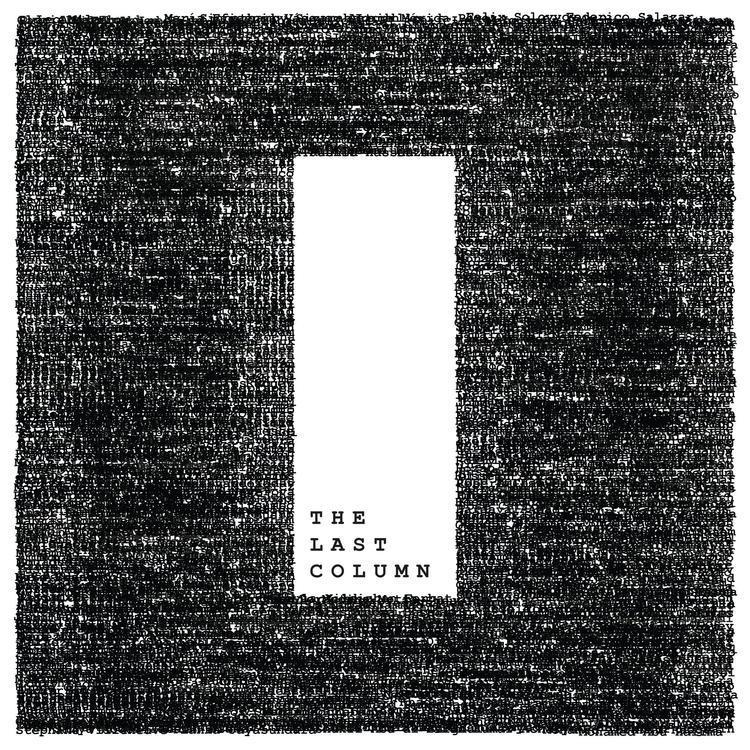 The launch includes events in New York and Washington, at SXSW, and elsewhere. The Washington Post featured "The Last Column" on its homepage, The New York Times published two full-page ads in its print issue, and an array of outlets covered the launch, altogether exposing more than 300 million viewers to the project, almost triple the reach of a Super Bowl ad.
"With 'The Last Column,' we hope to inspire everyone to learn more about these brave journalists, celebrate freedom of the press, and protect those out there who continue to inform their communities in the face of threats and hardship," said Courtney Radsch, CPJ's advocacy director. At least 1,337 journalists have been killed while covering the news since 1992. Their names create The Last Column logo.
In showcasing fallen journalists' articles and photographs, The Last Column underscores the vital purpose to which so many remarkable men and women around the world–known and unknown, international and local–have dedicated their lives. It honors those who, in service to the public, dig for the truth and shine a light into dark places, despite great risk and, sometimes, the greatest of sacrifices.
"Electronic and print-media institutions have been burnt, bombed, sealed and coerced. Countless journalists have been harrassed, threatened and killed. It has been my honour to belong to all of those categories and now especially the last," wrote Sri Lanka's Lasantha Wickrematunge of The Sunday Leader in an unsettling essay predicting his murder, which was perpetrated on January 8, 2009. "Let there be no doubt that whatever sacrifices we journalists make, they are not made for our own glory or enrichment: they are made for you."
---
CPJ spotlights challenges for women journalists
CPJ displayed its expanding work on gender issues and the challenges faced by women journalists throughout March, launching a safety survey, highlighting women behind bars, and holding a packed event on online harassment at the United Nations.
The flurry of activity, timed for Women's History Month, began with the launch of a Women's Safety Survey, which seeks information about physical and digital attacks and safety training from female and gender-nonconforming journalists in the U.S. and Canada.
CPJ has documented an overall increase in attacks on journalists in the U.S. through its work on the U.S. Press Freedom Tracker, and has reported on overlooked challenges for women, who are singled out more often for sexualized attacks and online trolling. The survey, which closes on March 31, will inform CPJ's development of specialized safety tools.
"If you're a woman in public, or a woman with a platform, or a woman just speaking out about something, that makes you a target," said Lucy Westcott, CPJ's James W. Foley Fellow, who focuses on safety issues for women journalists in non-hostile environments.
News organizations today encourage staff use of "social media and personal branding, while not recognizing that it's a safety issue and not recognizing that it puts journalists at risk," Wescott said.
While women journalists are less likely to be jailed or killed than men journalists, they face online harassment "at both a greater intensity and a greater volume," says Sarah Guinee, CPJ's 2018 Patti Birch fellow for gender and media freedom. That harassment is far more likely to include rape and other sexualized threats and threats against family members.
Of course, women also suffer physical attacks and jailing. For International Women's Day, CPJ created an infographic that tells the stories of 32 women journalists in prison around the world, including four Saudi women, two of whom are currently on trial. The graphic sparked lively social media activity, was included in Twitter's Moment marking the day, and generated significant press coverage.
In mid-March, CPJ co-hosted a panel discussion at the United Nations, featuring women journalists from the U.S. and France sharing their experiences of online harassment and how they have responded. The packed event raised awareness of "how the Internet has both empowered women's voices, but also escalated the threats against women's journalism," Guinee said.
According to the International Women's Media Foundation, two-thirds of female journalists globally have been harassed, and that harassment has led nearly one-third to consider leaving the profession. A female exodus could widen already unequal representation in the industry, warned panel moderator Elisa Lees Muñoz, IWMF's executive director.
"The press cannot be truly free without the equal participation of women," she said.
---
CPJ, major media outlets unite to spotlight urgent press freedom cases
A group of major media outlets led by Forbes and supported by CPJ launched the One Free Press Coalition to harness their massive collective global audience of more than 1 billion people to push back against growing challenges to press freedom around the world.
On the first of every month, the members of the coalition, which also include the Associated Press, Huffington Post, Reuters, Süddeutsche Zeitung, TIME, Wired, and Yahoo News, will publish across their platforms a "10 Most Urgent" list of journalists under threat, in prison, or facing injustice. CPJ and the IWMF will co-curate the list. The coalition has taken to social media with the Twitter handle @OneFreePress and hashtag #OneFreePress.
The initiative was born at the World Economic Forum at a dinner for members of the International Media Council. As the media leaders there discussed worsening crackdowns on journalists, Forbes Magazine Editor Randall Lane suggested they band together to "shine a collective light on those threatened for trying to report the truth," he wrote in Forbes. "That should hopefully give all press repressors and thug autocrats pause–the world is watching, and we're not going to let them get away with it."
Though not a ranking, the first "10 Most Urgent" list begins with IPFA awardee Maria Ressa and the publication she founded in the Philippines, Rappler, which have come under intense legal pressure from the Duterte government for their critical reporting.
The list features two prominent Saudi journalists: Jamal Khashoggi, who was murdered in October, and whose killers have not been brought to justice, and Eman Al Nafjan, the founder of the Saudiwoman's Weblog, who has been jailed for her reporting on elections and women's rights.
---
CPJ steps up Washington advocacy for journalists crossing U.S. borders
CPJ called on Congress to use its oversight authority to challenge unconstitutional searches and questioning of journalists crossing the U.S.-Mexico border, following a NBC San Diego report revealing an organized U.S. Customs and Border Protection effort to monitor journalists and subject them to additional screening.
Customs and Border Protection agents pictured at Los Angeles International Airport in January 2017. The agency's power to search electronic devices without warrant has serious implications for press freedom. (Reuters/Patrick T. Fallon)
In October, CPJ published a report and documentary describing CBP's invasive device searches and questioning of journalists entering the country. Then in February, we documented CBP stops of journalists covering the migrant caravan in Mexico and agents' efforts to mine them for information. We also held several meetings last year with CBP Assistant Commissioner Andrew Meehan, who committed to addressing policies that threaten press freedom. However, rather than face hard questions following the NBC 7 report, CBP postponed, then cancelled its next scheduled meeting with CPJ and other press freedom groups. The agency has not responded to CPJ's request to reschedule the meeting.
"CBP agents are charged with upholding the Constitution. They have failed, and now Congress must step in," CPJ's Alexandra Ellerbeck wrote in an op-ed in The Hill.
Indeed, CPJ has stepped up its efforts to engage members of Congress in oversight roles of CBP. In mid-March, Representatives Bennie G. Thompson (D-MS) and Kathleen Rice (D-NY) of the House Committee on Homeland Security expressed "great concern" and sent a letter to CBP requesting information about the agency's practices. The agency missed the members' deadline to respond. In a separate bipartisan letter, Senators Ron Wyden (D-OR) and Chuck Grassley (R-Iowa) called on CBP to provide a briefing on border operations targeting journalists.
---
Must-reads from March
Prosecutions of alleged leakers are on the rise–President Donald Trump's administration has already filed six cases, compared to 10 during Barack Obama's eight years in office. While no journalist has been prosecuted so far, Attorney General William Barr has left open the possibility. And CPJ's Avi Asher-Schapiro reported there has been a chilling effect on national security journalists. "These feel like dangerous days for reporters," one said.
Journalists across Nigeria were detained, harassed, assaulted, and blocked from reporting on the March 9 elections. CPJ, which closely tracked press freedom during the elections in partnership with local groups, urged the Nigerian authorities to investigate and hold accountable those responsible for impeding the press, arguing "the freedom and fairness of any election requires that journalists are permitted to work unimpeded and without fear."
Reporting on China's jailing of journalists has gotten much harder, CPJ's Iris Hsu reported. Chinese authorities "are deliberately preventing information from getting out–and they are getting really good at it." They use many tactics: sealing court records, censoring news, blocking workarounds to "Great Firewall" internet controls, cutting phone lines, and intimidating of lawyers and others. As a result, we don't know true number of journalists in prison in China.
---
Venezuelans have a right to the light a free press provides
Disturbing blackouts enveloped much of Venezuela , as the country's political crisis worsened. But a more insidious darkness threatens too, CPJ's executive director, Joel Simon, argued in a Washington Post op-ed on March 13.
The government of Nicolás Maduro has stepped up its bid to control information by cracking down on the press. The regime has tried to impose censorship, backed militias that have assaulted journalists covering public events, staged internet shutdowns during rallies held by Maduro's political opponent Juan Guaidó, denied some international journalists entry into the country, and subjected others to harassment and worse. In March, a prominent radio journalist and analyst, Luis Carlos Díaz, was detained and released after 24 hours. He continues to face spurious charges of "incitement."
Without accurate and timely information, the Venezuelan people cannot make life and death decisions for themselves and their families, Simon wrote. Nor can they make decisions about their country's political future–which is precisely Maduro's goal. That's why, he argues, the international community must ensure Venezuelans can exercise their right to accurate and timely information.
---
CPJ Executive Director Joel Simon serves as Weissberg Chair in Human Rights and Social Justice
The longtime executive director of CPJ, Joel Simon, spent a week in residency at Beloit College in Wisconsin leading a cross-campus conversation about press freedom. Simon is the college's 2018/19 Weissberg Chair in Human Rights and Social Justice, a position granted to individuals who have made important contributions to understanding and defending human rights internationally.
The professorship, which is underwritten and supported by the Weissberg Foundation, is part of a program designed to inspire students to understand, promote, and defend human rights and to take action to address complex global problems.
During the residency, Simon led a discussion about his new book, We Want to Negotiate: The Secret World of Kidnapping, Hostages and Ransom, exploring whether governments should pay ransom to terrorists; spoke with students about careers in journalism; and participated in a panel discussion about truth in the era of "fake news."
Simon also gave a meaty Friday evening lecture on the origins and development of the global press freedom movement and how political, technological, and media industry shifts over the last four decades has impacted press freedom–and made the world a much more dangerous place for journalists in recent years. "The central political battle of the 21st century is over the control of information," Simon told the students. "Defending press freedom begins with recognizing its value and insisting that our democratic leaders stand up for these principles at home and advocate for them abroad."
Watch Simon's speech:
---
CPJ in the news
"'Murder Is the Ultimate Form of Censorship.' CPJ's The Last Column Honors Journalists Killed in the Line of Duty," TIME
"Works of journalists killed while reporting in new book," MSNBC's "Morning Joe"
"CPJ publishes book of last stories by murdered journalists," Al Jazeera
"Trump's 'fake news' mantra a hit with despots," Politico
"Railing Against India's Right-Wing Nationalism Was a Calling. It Was Also a Death Sentence," The New York Times
"On International Women's Day, these female journalists and activists are behind bars," The Washington Post
"Source: Leaked Documents Show the U.S. Government Tracking Journalists and Immigration Advocates Through a Secret Database," NBC 7 San Diego
"This journalist fears death if he's deported — but that's what an immigration court has ordered," Poynter
"Mexico's president vowed to halt murders of journalists. He hasn't been able to stop them," Vice
"Sonora's murdered journalists reflect global press problem," Arizona Daily Star
"Turkey's Expulsion of German Journalists Has Reignited Concerns Over Press Freedom," TIME
"Egypt tightens restrictions on media, social networks," Associated Press
"Venezuelan human rights activists: Free journalist Luis Carlos Diaz," Local 10 News
"Detained Venezuelan reporter says he has been beaten while in custody of government agents," Fox News
"Justice sought for 4 Dutch journalists killed in El Salvador," Associated Press