The Boston Globe receives threats after its call for defending a free press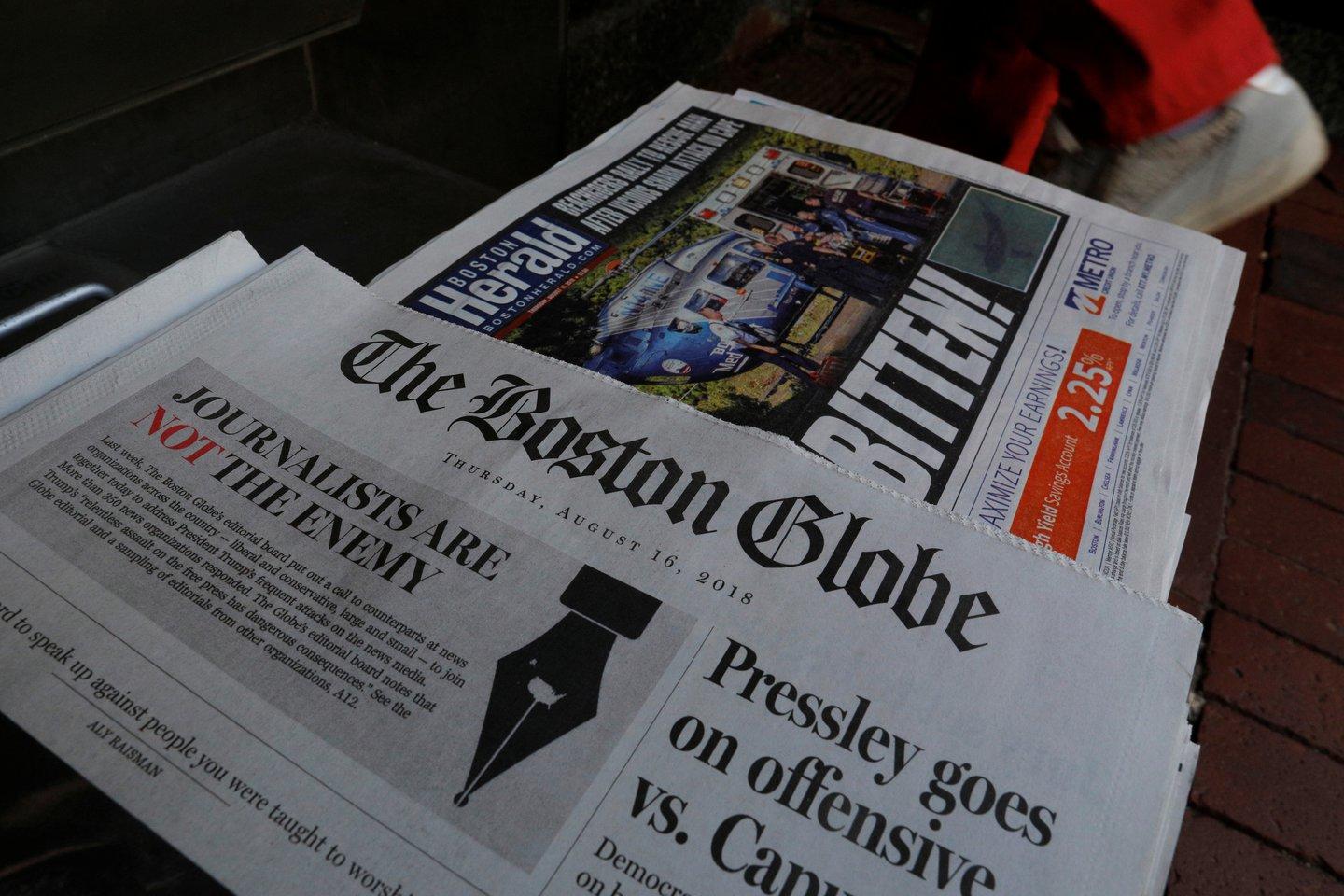 In August, The Boston Globe invited newspapers from all over the country to stand up for journalists and the media with editorials. Hundreds of news organizations participated in the initiative, for which CPJ provided a backgrounder on press freedom in the U.S. "This relentless assault on the free press has dangerous consequences," the Globe said.
In the days that followed the effort, the Globe reported receiving threats against the newspaper and its journalists. "We are going to shoot you…in the head. Shoot every…one of you," one repeated caller said. The caller's other messages included accusations that journalists are the "enemy of the people" and "fake news."
Both phrases are frequently used by President Donald Trump. "It's a dangerous game," said CPJ Executive Director Joel Simon on NBC on August 30, "because there's a risk that individuals who are upset with the media or who support the president…will take this kind of language literally."
On the same day, the FBI arrested a man, Robert Chain, from Encino, California, and charged him with threatening to kill employees of the Globe. Chain said he was retaliating against the newspaper's criticism of Trump's attacks on the news media, the Guardian reported, citing the FBI.
According to data gathered by the U.S. Press Freedom Tracker, which CPJ co-launched in 2017, at least 27 journalists have been attacked in the United States in 2018. Many others have been threatened, including at least 11 HuffPost journalists and their families who received thousands of threats by phone and online in May and June.
---
Nigerian journalist released after two years in prison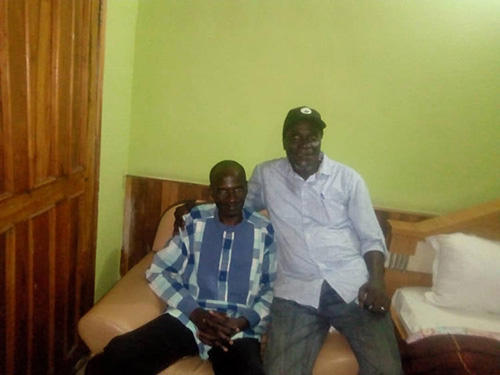 In mid-August, CPJ reported that Nigerian journalist Jones Abiri was released from prison–two years after he was arrested. He was held without a trial.
In 2017, CPJ included Abiri in our #FreeThePress campaign, which raised awareness of the cases of journalists imprisoned on anti-state charges. We also submitted Abiri's case to the Office of the U.N. High Commissioner for Human Rights and repeatedly urged E.U. authorities to press Nigeria for his release. Throughout the journalist's imprisonment, CPJ made repeated calls to Nigeria's state security service's director general, presidential spokesman, and minister of information and culture, but these were not returned.
CPJ also met with Abiri's family in April, who said they believed his arrest was in connection with a report in the newspaper that stated the military was contemplating a coup against President Muhammadu Buhari. For most of his imprisonment, the journalist was not seen in public or allowed visits from his lawyers or family.
In June, CPJ and other groups wrote a letter to President Buhari calling for Abiri's release. In a statement that month, the president's spokesman said the journalist's detention had been brought to the president's attention by CPJ.
So far in 2018, advocacy by CPJ and other groups has helped win the early release of at least 65 imprisoned journalists all over the world.
---
Q&A with Patti Birch Fellow for Middle East Research
In August, CPJ welcomed Danya Hajjaji as the organization's Patti Birch Fellow for Middle East Research. Hajjaji, a Libyan national, studied journalism at Columbia University and interned with Reuters and Agence France-Presse.
CPJ Insider asked Hajjaji about herself and why she wanted to work in press freedom.
Tell me a little about yourself.
I was born and raised in Tripoli, Libya. It's home to me. When the Arab Spring reached the country, my sisters and I left for Ottawa, Canada, to continue our education there.
Eventually my mother had to leave Libya too. She's lawyer and a writer, and she wrote some articles that implicitly called for a more democratic country. As the revolution continued, Qaddafi began blacklisting people, and she was among them. She left the country, then returned after the revolution and engaged in pro-democracy and women's rights activism. But she had to leave again due to increasing threats to her safety.
There's a narrative streak in my family, and it primarily draws its inspiration from what Libya once was. My grandfather wrote stories about growing up in Libya during the Italian occupation and World War II, my mother wrote about her own Tripolitanian childhood, and I write stories about my youth in the country.
What did you do before coming to CPJ?
Over the summer, I did an editorial internship with Reuters. A lot happened during that time–I covered the shooting on Danforth Avenue in Toronto and the shooting in New Brunswick. Before that, I worked for Agence France-Presse in Washington, DC as a web intern, which was pretty cool.
I got my master's degree in journalism from Columbia University in New York, and I did my bachelor's degree in media communications at the University of Sussex in England.
Why did you want to work at CPJ?
Being a CPJ Patti Birch Fellow for Middle East Research fits my identity very much. I'm a journalist from the MENA region, and it frustrates me that there's zero accountability. You have all these different factions from different countries–governments, law enforcement, militias, terrorists, rebel groups–working against journalists. And journalists are not just caught in the crossfire–in many cases, they're very intentionally targeted.
You can tell a lot about how a country operates by how it treats its journalists. There are a few countries in the Middle East and North Africa that pride themselves on not being war-torn or unstable like their neighbors, but are still actively going after journalists through tactics such as harassment and criminal prosecution. This should not be an issue that is swept under the rug.
I just want to achieve accountability, and I want to do that through CPJ by at least applying some pressure and letting them know, "Hey, we're here. We see what you're doing."
What do you see yourself doing next?
I know that I want to be a narrative writer. I know that I want to keep writing. Working at CPJ enables me to take a step back and get a bigger-picture view of journalism in different settings and the importance of journalist safety–and how to ensure it and how to help it.
---
'Fake news' law repealed in Malaysia
In August, Malaysian authorities repealed a "fake news" law that was enacted earlier in 2018 by the former government of Prime Minister Najib Razak. Under the law, anyone convicted of creating, circulating or publishing fake news online or on social media could face a 10-year jail term and fine of up to $130,000.
CPJ condemned the law when it passed in April and then again later that month when a Malaysian court issued the country's first conviction under the law. Salah Salem Saleh Sulaiman, a Danish citizen, was sentenced to a week in prison and fined around US$2,500 for posting a video to the internet that criticized police's response to the assassination of a militant group member.
In a letter to the then newly elected prime minister, Mahathir Mohamad, in June, CPJ called on his government to immediately repeal the law and prioritize the promotion and protection of press freedom. "It is our earnest hope," we wrote, "that [Mohamad] will take this historic opportunity to build a legacy as a champion of a free media in Malaysia."
---
Must-reads
A story by CPJ's Asia research associate, Aliya Iftikhar, explores how, four years to the day that Maldives journalist Ahmed Rilwan Abdulla, known as "Moyameehaa," disappeared, Maldives President Abdulla Yameen Abdulla Gayoom remains tightlipped about his case. The journalist's family, along with CPJ and other groups, continues to call for an independent investigation into the disappearance.
CPJ's North America research associate, Avi Asher-Schapiro, writes about the internet in China being more closed than ever. According to news reports, Google has multiple products poised to launch in the country, which include a search app designed to help the Chinese government block news websites and "blacklist" sensitive queries.
In a story published in mid-August, CPJ's digital manager, Ahmed Zidan, examines censorship in Turkey, where more than 1.5 million tweets belonging to journalists and media outlets are censored under Twitter's "country withheld content" policy.
---
CPJ in the news
"FBI arrests man who threatened to kill Boston Globe staff for criticizing Trump," Guardian
"For news media, a day of solidarity in a summer of unease," The New York Times
"First Amendment: Trump mimics Putin in campaign against free press," Providence Journal
"If you don't have anything to hide, you don't sue people to shut up," The Washington Post
"Media boost security as Trump ramps up 'enemy' rhetoric," Politico
"Finally some good news: Trust in news is up, especially for local media," Poynter
"World reacts to sentencing of Reuters journalists in Myanmar," Al-Jazeera
"Reuters Reporters Cases: Verdict postponement and predicted outcome," The Irrawaddy
"Bangladeshi photographer Shahidul Alam arrested over 'provocative comments,'" The Washington Post
"Rights group criticizes sentences given to Iranian journalists," Voice of America
"She was jailed. She was harassed. But this journalist in Azerbaijan finds new ways to battle alleged rights abuses," The Washington Post
---