CPJ in Pakistan: 'People don't know where the lines are that they can't cross'
In February, CPJ Asia Program Coordinator Steven Butler traveled to Pakistan with CPJ Multimedia Producer Mustafa Hameed to speak to journalists and press freedom advocates about the climate for media freedom in Pakistan. They traveled to Karachi, Islamabad, Peshawar, Lahore, and Okara on the two-week-long trip.
Here, Butler tells us a little about the mission–whom they spoke to and what they learned.
Whom did you meet with?
We met with a lot of people: journalists, press freedom advocates, the editor of Dawn, the managing editor of Geo, and a number of journalists in distress.
We met a young journalist in Karachi, a very bright and talented man, who wants to change the world through his journalism. He did a lot of investigative work on minorities, women, and labor and it eventually got him into trouble. The country's Inter-Services Intelligence, or ISI, tried to pick him up, and he managed to escape. Then he went in voluntarily and said, "What's going on, what's the problem?" And the ISI told him, "You're writing against Pakistan."
The thing that caught their attention was his reporting on labor issues with foreign investors. They told him, "If you continue doing this, we're going to crack your head open." They literally told him that.
We spoke to other journalists and editors as well, including Umar Cheema, CPJ's 2011 International Press Freedom Award winner, and CPJ friends in the activist and human rights community. They all gave us a very consistent picture of what's going on.
What is going on?
Everyone describes Pakistan as being on a slow and winding path to press freedom until around 2014. They see it as having gone into reverse after that. Now, it's very interesting because the numbers of journalists killed after that time went down, so you'd think this would usher in press freedom.
But Pakistani media outlets and journalists are under pressure–it varies, it goes up and down. Recently, the pressure has intensified. There are also widespread disappearances in Pakistan, and people suspect a good portion of them have to do with the military. It creates a sense of fear. This is the thing everyone will say: Because of various threats, the level of self-censorship has gone up.
Of course, there are great exceptions, but it's become such that people don't know where the lines are–or what they can report without putting themselves in danger. For many reasons, journalists and press freedom advocates say conditions for the media are worsening in spite of the relative decline of physical attacks or violence against journalists.
So what's next on Pakistan for CPJ?
We're planning to publish a special report on press freedom in Pakistan in the summer. Stay tuned!
---
Behind the scenes of CPJ's advocacy in Brussels
Six months after investigative journalist Daphne Caruana Galizia was killed in Malta, CPJ conducted a mission to Brussels to urge European Union leaders to support journalists. The delegation met with EU officials, including Commission Vice President Frans Timmermans and Commissioner Věra Jourová, and discussed Caruana Galizia's murder and the February murder of investigative reporter Ján Kuciak in Slovakia. CPJ also raised concerns about press freedom in Poland, where we conducted a mission in February, and Hungary, where Prime Minister Viktor Orbán was elected for a third term.
CPJ EU Representative and Advocacy Manager Tom Gibson set up the high-level meetings for the delegation. Gibson, who is based in Brussels, monitors press freedom developments in the EU and advises CPJ on the best ways to strengthen the impact and effectiveness of CPJ's advocacy.
We sat down with Gibson and asked him to tell us about his work for CPJ in Brussels.
Tell us a little bit about yourself.
As a human rights advocate, I have worked to defend those people who stand for truth and justice–journalists, academics, and human rights defenders. For years, I worked on the Great Lakes Region of Africa, and I represented Amnesty International and Protection International at some of the highest levels. I learned that you have to bring people's stories to the attention of the world's most powerful–in Brussels, London, Geneva, and Washington–and I learned how courageous people can be while defending the rights of others.
I continue to be inspired by CPJ's work in the European Union. Step by step, we can make a difference.
You are CPJ's representative in Brussels, the home of the EU. What's a regular weekday like?
The great thing about Brussels is that every day can be different. It's a fast-paced environment so I have to stay in regular contact with members of European Parliament, journalists, advocates, and others. I spend a lot of time between the Council, the Parliament, and the Commission.
I have been at CPJ for a year now, and you start to work out your own path in what is known as the "Brussels Bubble." I have built up CPJ's network of contacts, so it's great to be able to reach out to people when I need them. People here frequently use me as a source of information and advice.
CPJ's Brussels office is in the Residence Palace, where other journalism and free expression organizations are based. What kind of work do you do with them?
Brussels civil society often works collaboratively on advocacy, which I believe is key to CPJ's success. I often partner with other press freedom groups like the International Federation of Journalists, the European Federation of Journalists, and Reporters Without Borders. I also work with Amnesty International on press freedom issues in Poland and Hungary and with Human Rights Watch on a project that twins members of European Parliament with imprisoned journalists in Turkey.
Speaking with one voice really gives weight to the issue–and I like to think I have a good rapport with my colleagues from other organizations!
---
Mexico arrests suspect in murder of Javier Valdez Cardenas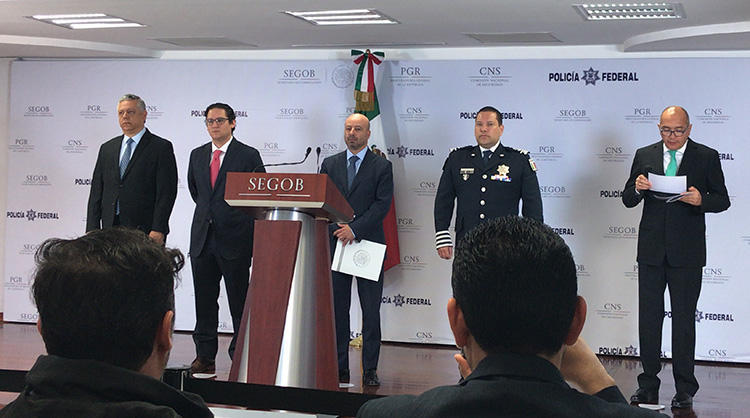 At a press conference on April 24, Mexican police announced they had arrested a 26-year-old individual as an accomplice in the murder of Mexican investigative reporter and editor Javier Valdez Cárdenas.
Valdez was shot dead on May 15, 2017, in Culiacán, the capital of Sinaloa state. The journalist often reported on organized crime and corruption in his home state of Sinaloa for the magazine. Two months before he was killed, Valdez told CPJ he was concerned for his safety. In 2011, CPJ honored him with its International Press Freedom Award.
CPJ welcomed the news of the arrest, but continues to urge Mexican authorities to identify all those responsible for Valdez's murder, including the mastermind.
"It comes as somewhat of a relief to all those involved–Javier's family and colleagues, as well as organizations like CPJ–that an arrest finally has been made almost a year after Javier was murdered," CPJ Mexico Representative Jan-Albert Hootsen said. "We also know, however, that this can only be the first step, and that there are other suspects out there that need to be apprehended. The case is far from closed."
Mexico is one of the deadliest countries in the Western Hemisphere for journalists. Mexico ranked sixth on CPJ's most recent Impunity Index, which spotlights countries where journalists are murdered regularly and their killers go free.
---
Must-reads in April
In mid-April, CPJ and Reporters Without Borders called on journalists who have faced challenges while entering or exiting the United States to share information about what happened to them. Press freedom groups including CPJ have documented at least 19 cases of journalists being stopped at the border. Nearly half of them were asked to unlock and turn over their cell phones.
At least one journalist has been killed covering the protests that escalated in Nicaragua in April. CPJ published an alert on the death, and also documented attacks on nine journalists in the country. In addition, CPJ issued a safety advisory detailing ways for journalists to minimize the risks they face while covering the unrest.
Two Ecuadoran journalists and one media worker were killed in April after being kidnapped in March. Reporter Javier Ortega, photojournalist Paúl Rivas, and driver Efraín Segarra worked for Ecuadoran daily newspaper El Comercio. CPJ condemned the murders and called on authorities to do what they can to hold the killers to account.
CPJ published an alert in April on the death of Russian journalist Maksim Borodin. The journalist, who died after falling from the balcony of his fifth-floor apartment, had gained national attention for his reporting. CPJ's Europe and Central Asia program coordinator, Nina Ognianova, called for a thorough investigation into Borodin's death, adding "Russia has a record of brushing aside suspicious deaths of members of the press."
---
Raise your voice to #FreeAustinTice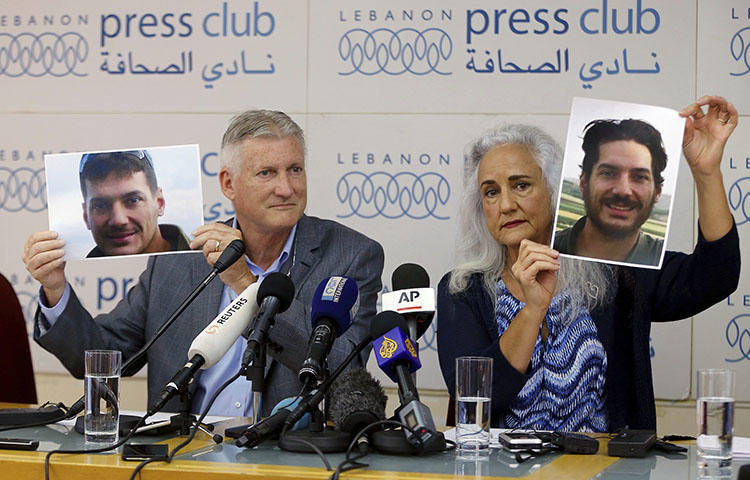 Freelance U.S. journalist Austin Tice disappeared while reporting in Syria nearly six years ago. He was last heard from on August 13, 2012, according to a website set up by his family.
Ever since he went missing, Tice's parents have worked hard to bring him home. They have met with government officials in various countries and traveled through the Middle East. CPJ has provided them with financial and moral support and, earlier this year, CPJ's executive director, Joel Simon, met with them in Houston, where they asked him a favor.
The Tices want journalists who care about and stand up for press freedom to tweet their concern for their son. It's a simple act, but it'll help serve as a reminder that even though Austin Tice is still missing, he hasn't been forgotten.
Join us each week, on Monday at 10 a.m., and tweet your support! #FreeAustinTice
---
CPJ on World Press Freedom Day
New York: CPJ Emergencies Director Maria Salazar-Ferro is speaking on a panel on press freedom at the United Nations, hosted by the United Nations Alliance of Civilizations and the News Literacy Project. Click here to register for the event.
New York: CPJ Deputy Executive Director Robert Mahoney will make remarks at an event on the safety of journalists and media workers held at the United Nations. The event is hosted by the UN Department of Public Information and UNESCO, along with 19 member states comprising the Group of Friends for the Protection of Journalists in New York. Register for the event here.
Washington: CPJ Executive Director Joel Simon is participating on a panel discussion, called "Journalism under threat," hosted by CPJ and Internews. Click here to register to attend.
Washington: CPJ's Middle East and North Africa program coordinator, Sherif Mansour, will be speaking on a panel at the National Press club on the imprisonment of Shawkan, an Egyptian photojournalist who was jailed in 2013. Click here to register for the event.
---
CPJ in the news
"The true damage of Trump's 'fake news'," The New York Times Editorial Board
"What if we didn't…have the First Amendment?" Mic
"US believes Austin Tice still alive as FBI offers new $1 million reward," ABC News
"Mexico: Suspect in murder of journalist Javier Valdez arrested," Al Jazeera
"Imprisoned for their pictures: Why four photojournalists landed in jail," Getty Images
"Egyptian website editor arrested for republishing article on election fraud," The Guardian
"Jailed Egyptian journalist to be awarded UNESCO press freedom prize," Reuters
"Turkey Cumhuriyet trial: 13 newspaper staff convicted over coup," BBC
"EU's 'Malta problem' puts free press at risk," EU Observer