Brussels, April 12, 2018–A delegation from the Committee to Protect Journalists this week met with senior European Union officials, including European Commission Vice President Frans Timmermans, to urge them to ensure EU institutions uphold press freedom in member states.
The delegation included Kati Marton, Hungarian-American journalist and author and a CPJ board member, Tom Gibson, CPJ's Brussels-based EU representative, and Shazdeh Omari, CPJ's senior program officer. The team met with eight EU officials and called on them to ensure the safety of journalists working in EU countries: in Poland, where journalists face legal threats, and in Malta and Slovakia where investigative journalists Daphne Caruana Galizia and Ján Kuciak were murdered in the past year. CPJ also highlighted dangers to press freedom in Hungary, where Prime Minister Viktor Orbán was elected on Sunday for a third term.
"Orbán continues to defy all EU norms and stifle free expression. Sunday's election results confirm that the opposition never had a chance as it was robbed of the oxygen of a free and fair media," said CPJ Board Member Kati Marton. "The EU should now react with the seriousness that the Hungarian erosion of basic democratic standards urgently requires."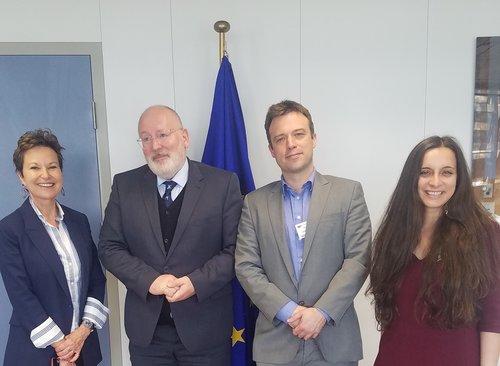 In an hour-long meeting with Commission Vice President Timmermans on Tuesday, CPJ urged him to apply pressure on Poland and support critical journalists there and in Hungary. Timmermans told CPJ that a democracy cannot exist without independent journalism. CPJ also urged him to continue calling for thorough investigations into Caruana Galizia and Kuciak's murders, as press freedom groups have documented that investigative journalists in Europe are facing risks each day while doing their jobs.
CPJ also called on Timmermans to issue a directive against Strategic Lawsuits Against Public Participation (SLAPPs) that would protect journalists from being forced to pay exorbitant legal fees designed to burden them financially and silence their criticism.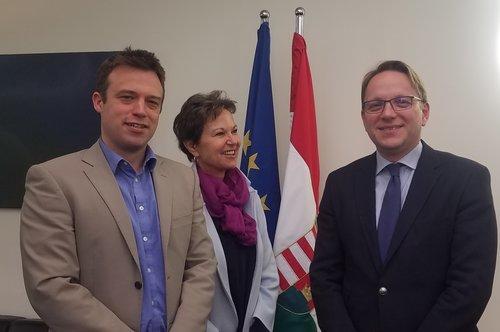 The delegation also met with Hungary's permanent representative, Olivér Várhelyi, to discuss press freedom following the recent re-election of Orbán. In a full and frank discussion, CPJ aired its concerns, including about the vital role of independent journalism in the country, and Várhelyi asked CPJ to share research with his office. He told the delegation, "In Hungary, and we all take huge pride in this, journalists should be writing about scandals they discover." Várhelyi added that Hungary was committed to European values, that the country is a "member state where public support for EU membership and being a European nation is strong."
CPJ on Wednesday met with Věra Jourová, commissioner for justice, gender equality, and consumers, urging her to continue pushing for the killers of Kuciak and Caruana Galizia to be brought to justice. The delegation also discussed the need for rule of law in Poland and a more free media environment in Hungary.
CPJ urged Jourová and Timmermans to consider the legal threats against journalists as the Commission engages in the Article 7 procedure that followed Poland's contested judicial reforms. CPJ also called for a comprehensive overview of press freedom in Poland and to ensure that EU values are upheld, including the protection of independent journalism. CPJ visited Poland in February and documented some of the threats in a Mission Journal last month.
"Polish journalists have told us that while the independent media are already marginalized in the country, the environment could deteriorate further," said Tom Gibson, CPJ's EU representative. "Critical journalists in Poland need to know they have the support of the European Union."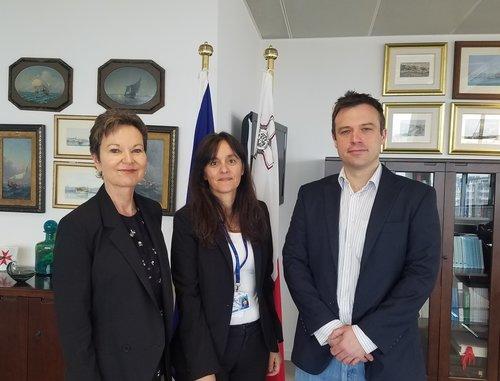 The recent murders in Malta and Slovakia show how journalists investigating corruption in EU countries are not safe. In meetings with Malta's permanent representative, Marlene Bonnici, and Slovakia's permanent representative, Peter Javorčik, CPJ reiterated the necessity of thorough and effective investigations into Caruana Galizia and Kuciak's murders. Bonnici pledged to bring CPJ's concerns to the relevant authorities. "Everyone wants the people who did this to be brought to justice–all people, including the masterminds," she said.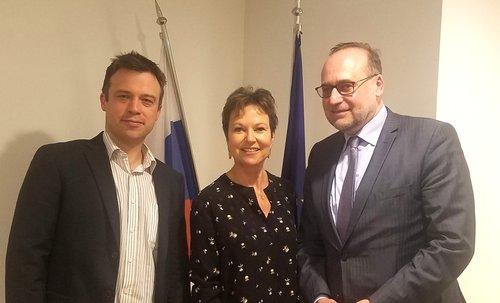 "The European Union must continue to push Malta and Slovakia to independently investigate and prosecute these appalling murders. It is a matter of priority that full justice is delivered." CPJ's Gibson said. "But this is also a wake-up call: EU institutions need to work out how to better support, reach out, and protect journalists at risk."
The CPJ delegation also met with a spokesperson from the German permanent representation to the EU, as well as with journalists who report on press freedom issues in Brussels, Poland, and Hungary. Marton was interviewed by regional media, including Le Soir, Belgian Television Radio (RTBF), and Politico.
Media contact:
Tom Gibson
EU Representative
[email protected]
+32-492-10-57-24