CPJ leads first-ever press freedom mission to the U.S.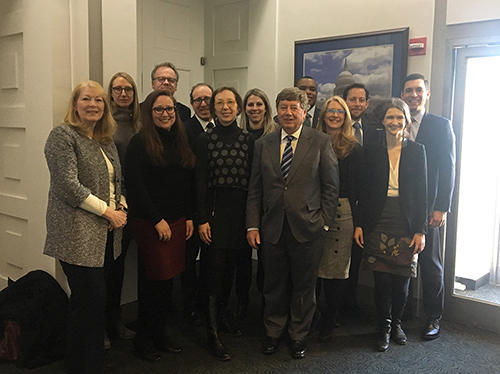 In January, CPJ and IFEX led an international mission of global press freedom groups to the United States. Representatives of CPJ, IFEX, Article 19, International Press Institute, Reporters Without Borders, and Index on Censorship traveled to Texas and Missouri, where they spoke with journalists about the conditions of press freedom during the first year of the Trump administration.
In St. Louis, where journalists were indiscriminately arrested in 2017 during protests, local reporters discussed how Missouri Gov. Eric Greitens has called the media "fake news," refused interviews, and directed his staff to use software that immediately erases mobile chats. CPJ published a press release after the mission.
The mission also met with U.S. Representatives Ted Poe from Houston and William Lacy Clay from St. Louis, as well as with the staff of other members of Congress, to discuss protest-related threats to journalists, access to information, border searches, and anti-press rhetoric. Poe said he was committed to fighting for access to information and the protection of journalists' sources, and that he would work with the groups in his final term to advance press freedom.
The mission concluded on January 17 with a panel discussion on press freedom in the U.S. at the Newseum in Washington, D.C. The event, called "Journalism in the Trump era: Assessing press freedom in the United States," featured panelists Jim Acosta, CNN senior White House correspondent; Melinda Henneberger, editorial writer and columnist of The Kansas City Star; John Roberts, FOX News' chief White House correspondent; and April Ryan, White House correspondent for the Urban American Radio Network. Gene Policinski of the Newseum moderated the panel.
CPJ Executive Director Joel Simon made opening remarks at the event, and highlighted data from the U.S. Press Freedom Tracker that found at least 44 physical attacks have taken place on journalists in the United States in 2017. During the panel discussion, Ryan told the crowd that she and other journalists have received death threats and have the police "on speed dial."
CPJ continues to raise our voice about threats to journalists in the United States. In January, Senator John McCain (R-AZ) cited CPJ research in his Washington Post op-ed, and called on the president to "stop attacking the press." CPJ's report on imprisoned journalists, McCain wrote, "revealed a bleak global climate for press freedom as more governments seek to control access to information and limit freedom of opinion and expression."
Last month, in a speech on the Senate floor, Senator Jeff Flake (R-AZ) also cited CPJ's prison census, saying, "The number of journalists imprisoned around the world has reached 262, which is a new record. This total includes 21 reporters who are being held on 'false news' charges."
Meanwhile, CPJ continues to speak out. In an op-ed in Mediaite, CPJ's North America program coordinator, Alexandra Ellerbeck, wrote about how the Trump administration's anti-press rhetoric puts journalists in danger. CPJ Deputy Director Robert Mahoney discussed the "onslaught against journalists in the United States" in an op-ed for the Washington Examiner. In his column for the Columbia Journalism Review, CPJ's Simon examined Trump's record on press freedom one year after his inauguration.
---
CPJ honors global leaders with "Press Oppressors" awards
In January, CPJ published its Press Oppressors Awards, which named world leaders who have gone out of their way to undermine freedom of the press.
CPJ named Turkish President Recep Tayyip Erdoğan as the winner of the "Most Outrageous Use of Terror Laws Against the Press" Award. Our research shows that Turkish authorities have repeatedly charged journalists, news outlets, and social media users for insulting Erdoğan, insulting other Turkish leaders, and insulting "Turkishness." Chinese President Xi Jinping was the winner of the "Tightest Grip on the Media" Award. CPJ has found that Beijing, under Xi's grip, uses a combination of traditional censorship and Internet controls to keep the press in line. China has consistently ranked among the world's worst jailers of the press. CPJ also named U.S. President Donald Trump as an award winner, as he has consistently undermined press freedom and declined to publicly raise freedom of the press issues with repressive leaders.
---
US senators call for end to impunity in Mexico
On January 11, U.S. Senators Marco Rubio (R-FL), Robert Menendez (D-NJ), John Cornyn (R-TX), Patrick J. Leahy (D-VT), Todd Young (R-IN), Robert P. Casey, Jr. (D-PA), and Christopher A. Coons (D-DE) wrote an open letter to the U.S. State Department calling on Secretary of State Rex Tillerson to work with Mexican authorities to investigate the murders of Mexican journalists in 2017, and bring those responsible to justice.
The letter highlighted the cases of six journalists. One of them was Javier Valdez Cárdenas, a Mexican reporter who was shot dead in mid-May 2017. Valdez, who co-founded the Mexican investigative weekly Riodoce, was honored with CPJ's 2011 International Press Freedom Award.
In recent months, CPJ has worked closely with several leaders in the U.S. Senate and House of Representatives, urging them to call publicly for improved protections for journalists around the world. In December and January, CPJ provided research and information to Rubio's office on journalists murdered in Mexico.
CPJ ranks Mexico among the most dangerous countries in the world to be a journalist. With little to discourage violence against the press, criminal gangs, cartels, and corrupt officials are able to silence critics as they please.
In May, days before Valdez was killed, a CPJ delegation met with Mexican President Enrique Peña Nieto to discuss the high levels of impunity in journalist murders in the country. CPJ also released a special report on the issue while in Mexico. During the meeting, Peña Nieto told CPJ that combating impunity in journalist murders and ensuring the safety and protection of journalists would be a priority for the remainder of his administration. "We need to consolidate the new justice system, but this is not an excuse," he told CPJ.
---
Must-reads in January
In January, two Reuters journalists were charged under the 1923 Official Secrets Act in Myanmar after being arrested in mid-December. CPJ documented the imprisonment of Wa Lone and Kyaw Soe Oo and continues to call on Myanmar authorities to release the journalists immediately.
Ethiopian Prime Minister Hailemariam Desalegn promised in January to free political prisoners and then released at least 115 people–including radio journalists Darsema Sori and Khalid Mohammed. But, as CPJ's Africa team points out, Ethiopia remains a hostile environment for journalists.
The Philippines Securities and Exchange Commission in mid-January revoked the registration of the news website Rappler, effectively shutting it down. Rappler has received backlash for its critical coverage of Philippines President Rodrigo Duterte. "This effort to close one of the country's most respected independent news publications is a grave affront to press freedom in the Philippines," CPJ said.
---
CPJ, ICIJ honored with grants from the Hollywood Foreign Press Association
During the 75th annual Golden Globes ceremony on January 7, Meher Tatna, president of the Hollywood Foreign Press Association, announced that CPJ and our colleagues at the International Consortium of Investigative Journalists were each being awarded a $1 million grant!
CPJ was thrilled by the news. We fight every day for the rights of journalists to report the news–and this kind of support goes a long way.
CPJ believes that journalists everywhere should be able to do their job without fear of harassment or retaliation. With a free and open press, people everywhere can have the information they need to hold their governments accountable and make informed decisions about their lives.
Thank you for your support!
---
CPJ and the
Columbia Journalism Review
host an event in Toronto
CPJ and the Columbia Journalism Review are hosting a special event in Toronto to mark the publication of CJR's winter edition, which is devoted to threats against journalists around the world. CPJ also partnered with Reuters and the Globe and Mail on the event.
The event will consist of three sessions, during which we will look at how President Donald Trump's threats against the press have reverberated throughout the United States and around the world; examine where journalists are most under threat globally; and discuss the climate for press freedom in Myanmar, where two Reuters journalists have been detained.
The event will be held from 2 p.m. to 5 p.m. on February 12 at Thomson Reuters in Toronto. Click here to RSVP!
---
CPJ in the news
"Mr. President, stop attacking the press," The Washington Post
"Journalists raise concerns about 'fake news' rhetoric after man's arrest for threats to CNN," Variety
"CPJ taunts President Trump with awards for 'thin-skinned press oppressors'," NY Daily News
"In a time of 'Fake News Awards,' here are 11 real, imprisoned journalists," The Washington Post
"'Fake news' crutch used by SE Asian leaders to control media, critics charge," Reuters
"US condemns Sunda's arbitrary detention of journalists," Voice of America
"Mexican journalists fear for their lives after columnist stabbed 21 times in front of family," People
"Philippines government orders closure of news site Rappler, fueling concerns about press freedom," LA Times
"CPJ sees surprise spike in Hollywood donations," Hollywood Reporter
"And the Golden Globes goes to … press freedom," Kathmandu Tribune