CPJ and Freedom of the Press Foundation launch the "U.S. Press Freedom Tracker"
On August 2, CPJ, the Freedom of the Press Foundation (FPF), and 22 partner organizations launched the U.S. Press Freedom Tracker, a website that documents threats to press freedom in the United States.
The U.S. Press Freedom Tracker is the first centralized source of data of its kind.
The United States has a long tradition of press freedom, but American journalists have faced increased hostility and threats. The U.S. Press Freedom Tracker will document incidents such as the arrests of journalists, the seizure of their equipment, physical attacks, border stops, and more.
The website is the product of months of close collaboration between CPJ and FPF. CPJ provided the initial funding and chairs the site's steering committee by way of its senior Americas and U.S. research associate, Alexandra Ellerbeck. FPF leads the day-to-day operations of the website, with its senior reporter, Peter Sterne, serving as the managing editor.
Data made available on the site will serve as a resource for journalists and press freedom advocates, helping inform advocacy, journalism, and legal action. CPJ, too, will be better equipped to continue supporting the rights of journalists in the United States by having access to the site's ever-growing database. As Ellerbeck put it, "At a time when journalists face increased hostility in the U.S., this project will provide a crucial tool for press freedom's defenders."
Be sure to visit the new site and follow the project on Twitter!
---
CPJ discusses Pavel Sheremet's murder with Ukrainian president
« Previous Image | Next Image »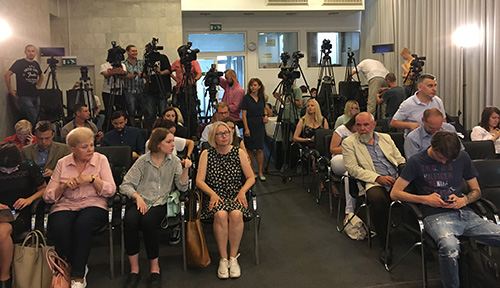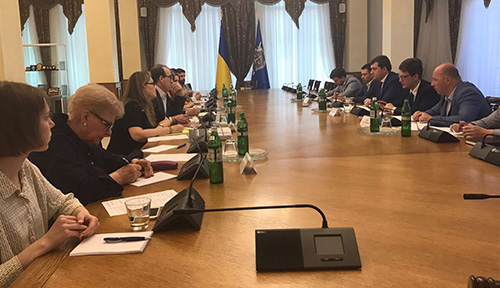 While in Kiev to launch a report on the 2016 murder of journalist Pavel Sheremet, a CPJ delegation met with Ukrainian President Petro Poroshenko, where they, alongside members of Sheremet's family, expressed their concerns and recommendations regarding the investigation into the killing. Poroshenko acknowledged the lack of progress in the case and proposed introducing an independent investigator to the probe. CPJ also held substantive meetings with representatives from Ukraine's General Prosecutor's Office, the National Police, and the Security Service of Ukraine (SBU), the three agencies responsible for the investigation.
At a press conference in Kiev, the CPJ delegation–made up of Alan Rusbridger, CPJ board member and former Guardian editor; Joel Simon, CPJ's executive director; Nina Ognianova, CPJ's Europe and Central Asia program coordinator; Tom Gibson, CPJ's EU representative and advocacy manager; and the report's author, Kiev-based American journalist Christopher Miller–launched the report, "Justice Denied," days before the one-year anniversary of Sheremet's murder. The report, available in English, Ukrainian, and Russian, criticizes the lack of progress made in the investigation and urges authorities to act swiftly.
Sheremet, a reporter for the independent news website Ukrainska Pravada and the independent broadcaster Radio Vesti, was killed in July 2016 when an explosive device detonated under his car. A recipient of CPJ's 1998 International Press Freedom Award, Sheremet was no stranger to threats and violence in retaliation for his reporting.
"Ukraine's leaders must deliver on their pledges to deliver justice in the case of Pavel Sheremet," said CPJ's Ognianova. "The lingering impunity in the murder of this journalist has chilled coverage of sensitive topics in the country. If Ukraine is serious about reforming its justice system and improving rule of law, it should solve Sheremet's murder without further delay."
On July 20, the one-year anniversary of Sheremet's death, the EU delegation in Kiev, G7 Ambassadors to Kiev, and European Parliament member Rebecca Harms called for Sheremet's killers to be brought to justice. CPJ met with the EU delegation and ambassadors the week prior and urged them to speak out. The U.S. State Department, new OSCE Representative on Freedom of the Media Harlem Désir, and a group of international organizations including CPJ who are partners on the Council of Europe's "Platforms to protect journalism and safety of journalists" also made statements.
Upon returning from Kiev, Ognianova published an op-ed on Sheremet's case and the state of press freedom in Ukraine. CPJ will continue to monitor the investigation's progress and hold President Poroshenko to the promises he has made.
Pavel Sheremet deserves justice!
---
CPJ announces winners of 2017 International Press Freedom Award
"One time, my teacher asked me about what do I want to be after I graduate," said Afrah Nasser, a Yemeni blogger living in exile in Sweden. "I want to become a writer," she told him. "You'll die poor and unread–and nobody will know about you," he replied.
"How much was he wrong, right?"
Nasser posted the above exchange on her Facebook page the day CPJ announced she would receive its 2017 International Press Freedom Award. An exiled Yemeni blogger who reports on human rights violations, women's rights, and press freedom from Sweden, Nasser was one of CPJ's four International Press Freedom Award winners announcedin July.
The others are Ahmed Abba, a Cameroonian correspondent for Radio France Internationale's Hausa service, who has been imprisoned since 2015; Patricia Mayorga, a writer for the Mexican newsmagazine Proceso who was forced to flee her home state after receiving threats; and Pravit Rojanaphruk, a prominent Thai reporter and longtime advocate for press freedom.
CPJ also announced that Judy Woodruff, a broadcast journalist and managing editor of "PBS NewsHour," would receive its inaugural Gwen Ifill Press Freedom Award. Renamed from the Burton Benjamin Memorial Award, which was awarded from 1991 to 2016, the award is given to individuals who show extraordinary and sustained achievement in the cause of press freedom.
CPJ's 2017 International Press Freedom Awards dinner will be held at the Grand Hyatt New York in New York City, on Wednesday, November 15, 2017. The event will be hosted by Christiane Amanpour, chief international correspondent for CNN and CPJ senior advisor, and chaired by David Rhodes, president of CBS News. For more information on reserving a table or purchasing tickets, please call Buckley Hall Events at (914) 579-1000 or CPJ's Development Office at (212) 300-9021, or email CPJdinner@buckleyhallevents.com.
---
Memorial honors the late Mexican journalist, Javier Valdez
CPJ and Reporters Without Borders joined together to host a memorial in Mexico City for the late Javier Valdez Cárdenas. Valdez, CPJ's 2011 International Press Freedom Award winner, was murdered this year on May 15 near the offices of Riodoce, the investigative weekly he co-founded in 2003. The journalist often reported on organized crime and corruption in his home state of Sinaloa for the magazine. In March, he told CPJ he was concerned for his safety.
More than 150 people attended the memorial, many of whom were close friends and colleagues of Valdez. Carlos Lauría, CPJ's senior program coordinator for the Americas and a friend of Valdez, spoke at the event, as did Valdez's widow, Griselda Triana. "If all that is left is to demand justice, we must cry for it," Triana said, surrounded by her children.
Despite having established Valdez's work as a main reason for his murder, investigators have yet to release any details regarding the killers' identities or motive. In May, days before Valdez's murder, CPJ released a report on impunity in journalist murders in Mexico and met with the president, who pledged to bring journalist killers to justice.
---
CPJ honored at Hollywood Foreign Press Association's grants banquet
At its annual grants banquet on August 2, the Hollywood Foreign Press Association, which hosts the Golden Globes each year, announced that CPJ would receive a grant of $200,000. The gift was accepted on CPJ's behalf by Robert Pattinson, actor and star of the Twilight series.
The HFPA handed out about $2.8 million in grants and scholarships that night, which were presented by a slew of celebrities, including Dustin Hoffman, Mark Hamill, Elisabeth Moss, Patrick Stewart, and Chrissy Metz. Chelsea Handler hosted the event.
For Meher Tatna, the new president of the HFPA, supporting CPJ was a "no-brainer," she told Variety magazine. "It's horrifying, in this day and age, what [journalists] have to go through to get the story."
---
It's easy as ever to support CPJ
There are an increasing number of ways to make a gift to CPJ!
You can show your support by donating online or signing up to be a recurring monthly donor. You can also create a fundraiser on Facebook and select CPJ as the beneficiary. Meanwhile, we are on Amazon Smile as well, which gives you an easy–and free!–way to support your favorite press freedom organization while you shop.
You can also show your support by following us on Facebook and Twitter.
We are so grateful for the outpouring of support you've shown us this year. Thank you so much for helping us defend journalists across the globe!
---
CPJ in the news
"Journalism advocates join in tracking Trump-era attacks on the press," The Huffington Post
"US Press Freedom Tracker launches with donation from 'body-slamming' congressman," ABC News
"New website tracks Trump's extensive war on journalism," The Daily Dot
"Journalist advocate responds to Trump's latest attack on media," National Public Radio
"Free press groups warn of violence against media," Politico
"I'm a Ukrainian journalist, and I'm tired of living in fear," The Washington Post
"CPJ criticizes Ukrainian probe of journalist Sheremet's death," Radio Free Europe/Radio Liberty
"CPJ: Not only Russian and Belarusian authorities, but also Ukrainian authorities could be responsible for Sheremet's murder," Ukrainska Pravda (Russian)
"Can Mexico save its journalists?" BBC News
"Khaosod English writer wins press freedom award," Khaosod English
"Jailed Cameroonian journalist Ahmed Abba wins award," Daily Nation
"CPJ: Police should protect Kremlin-critical journalist," The Washington Post
---
This edition of "CPJ Highlights" was written by Henry Buckley, CPJ's Development intern.