Shots fired at newspaper office, no one injured
An unknown assailant in a moving taxi fired two shots from a handgun at the building housing the daily newspaper Cumhuriyet in Istanbul this morning, Cumhuriyet reported. A police investigation is in progress, the report said.
Columnist acquitted of 'insulting the president'
Istanbul's Second Anadolu Court of First Instance today acquitted Murat Belge, an academic and former columnist for the now-shuttered daily newspaper Taraf, of charges of "insulting the president," the news website Diken reported. The charges stemmed from a September 12, 2015, column, CPJ reported when his trial began in May 2016.
[March 3, 2017]
Court orders reporter released pending trial
Şırnak's Second Court of Serious Crimes yesterday ordered Aysel Işık, a former reporter for the shuttered Jin News Agency (JİNHA) released after the first session of her trial, the news website Gazete Sujin reported. Police arrested Işık on November 21, 2016, CPJ reported at the time, and she had been held in the Urfa Women's Prison since. Işık attended the hearing from prison via video conference, pleaded not guilty, and stated that she was arrested for practicing journalism. Her trial on charges of being a member of a terrorist organization and propagandizing for a terrorist organization will continue. According to the indictment, which CPJ has reviewed, prosecutors allege that she is a member of the Kurdistan Workers' Party (PKK), which Turkey classes as a terrorist organization, based on social media posts they said were critical of Turkish security forces and praised the PKK, and on the basis of her arrest's having been reported by media outlets prosecutors consider to be pro-PKK.
Prison sentence for wire reporter
Mardin's Second Court for Serious Crimes today sentenced Zehra Doğan, another former JİNHA journalist, to two years, nine months, and 22 days in prison on charges of "being a member of a [terrorist] organization" and "propagandizing for a [terrorist] organization," Gazete Sujin reported. Police arrested Doğan on July 22, 2016, but a court ordered her release pending the conclusion of her trial in early December, CPJ reported at the time. The court cited her news stories, social media posts, and paintings she produced as a hobby as evidence of her membership in the PKK. The journalist maintained her innocence and said her social media posts were about news events and were not propaganda. Doğan is free, pending appeal.
Secret trial of Cumhuriyet journalists, politician resumes
Istanbul's 14th Court for Serious Crimes yesterday resumed hearing the case of Can Dündar, the former editor of Cumhuriyet newspaper whom CPJ honored with its International Press Freedom Award in 2016, Erdem Gül, the newspaper's Ankara representative, and Enis Berberoğlu, a former journalist and current member of parliament for the opposition Republican People's Party (CHP), the news website Dihaber reported. The court decided that the trial will remain secret on national security grounds. The three face charges related to the newspaper's 2015 report that the Turkish intelligence agency was sending arms to Syrian rebels under cover of humanitarian aid.
Publisher ordered to appear in court
Aydın Doğan, founder of Doğan Holdings and business partner of U.S. President Donald Trump, was ordered to appear in court on charges related to his oil business, the New York Times reported. The daily newspaper Hürriyet, which Doğan Holdings publishes, has recently drawn government fire for a story suggesting top military officers were uncomfortable with some government policy decisions.
Sedat Ergin, who resigned as editor of Hürriyet yesterday, said he did so because he weary of the job, and not because of the controversy over the story, the newspaper reported. Ergin will continue as a columnist at the newspaper.
Journalist to sue politician over insult
Journalist Abdülkadir Selvi, member of Turkey's minority Alevi sect of Islam, said he would sue Devlet Bahçeli, leader of the Nationalist Movement Party (MHP), because Bahçeli called him "kılıç artığı," literally, a "leftover of the sword," a highly insulting term in Turkish referring to those who became Muslim by conquest, after a massacre, the newspaper Evrensel reported.
[March 2, 2017]
Court hands columnist suspended sentence for 'insulting the president'
Ankara's 24th Court of First Instance today imposed a suspended sentence of 11 months and 24 days on veteran columnist Hasan Cemal for "insulting the president," the news website T24 reported. The charges stemmed from a January 16, 2016, column for the website in which Cemal quoted opposition Republican People's Party (CHP) leader Kemal Kılıçdaroğlu calling Turkish President Recep Tayyip Erdoğan "a sorry excuse for a dictator."
Editor replaced, investigation launched following newspaper story on military
A February 25 story in the daily newspaper Hürriyet that quoted unnamed military officers as saying the top brass was uncomfortable with several recent developments has drawn criticism from Turkish President Recep Tayyip Erdoğan and prompted a criminal investigation, according to press reports. Hürriyet yesterday called the story "an editorial mistake," and today replaced the newspaper's editor.
The story, headlined "Seven answers to seven critics," was written by Hande Fırat, who is best known as the TV journalist who received Erdoğan's Facetime video call on air the night of July 15, 2016, in which he urged citizens to fill the streets to foil the attempted military coup then in progress. Following that call, Fırat was promoted to Ankara bureau chief at Hürriyet, wrote a book on the night, titled 24 Hours–Begind the Scenes of July 15, and received an offer of US $250,000 from a Saudi businessman for the mobile phone on which she received the president's call, according to press reports.
In her February 25 story, Fırat cited unnamed military sources as saying the top command was uneasy with a series of developments, including moves to allow women in the military to wear religious headscarves, foreign policy trends, and the military's chief of staff being accompanying the president in public too often.
After the military, Prime Minister Binali Yıldırım, Justice Minister Bekir Bozdag, Defense Minister Fikri Işık, and pro-government newspapers criticized the story, Hürriyet on February 26 published a statement standing by its reporting, and said allegations that the newspaper was pro-coup were baseless.
On February 27, and Erdoğan himself joined the criticism of the story.
"What is being done here is an act of misbehavior and worthlessness. Neither the administration of the paper nor its boss can come up with such a headline…Whoever tries to pit us [the government and the military] against each other will pay a heavy price," Erdoğan said, according to press reports.
The news website T24 reported that shares in Hürriyet and its publisher, Doğan Holding, slid 10 and 12 percent, respectively, after Erdoğan's statement.
That day, Hürriyet reported that Mehmet Hakan Sağlam, a professor at Istanbul University, had filed a criminal complaint regarding the story with the Bakırköy Prosecutor's Office in Istanbul, and that prosecutors there had launched an investigation into whether the story pointed to the existence of a group of military officers trying to undermine the government.
The Turkish Armed Forces issued an official statement on the February 28 confirming that Fırat had interviewed an officer, but that the officer had given no indication that the military was interested in politics, and denying that military leaders were uncomfortable with any of the issues mentioned in the story.
Hürriyet then issued a second statement on the story, calling it "an editorial mistake" to have cast criticisms as signs of the military's unease with the government.
Today Hürriyet replaced Sedat Ergin, who had served as editor of the newspaper for the past two years, with Fikret Bila, a more pro-government journalist who had edited the daily newspaper Milliyet, according to the leftist newspaper Evrensel.
[March 1, 2017]
Court jails Die Welt correspondent pending trial
Istanbul's 9th Court of Penal Peace at the Çağlayan Courthouse ordered Die Welt Turkey correspondent and columnist Deniz Yücel jailed, pending trial on charges of "propagandizing for a [terrorist] organization" and "provoking the people to hatred and animosity," in a four-hour session last night, the daily newspaper Evrensel reported.
According to that report, the court cited Yücel's journalistic work as justification for the decision, in particular: Yücel's interview with Cemil Bayık, a leader of the outlawed Kurdistan Workers' Party (PKK); a column critical of Turkey's police towards its Kurdish citizens; two other columns arguing that the evidence available did not definitively prove that the outlawed Fethullah Gülen network was behind a failed military coup in July 2016; and another column on the destruction wrought in Cizre in Turkish forces' battle with Kurdish separatists.
Evrensel reported that Yücel, a citizen of Turkey and Germany, denied all charges.
"I love my country despite its wrongs and shortfalls," Evrensel quoted him as saying in the hearing. "I have never been a member of any [terrorist] organization. The only organization that I am a member of is the Journalists' Union of Germany. I practiced journalism by the universal principles of journalism, made comments focusing on basic human rights and freedoms. I practice this profession without taking orders from the state, my boss, [or] anybody."
According to German broadcaster Deutsche Welle, German Chancellor Angela Merkel found the court's decision "bitter and disappointing."
"This measure is disproportionately harsh, especially given that Deniz Yücel presented himself to the Turkish justice system voluntarily and for the purpose of the investigation," Merkel said, according to Deutsche Welle's report. "The German government expects that the Turkish justice system will keep in mind the great importance that press freedom has in any democratic society in its treatment of Yücel's case."
"In our opinion, there has been no reason to deprive Deniz Yucel of his liberty," German Foreign Minister Sigmar Gabriel said. "We are now resting our hopes on the court's respecting principles in accordance with the freedom of the press and that Mister Yücel will be set free as soon as possible," according to Euronews.
Deutsche Welle also reported that foreign journalists in Turkey believe Yücel's arrest was meant as a warning to them.
[February 28, 2017]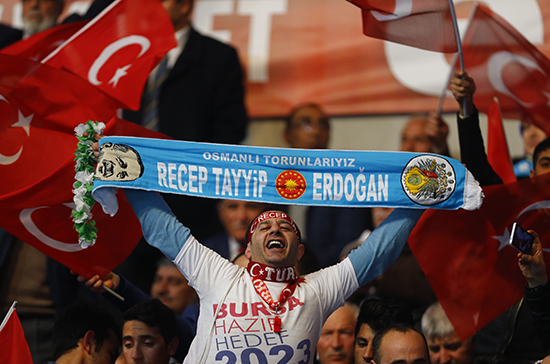 'Media will have to watch their step,' warns deputy prime minister
Turkish Deputy Prime Minister Numan Kurtulmuş in a February 23 speech again threatened Turkish media, according to the state-run Anadolou News Agency, the English-language newspaper Hürriyet Daily News reported.
"I am saying very clearly that the media will have to watch [their] step," Kurtulmuş said. "I was criticized when I said this before, but I'm sorry, in a country that is struggling against terrorism the media cannot be a fun farm. Nobody can act on behalf of terrorist organizations in the media. Some media outlets are still using the terminology of terrorist organizations."
Police detain reporter in pre-dawn raid
Police detained Helin Yıldırım, a journalism student and former reporter of the shuttered Jin News Agency (JİNHA), from her home in a 4 a.m. raid on February 21, the news website Demokrat Haber reported on February 25. The website reported that because a court had sealed the investigation, the young journalist's lawyers were unaware what charges she faces, if any.
Court rejects journalist's appeal of terrorism conviction
The Fourth Criminal Department of the Ankara Regional Court of Justice on February 24 rejected Firat News Agency (ANF) journalist Ali Barış Kurt's appeal of a November 2016 two-year and four-month prison sentence on charges he produced "propaganda for a terrorist organization" in his journalism, Kurt wrote on Twitter.
"Our appeal of my prison sentence is rejected; the sentence is finalized. We will definitely win! See you later," Kurt wrote. CPJ was not immediately able to learn whether the journalist was in custody.
European Court of Human Rights to take up Altan brothers' case: report
The European Court of Human Rights agreed to accept an application filed on behalf of renowned writers and journalists Ahmet and Mehmet Altan, according to the independent news website P24. The Altan brothers are accused of participating in the failed July 2016 military coup by sending "subliminal messages" in a televised debate a night before the failed coup.
[February 27, 2017]