Meryl Streep's nod to CPJ leads to record-breaking number of donations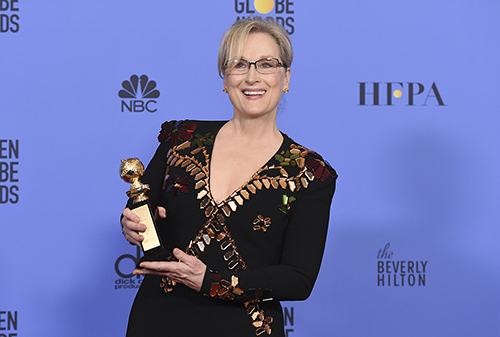 Earlier this month, Meryl Streep ascended the stage at the Golden Globes ceremony to accept the Cecil B. DeMille Award and gave a resounding speech about the importance of a free press in the United States.
"When the powerful use their position to bully others, we all lose," she said. "We need the principled press to hold power to account. So I only ask … all of us in our community to join me in supporting the Committee to Protect Journalists."
And you did.
Since Streep's onstage plea, we received a record level of donations–3,764 of you donated almost $500,000! We've also seen a huge spike in our email subscribers and social media followers. Thanks to you, our voice will be louder and more powerful than before.
CPJ will continue to uphold our mission of defending journalists worldwide, but we are also focused on upholding the rights of journalists in the United States to report the news freely. We have published a series of blog posts, Transition to Trump, which examines the climate for press freedom, including threats faced by journalists, in the United States. We released a safety advisory for journalists covering the inauguration and the protests around it. And we continue to make our voice heard. CPJ Executive Director Joel Simon spoke to BuzzFeed about Trump's singling out an individual reporter when speaking to the CIA the day after his inauguration.
"Now he's got the power to turn this obsession into policy, so that's the other shoe to drop," Simon said. "What's next?"
Simon was also quoted on CNN. "Steve Bannon sought to provoke the media so any response risks playing into his hands," he said. "Nevertheless, what needs to be said is this: This kind of speech not only undermines the work of the media in this country, it emboldens autocratic leaders around the world. These leaders–like Putin in Russia and Erdogan in Turkey–have consolidated power by marginalizing independent media. We can't allow that to happen in the United States."
Be sure you're signed up to read more about our work and on how to get involved in our advocacy campaigns. With your support, we will continue working to uphold press freedom in the United States and globally. After all, journalists everywhere are under unprecedented threat. This is the most dangerous time to be member of the media anywhere in the world. Governments were holding nearly 260 journalists behind bars in late 2016, the highest number since CPJ began keeping records in 1990, and at least 48 journalists were killed in relation to their work last year.
Tweet: Support CPJ today
---
Rioting charges dropped against U.S. journalists
U.S. authorities dropped the rioting charges against journalists who were arrested on January 20 while covering protests on the day of President Donald Trump's inauguration.
CPJ reported on the arrests of Evan Engel, a senior producer at the news website Vocativ; Alex Rubinstein, a reporter for the Russian state-funded broadcaster RT America, and Aaron Cantu, a freelance journalist. At least 230 other people were arrested in Washington that day after individuals set fire to a car and broke windows of downtown businesses, according to reports and police documents. The journalists were charged with felony rioting. The charges against Engel were dropped on Friday, and the ones against Rubinstein were dropped on Monday. Cantu, who is not behind bars, still faces rioting charges.
"We remain concerned that Aaron is still being charged with a felony because our understanding is that he was there as a journalist," CPJ's advocacy director Courtney Radsch told The New York Times. "If the authorities have evidence that is not true, they need to present that or else not continue to charge him. Journalism is not a criminal activity."
CPJ is following up on the cases of other journalists arrested at the inauguration.
---
Journalists released from prison in…
…Vietnam
CPJ welcomed the release from prison on January 13 of Dan Xuan Dieu, a Vietnamese journalist who was arrested in July 2011 and sentenced to 13 years on charges of attempting to overthrow the government.
Dieu was a journalist at the Catholic news agency Vietnam Redemptorist News, which reports on the plight of the country's persecuted Catholic minority, land disputes between the government and local communities, and other social issues.
Dieu's release coincided with U.S. Secretary of State John Kerry's arrival in Vietnam for meetings with leaders of the country's ruling Communist Party. The journalist was included in each of CPJ's annual prison reports since his arrest in 2011. In our most recent prison census, we found that at least 259 journalists were behind bars for their work in late 2016. Nearly three-quarters of the total number of journalists imprisoned, including Dieu, were held on anti-state charges.
… Montenegro
In early January, a court in Montenegro ordered the release of independent journalist Jovo Martinović, pending the outcome of his trial. The journalist spent more than 14 months in prison on drug smuggling charges, he told CPJ. He was ordered to check in with police twice a month and his passport was confiscated.
Martinović was detained in October 2015 for allegedly facilitating a meeting between drug dealers and buyers, and helping to install an app on the smart phone of an alleged drug trafficker, according to press reports. The journalist denied wrongdoing and said his only interaction with his co-accused, who also face drug charges, was in the context of reporting. CPJ and other groups advocated for Martinović's release.
Tweet: No journalist should be jailed in relation to their work
---
Sold-out event at NYU, 'garbage' from BuzzFeed benefit CPJ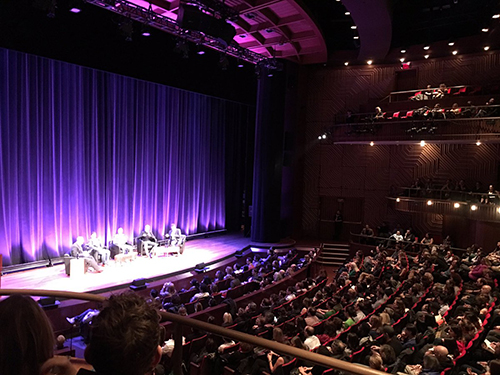 On January 25, Slate and New York University co-hosted a sold-out panel event with journalists to discuss how the media can–and should–cover the Trump presidency.
The event was introduced by Jay Rosen, a journalism professor at NYU, who spoke about the importance of verification in news media. The panel was moderated by Brian Stelter, CNN's senior media correspondent and host of "Reliable Sources," and featured David Remnick, editor of the New Yorker and a CPJ board member; Jacob Weisberg, chairman of the Slate Group and a CPJ board member; Huffington Post editor-in-chief Lydia Polgreen; and Borja Echevarría, vice-president and editor-in-chief of Univision Digital. The panel conversation included issues like media solidarity, covering the president, how to deal with "alternative facts," and the war on the media.
"The job of journalism is to put pressure on power," Remnick said. "Fact-based, rigorous pressure."
Profits from the event were donated to CPJ. "We were so pleased to be a part of this event and are very grateful for the support," said Joel Simon, CPJ's executive director. "CPJ is committed to defending the rights of all journalists to report the news, from Azerbaijan to Kenya to Turkey to the United States."
Meanwhile, BuzzFeed donated $25,000 to CPJ this month, the proceeds of merchandise it sold after then President-elect Trump called the outlet a "failing pile of garbage."
Thanks, BuzzFeed!
Tweet: Support CPJ today
---
Bahraini news website allowed to resume publishing
On January 19, the online edition of the Bahraini newspaper Al-Wasat was allowed to resume publishing, two days after it was suspended by the government.
The day the newspaper's online edition was suspended, CPJ called on Bahraini authorities to rescind the order. "Bahrain claims it respects press freedom," said CPJ's Middle East and North Africa senior research associate, Jason Stern, adding that CPJ called on the government to stop censoring and harassing independent media.
It was not clear what articles led to the suspension of the outlet's online edition, which republishes content from the print edition.
Al-Wasat has come under pressure from the Bahraini government before. In 2015, it was ordered to stop publishing for a few days after authorities accused the outlet of "repeated dissemination of information that affects national unity and the kingdom's relationship with other countries." CPJ honored Mansoor al-Jamri, co-founder and editor-in-chief of Al-Wasat, with its 2011 International Press Freedom Award.
Tweet: I call on Bahrain to respect the role of journalism!
---
Must-reads in January
CPJ has published a blog series that examines the status of press freedom in the United States. For a post on Inauguration Day, called "Transition to Trump: When a president-elect tweets, the trolls take aim," we spoke to reporters who said they felt Trump has created an environment ripe for harassment. On Twitter alone, he tweeted 613 insults at reporters or media outlets from the time he declared his candidacy in June 2015 through December 6, according to The New York Times.
Turkish prosecutors are charging 29 people with terrorism, including at least 19 journalists CPJ documented as being behind bars in its most recent prison census. In CPJ's "Turkey Crackdown Chronicle" this month, we look at how the Turkish government continues to censor and prosecute critical journalists and news outlets.
Gambia experienced a tense political transition in January after the outgoing president, Yahya Jammeh, refused to concede defeat in the December elections. We published a comprehensive alert, "Seven journalists denied entry to Gambia ahead of contested inauguration" documenting the obstruction and other press freedom violations as an attempt to silence the press during a period of unrest.
CPJ's Emergencies Response Team issued a safety advisory for journalists covering the inauguration of President Trump on January 20 and the events that weekend. "Always try to work with a colleague and have a regular check-in procedure with your base," reads one tip. "Keep an extended arm's length from the threat," says another. Read the full safety advisory here.
---
Do your part to #FreeThePress
CPJ is launching a "Free the Press" campaign that raises awareness of journalists imprisoned around the world on anti-state charges.
The campaign, which will feature 10 journalists over the year, draws attention to the tactic employed by governments and calls on them to stop putting journalists behind bars on allegations of anti-state charges. In our most recent prison census, CPJ found that 182 of 259 jailed journalists were serving sentences on anti-state charges. Since 2001, governments have repeatedly exploited national security laws to silence critical journalists covering sensitive issues such as insurgencies, political opposition, and ethnic minorities.
One of the journalists featured in the campaign is Mahmoud Abou Zeid, also known as Shawkan, an Egyptian photographer who has been behind bars since August 2013. He has been charged with weapons possession, illegal assembly, murder, and attempted murder, the same allegations levied against hundreds of protesters detained during the clashes. He has denied all of the charges. CPJ honored Shawkan with its 2016 International Press Freedom Award.
To get involved, sign up for our newsletter and follow us on Facebook and Twitter. You can also tweet directly from the campaign page.
Tweet: No journalist should be imprisoned for their work #FreeThePress
---
CPJ in the news
Meryl Streep, CPJ, and its tense relationship with Donald Trump
A free press, if you can keep it
Trump's attack on a reporter in front of CIA "chilling," says CPJ
Four more journalists get felony charges after covering inauguration unrest
CPJ calls for 'unconditional release' of Lapshin
Media watchdog demands investigation into deaths of Pakistani journalist
Sentence against Azimzhan Askarov outrages international human rights defenders
After Afghanistan: Protecting journalists in conflict zones
Journalism committee calls for release of SA photographer in Syria
CPJ urges Belarus to release Russian-Israeli blogger who visited NKR
Outraged about Trump's executive order? Donate to these nine organizations.