New York, December 23, 2016–Egypt must lift the travel ban imposed on Esraa Abdel Fattah, an Egyptian blogger, columnist, and social media activist, the Committee to Protect Journalists said today. Abdel Fattah has been under a travel ban for nearly two years, alongside other bloggers and civil society activists who authorities have accused of illegally receiving foreign funding.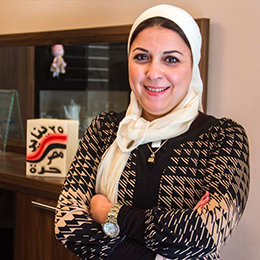 A Cairo court is due to hear an appeal against the ban January 3, Abdel Fattah told CPJ. She filed the appeal at the administrative court with the help of the Media Legal Defense Initiative, according to a December 16 statement on the group's website. Two earlier appeals that Abdel Fattah filed in Cairo's administrative court were unsuccessful, according to news reports.
Security officers at an airport first alerted Abdel Fattah to the travel ban when she tried to leave Egypt in January 2015 to take up a scholarship at Stanford University in the U.S, she said. Abdel Fattah said that she found out a judge issued the order because she allegedly received foreign funding. She said she was not officially informed about the investigation. CPJ and other rights groups have documented how other prominent Egyptians, including press freedom advocate Gamal Eid and investigative journalist Hossam Bahgat, were barred from travel as part of an investigation into foreign funding.
"Egypt could take one concrete step away from authoritarianism by allowing Esraa Abdel Fattah to travel and work freely," said Sherif Mansour, CPJ's Middle East and North Africa program coordinator. "The Egyptian government's accusations of illegal funding are clearly an excuse to clamp down on criticism and free expression."
Abdel Fattah told CPJ that she fears authorities will arrest her and that she has been harassed by police and pro-government supporters after posting a video to her Facebook page in April, criticizing the Egyptian government's decision to give control over two Red Sea islands to Saudi Arabia.
The journalist said that in May she noticed two police cars parked outside her Cairo apartment and when she went inside, she found her electric supply had been cut. Abdel Fattah said that when she reported the outage, the power supply company said it was not responsible. Abdel Fattah told CPJ she filed a complaint to Egypt's National Council for Human Rights, a government body responsible for investigating human rights violations, accusing the police of cutting her power. The council has not responded to her complaint, she said.
Abdel Fattah announced on her personal Facebook page in November that she was resigning from the daily Al-Youm al-Saba'a, where she worked for years as social media consultant and weekly columnist, according to news reports. The account has been deactivated because of privacy concerns, Abdel Fattah said. In the post, she cited government pressure on her employer, and said she resigned after her managers asked her to take an extended leave. In her weekly column, published online and in the print version of Al-Youm al-Saba'a, Abdel Fattah highlighted cases of activists, and others who are facing government harassment. Her column stopped running on April 9, 2016.
Abdel Fattah has been an important source of information on political events in Egypt since 2008. Dubbed Egypt's "Facebook Girl," by the local and international press because of her role in leading protests against former President Hosni Mubarak, Abdel Fattah's personal and official Facebook group pages are followed by almost 50,000 users, and her Twitter account has more than half a million followers.
Abdel Fattah said she has been subjected to a smear campaign for years by pro-government media and trolls on social media, who used hacked emails, taped phone calls, and personal photos to accuse the journalist of indecency and being a traitor.
In September, a pro-government Facebook group called Stay Positive published private pictures of Abdel Fattah, and accused of her indecency for not wearing a hijab. Abdel Fattah told CPJ that some of the pictures were from her cell phone that had been stolen a year earlier. She was also subjected to State Security surveillance, including wiretaps and email hacking, according to files released by State Security in 2011 after Mubarak was ousted, The New York Times reported.