September edition
IOC creates mechanism for journalist complaints after CPJ consultation
In early August, we welcomed the creation of a press freedom complaints mechanism by the International Olympic Committee. The move followed years of advocacy with the IOC by CPJ and other rights groups to do more to hold governments that host the Olympic Games accountable for press freedom abuses.
CPJ met with IOC President Thomas Bach several times to call for the creation of a formal mechanism for responding to complaints by journalists covering the Games. While there were no major incidents involving the press in Rio this year, the mechanism is likely to be useful to journalists covering the preparations for the 2022 Winter Olympics, which will take place in Beijing at a time when China is accelerating its crackdown on independent media.
"Hosting a major international sporting event requires a commitment to ensuring that critical journalists are given access and do not face reprisal," said CPJ Executive Director Joel Simon. "The creation of this mechanism won't stop abuses, but it will create greater accountability."
CPJ has documented violations against journalists and press freedom around several of the Olympic Games. In early 2014, we published a report in the run-up to the Sochi Games, which described obstruction, intimidation, and harassment of journalists that limited coverage of sensitive issues such as labor abuses and environmental damage. In 2008, CPJ documented how China maintained Internet censorship and restricted media during the Beijing Olympics.
With report launch, CPJ deepens its commitment to India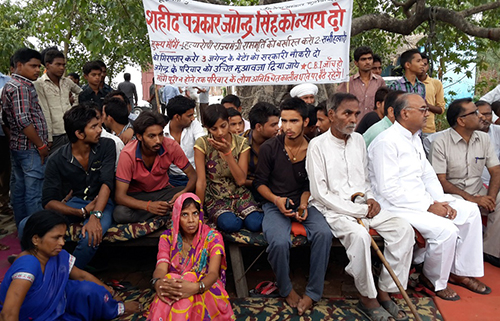 India may be the world's largest democracy, but it is also one of the most dangerous places in the world to be a journalist. Since 1992, when CPJ first began keeping records, at least 27 journalists have been murdered in India. Most of them covered politics or corruption. No one has been convicted in any of the cases.
In March, we traveled to the country to investigate the deaths of three journalists believed to have been murdered and spoke to their families, co-workers, and lawyers. We later updated our database of journalists killed in India with new information we learned in the course of our reporting. Just this month, we hired a correspondent, based in New Delhi, who will monitor press freedom violations and report anti-press abuses.
On August 29, we published a special report, called "Dangerous pursuit: In India, journalists who cover corruption may pay with their lives," in which we highlighted the lack of progress in investigations into journalist murders. One of the journalists featured in our report, Umesh Rajput, was a journalist who frequently covered corruption. He was shot dead by two masked gunmen outside his home in January 2011. No one has been held responsible.
"Silencing my brother has meant the silencing of many stories about local problems that people face," Rajput's brother told CPJ during our research mission to India. He said he was trying to fight for the case while keeping a job and caring for his mother, who had cancer. She died in 2014 without seeing justice for her son. "At times," the journalist's brother told us, "I felt completely hopeless."
Click here to read more on CPJ's coverage of press freedom in India.
Victories against criminal defamation…
…in Peru
A criminal court in Lima in August overturned the defamation sentence against Fernando Valencia, the former editor of the daily Diario 16. The journalist was convicted of criminal defamation in April, given a suspended jail sentence, and ordered to pay damages.
"Criminal defamation laws restrict journalists' ability to report on vital issues, so CPJ was pleased to learn that the defamation sentence against Fernando Valencia was overturned," said Carlos Lauria, CPJ's program director and senior Americas program coordinator. "We must continue working to ensure that no journalist faces criminal charges in relation to their reporting."
Valencia's conviction stemmed from a complaint filed by a former president who said his reputation was damaged over a front-page story that cited the current president criticizing previous governments for failing to complete public works projects. The former president was not named, but the story included his photo.
CPJ has documented how the use of criminal defamation provisions to target critical journalists has threatened free expression in Peru. In February, we traveled to the country to release a comparative study of defamation laws in the Americas in a report called "Critics Are Not Criminals." Dozens of journalists, advocates, and media lawyers attended the event, at which CPJ spoke of our years-long efforts to decriminalize defamation. After the launch of the study, the president of the Peruvian congress proposed removing defamation penalties from the criminal code.
…in Iraq
In March, CPJ reported on the case of an Iraqi editor who faced insult and criminal defamation charges in connection with a story he published that alleged corruption. Montadhar Naser, editor of the independent news site Al-Aalem al-Jadeed, told CPJ he removed the article from the website hours after it ran because he began receiving text messages threatening him with legal action almost immediately after he published it.
CPJ's Middle East and North Africa program coordinator, Sherif Mansour, said about the case, "Under no circumstances should Montadher Naser face criminal penalties for publishing investigative reports on corruption or protecting his sources." Mansour added, "Rather than prosecuting journalists for doing their jobs, Iraqi authorities should devote their energies to striking criminal defamation laws from the country's books."
On August 22, Naser was acquitted of all charges. He credited the decision to acquit him to pressure Iraqi authorities faced from journalists, civil society groups, and international press freedom groups, including CPJ.
Facebook page of critical Saudi blogger restored
We're happy to see @Facebook restored @raif_badawi's page, after @CPJTechnology and others raised the issue https://t.co/zatN8tsAhc

— CPJ MENA (@cpjmena) August 18, 2016
On August 18, CPJ spoke to Ensaf Haidar, the wife of Saudi blogger and activist Raif Badawi, who told us that the blogger's Facebook page had been taken down. Badawi, who has been imprisoned since June 2012 by the Saudi government, has created a space for online expression in Saudi Arabia, one of the most censored countries in the world
CPJ's San Francisco-based Technology team has established and cultivated contacts at leading tech companies for issues just like this. They immediately reached out to Facebook to discuss the problem. This intervention by CPJ, along with that of other groups, was crucial to Badawi's Facebook page being restored.
Badawi has been sentenced to 10 years in prison, 1,000 lashes, a fine of 1 million Saudi riyals (approximately US$267,000), and a 10-year ban on travel and media activity that will begin after his release. Despite facing threats, legal harassment, and imprisonment, he has stood steadfast in his beliefs that Saudi Arabia needs a space to discuss the need for a reform agenda. In an article in August 2010, he wrote: "Freedom of expression is the air a thinker breathes, just as it is the fuel that lights the fire of his ideas."
Show your support for Badawi by liking the official #FreeRaif Facebook page and signing the Amnesty International petition that calls on the Saudi government to end Badawi's public lashing.
Exhibit on imprisoned journalist's photos hopes to raise awareness
CPJ is partnering with the Bronx Documentary Center to host an exhibition of the work of Mahmoud Abou Zeid, a freelance photographer also known as Shawkan who has been behind bars in Egypt since August 14, 2013.
Shawkan's photos, including those of the Egyptian revolution, from protests and celebrations in Tahrir Square to shots of everyday life in Cairo, will be on display from September 8 to 11. Click here to RSVP. The exhibit will then be featured at Photoville, an annual photo festival that brings together photographers from all over the world.
Shawkan was detained while covering Egyptian security forces' violent dispersal of a Cairo sit-in protesting the military's removal of President Mohamed Morsi following mass demonstrations against his rule. The journalist was held for more than two years before being charged with weapons possession, illegal assembly, murder, and attempted murder. He has denied all of the charges, and his trial has been repeatedly postponed.
"Photography is not just a hobby for me," Shawkan wrote in a March 2015 letter to mark his 600th day behind bars. "It is an actual way of life. … My passion is photography, but I am paying the price for my passion with my life. Without it, a part of me is missing."
CPJ is honoring Shawkan with an International Press Freedom Award, which recognizes courageous journalists who have risked their lives to do their work, at its annual gala, this year on November 22. For more information on reserving a table at the benefit dinner, please click here. To purchase tickets to the dinner, please call CPJ's development office at (212) 300-9021.
Must-reads in August
During a mission to Jordan this month, CPJ's Middle East and North Africa program coordinator, Sherif Mansour, spoke to several journalists and analysts to discuss the media environment ahead of the September 20 parliamentary elections. He published his findings in a Mission Journal called "Gag orders make Jordan's journalists skeptical of reform."
In late August, CPJ's San Francisco-based Technology coordinator, Geoff King, published a blog, "Apple vulnerability is surprising, but journalists should stick with iPhones," which reported on a serious vulnerability found in Apple's iOS operating system. Apple issued a security update to patch the vulnerability. Still, as King pointed out, journalists should continue using devices made by Apple because they include robust encryption by default, unlike many phones with the Android operating system.
Rodrigo Duterte, newly installed president of the Philippines, has sent mixed messages on his commitment to upholding press freedom in the country. Shawn Crispin, CPJ's senior Southeast Asia representative, wrote a blog in early August, called "Philippine leader blows hot and cold on press freedom," for which he interviewed local journalists, some of whom said they were cautious about the new president's intentions.
CPJ in the news
Fewer journalist deaths in Syria–because there aren't that many left
Here's how Mexican journalist avoided iPhone spyware hack
IOC launches reporting tool for press freedom violations at the Games
CPJ says Nigerian military should 'cease threatening' journalist Ahmad Salkida
Advocacy groups write Oman's sultan over journalists' trial
Remembering Mika and Syria's tragedy
Mexican journalist wounded in mystery shooting by masked man
Special report on press freedom in India to be released by CPJ
Join us in defending brave journalists worldwide!