October edition
Next stop for exhibit of Shawkan's work: Photoville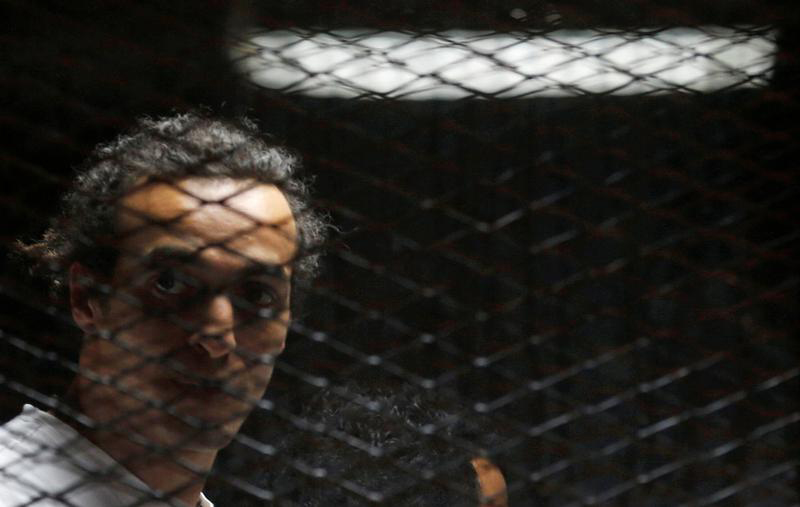 In mid-September, CPJ partnered with the Bronx Documentary Center to hold an exhibition of photographs taken by Mahmoud Abou Zeid, or Shawkan, a freelance journalist who has been imprisoned in Egypt since August 2013. Many of Shawkan's photos–from protests and celebrations in Tahrir Square to daily life in Cairo–were taken during the Egyptian revolution.
CPJ used Facebook Live to record the event, and we broadcast it live to viewers around the world. The video has been seen more than 64,000 times in places like Iraq (29,000 views) and Algeria (nearly 18,000 views).
Part of the exhibition is now being featured at Photoville, an annual photo festival that brings together photographers from all over the world. Photoville, which runs from September 21 to September 25, is being held in the Brooklyn Bridge Plaza, directly under the bridge in DUMBO.
Shawkan was detained while covering Egyptian security forces' violent dispersal of a Cairo sit-in protesting the military's removal of President Mohamed Morsi. The journalist was held for more than two years before being charged with weapons possession, illegal assembly, murder, and attempted murder. He has denied all of the charges, and his trial has been repeatedly postponed.
CPJ is honoring Shawkan with an International Press Freedom Award, which recognizes courageous journalists who have risked their lives to do their work. Our annual gala this year is on November 22. For more information on reserving a table at the benefit dinner, please click here. To purchase tickets to the dinner, please call CPJ's development office at (212) 300-9021.
CPJ joins with RSF and journalists to call on UN to protect journalists
CPJ joined with Reporters Without Borders to host a panel discussion at the UN Correspondents Association press room on September 16. Dozens of people attended the event.
The panel discussion was to raise awareness of journalist killings and of the #ProtectJournalists campaign to appoint a Special Representative to the UNSG for the Safety of Journalists. The campaign has been endorsed by a large coalition of supporters, including organizations like Human Rights Watch, the Rory Peck Trust, The Associated Press, and Freedom House.
Journalists, news outlets, and non-governmental organizations have joined in calling on the United Nations General Assembly to appoint a "journalists' protector" and urging the UN and its member states to give the position political weight, capacity for action, and legitimacy to coordinate UN efforts for the safety of journalists.
CPJ Executive Director Joel Simon and RSF Secretary General Christophe Deloire made opening remarks. "Freedom of expression is under siege around the world," Simon said. "The time has come for the UN to take bold action to address the problem."
The panel was moderated by Raza Rumi, a Pakistani journalist who survived a murder attempt in 2014 by Lashkar-e-Jhangvi, a group affiliated with the Taliban. The panelists include Yara Bader, director of the Syrian Center for Media and wife of Mazen Darwish, a prominent Syrian human rights defender who spent years behind bars; Dunja Mijatovic, OSCE representative on freedom of the media; Faisal Saleh, a Sudanese journalist who heads the non-governmental organization Teeba Press; and Marcela Turati, a Mexican journalist.
The panel discussed establishing a concrete mechanism that enforces international law and reduces the number of journalists killed every year. "There is a witch hunt going on for journalists, online and offline," Mijatovic said of the threats journalists face around the world.
More than 1,200 journalists have been killed in direct reprisal for their work since 1992 when CPJ began keeping detailed records. "We are not a dead story. We are journalists," Bader told the crowd.
CPJ releases special report on Cuba
On September 28, CPJ will issue a special report on Cuba, called "Connecting Cuba: More space for criticism but restrictions slow press freedom progress." The report will be accompanied by videos and a graphic that illustrates how Cubans stay connected in an offline world.
Reporters, documentary filmmakers, and pro-revolutionary bloggers are opening new spaces for free expression and entrepreneurial journalism that not long ago seemed off limits. In fact, the media landscape has been dramatically transformed in the past few years. Today, nearly 3,000 blogs, on topics ranging from politics to gardening, are estimated to be based in Cuba and in Cuban communities globally.
News websites have sprung up, providing alternatives to state-run media. Online ventures range from independent news websites to blogs to webzines featuring sports, fashion, and entertainment.
CPJ spoke to bloggers who said they have embraced the loosening of restrictions. "We are seeing opportunities that were inconceivable five years ago," said Alejandro Rodríguez, who quit his job in 2012 at a state-run weekly to start a blog.
To read the report, visit https://cpj.org.
Ethiopian editor freed after spending four years behind bars
This month, CPJ welcomed the release from prison of Yusuf Getachew, editor-in-chief of Ye Muslimoch Guday (Muslim Affairs), who has been jailed in Ethiopia since July 2012. Yusuf was freed as part of a presidential pardon for Ethiopia's new year and Eid celebrations.
"We were thrilled that Yusuf Getachew was released from prison, although he should never have been jailed in the first place," said Angela Quintal, CPJ's Africa program coordinator. "It's been a long road for him, but we hope that he will be able to resume journalism and practice it freely."
Yusuf was serving a seven-year sentence on anti-terrorism charges after being convicted in August 2015, three years after his arrest, according to reports. During a court hearing in 2012, Yusuf said he was beaten in custody, local journalists told CPJ at the time. We covered his arrest and repeatedly called on the Ethiopian government to release him and other journalists jailed in reprisal for their work.
Ethiopia was jailing at least nine other journalists when CPJ conducted its prison census in late 2015. One of them, Eskinder Nega, a prominent online columnist, has been behind bars since September 2011. He was convicted in July 2012 to 18 years in prison on charges of terrorism and has denied all the allegations. CPJ believes the charges against him are in reprisal for his critical coverage of the government. For five years, we have called on Ethiopian authorities to release him.
CPJ helps news outlets stay safe from digital threats
In September, CPJ helped two news outlets join Project Galileo, a partnership between the online security company CloudFlare and 15 non-governmental organizations including CPJ. Project Galileo protects sites around the world that are under attack by extending CloudFlare's enterprise-level features to smaller news organizations and independent journalists.
The website MediaShift.org, a public interest outlet focused on the future of journalism, recently experienced an unexpected outage, which can be caused by a distributed denial of service attack. MediaShift regularly publishes articles regarding the digital security of journalists, including much of the CPJ Tech team's work, which details new threats, gives advice about best practices, and sensitizes new audiences to the risks journalists face.
Another outlet, Himal Southasian, a small public affairs magazine in Nepal, recently had to cease operations due to intense government pressure, but the staff wanted to keep their previously published stories safe from censorship. On August 25, CPJ heard that someone attempted to hack the magazine's archive.
CPJ's Technology program coordinator, Geoffrey King, urged both outlets to set up a free CloudFlare account, which instantly increased their security. He then nominated them for inclusion in Project Galileo. They were approved almost immediately.
"Through CPJ's partnership with CloudFlare, smaller news outlets around the world can mitigate even major attacks," King said. "We encourage all qualifying news outlets to join Project Galileo, and to turn on other features–like HTTPS–that can protect sites, staff, and readers by default."
Sign up to be a part of the Foley run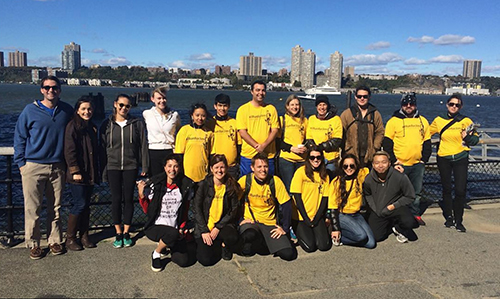 The James W. Foley Legacy Foundation was founded to defend press freedom worldwide, after the 2014 murder of U.S. freelance journalist James Foley.
This year, the Foundation is holding the second annual Foley 5K Run, which raises awareness for press freedom and Americans held in captivity. Register for the Foley Run and you will be sent a shirt, which you can wear to run–or walk–anywhere in the world the weekend of October 15. Post your pictures on social media using the hashtag #IRunForJim to show your support.
It's that easy. See you there!
CPJ in the news
Why has this Egyptian photojournalist been imprisoned for more than 1,000 days?
South Sudanese authorities close prominent newspaper
North Dakota vs. Amy Goodman: Journalism is not a crime
Ethiopia frees Muslims jailed after protests over religion
Authorities: Mexican journalist killed in highway shooting
Join us in defending brave journalists worldwide!