Pavel Sheremet, who died yesterday when a bomb blew up the car he was driving in Kiev, was a CPJ International Press Freedom awardee in 1998. At the awards ceremony in the glittery Waldorf-Astoria Hotel that November, Sheremet was a no show.
That was not by choice. For weeks, he and CPJ had badgered authorities in his native Belarus for an exit visa, without which he could not leave Minsk to travel to the U.S.
The trouble was, Sheremet was appealing to the same authorities who had imprisoned him for two months in retaliation for some of the tough investigative journalism he did for the Russian television channel ORT. The same authorities, as CPJ documented at the time, also banned him from reporting at one point, and even forbade him to travel to the West for a year. These were the late-1990s tactics of Aleksandr Lukashenko, Belarus's Soviet-style leader who had been named one of CPJ's 10 Worst Enemies of the Press that year.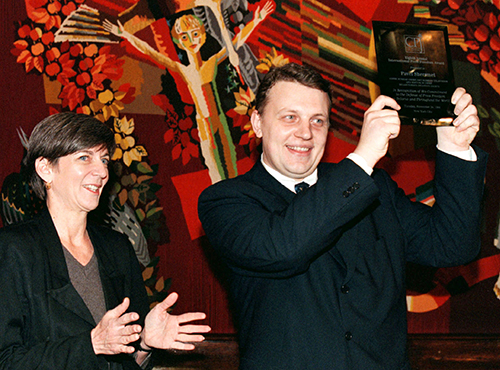 So, no, there was no exit visa granted for Sheremet to join us in New York, no night in the CPJ awards spotlight, no chance to tell the dismal story of press freedom in Belarus to an audience of sympathetic and supportive international colleagues. When it became apparent the visa wasn't likely to come through, Sheremet made a video to be played at the awards ceremony.
In it, he expressed personal thanks, but added that his honor was "well-deserved by many journalists in Belarus, who in Central Europe on the eve of the third millennium, are forced to work in an atmosphere of dictatorship and suppression of freedom. This award is a great support for all Belarusian journalists."
I had just joined CPJ as Executive Director a few months earlier and, when I listened to Sheremet's words, I realized he was teaching me an important lesson about the press freedom awards. Yes, we had chosen Sheremet for his personal courage and distinguished journalism, but the award had a larger strategic value. Sheremet articulated it when he told us that the award to one individual would boost a whole country's press corps in its daily efforts to report the truth.
Two days after the New York awards ceremony, Sheremet was called in by authorities in Minsk and told he could now travel to the U.S. It was an authoritarian's cynical move: Sheremet could get his award after all, but if he did it post-ceremony, he would receive far less attention. And Belarus wouldn't endure as much bashing as it might have for its media repressions.
Chrystyna Lapychak, then CPJ's Europe program coordinator, told me she had talked with Sheremet about another option: We could carry the award to Minsk and present it to him there. It seemed a long shot. If they wouldn't give him a visa to leave, why would they give CPJ visas to come into Belarus?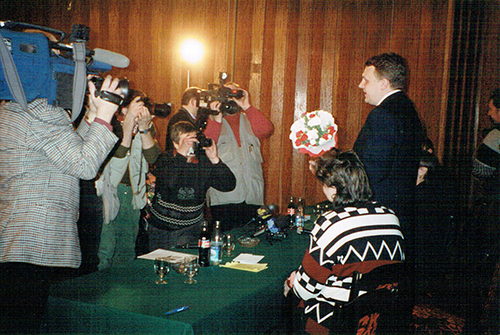 I still don't know the answer to that "why." What I do know is that within days Lapychak had our visas in hand. We arrived in Minsk in early December and spent a day or two meeting with groups of journalists struggling to publish independent reporting in an increasingly authoritarian country. Then it was time for the main event: a press conference and reception with Sheremet, organized by the Belarusian Union of Journalists.
When we arrived, the hall was crowded and the crowd celebratory. I recall many journalists and some foreign diplomats showering us with smiles and thanks for making the presentation in Minsk, where all could see. Some wrote about it in their newspapers the next day. There were even a few brave local politicians in the audience.
Sheremet was 28 at the time, and at the press conference he echoed the message in his video. "This support from U.S., Russian, and European journalists is very important to my colleagues here," he said, once again sharing his personal honor with all the others who took risks just to report real news.
Afterwards, there was food, drink, and lighthearted laughter. Sheremet was positively buoyant; you couldn't see his joyous smile and not smile back. For one evening, in that reception hall, it was possible to feel good about being a journalist in Belarus. We were proud that CPJ could make that happen.
Our visit did not bring real press freedom to Belarus, of course. Eighteen years later, Lukashenko remains in power and as much an enemy of the press as ever. The Moscow Times reported that state broadcasters in Belarus barely mentioned Sheremet's killing.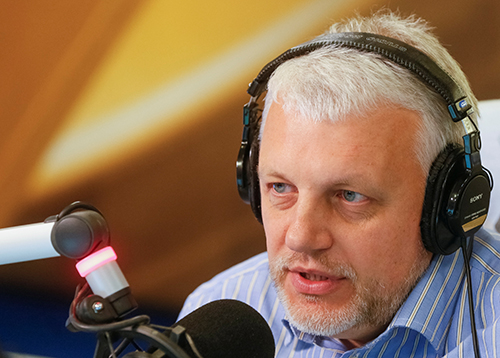 But other journalists in the region have poured out tributes to this dedicated, genial man who reported from Belarus, from Russia, and finally from Ukraine, moving around in search of a place that would tolerate his hard-nosed journalism. "Pavel led a life of purpose and integrity in multiple countries," the U.S. embassy in Ukraine wrote in a statement yesterday. "We respect him as a fearless practitioner and supporter of freedom of speech, the Revolution of Dignity, and a brighter future for Ukraine."
After the Minsk trip, Sheremet remained a good friend to CPJ. He once joined us in Moscow, skillfully chairing a session with families of killed Russian journalists as they searched for ways to push for justice. And he was still a CPJ "case" from time to time, when his reporting landed him in hot water with authorities–like in 2010, when Belarusian authorities stripped him of his citizenship.
Now, in death, Sheremet is again a CPJ case. If Ukraine's leaders are serious about press freedom, they will move quickly to solve this case and bring to justice those responsible for silencing Sheremet's powerful journalistic voice.