CPJ Newsletter: July edition
CPJ campaigns for Mauritanian blogger
CPJ has been working actively, including behind the scenes, to secure the release of Mohamed Cheikh Ould Mohamed, a Mauritanian blogger who has been sentenced to death on charges of apostasy.
The charges against Mohamed are in connection with an article he wrote in late December 2013 in which he criticized Mauritania's caste system, a delicate subject in the country, and said that followers of Islam interpreted the religion according to circumstance. The story was deemed blasphemous. The blogger has denied that he intended to insult the Prophet Muhammad.

The death sentence given to Mohamed is a first on apostasy charges in Mauritania. In April, the sentence was upheld during an appeal. The court referred Mohamed's case to the country's Supreme Court, which has the power to repeal the sentence, reports said.
Join us in calling for Mohamed's release. Use the hashtag #FreeMkhaitir on Twitter to call on Mauritania to drop all charges against the blogger and free him from prison.
RSF representative released from jail in Turkey
CPJ welcomes the release of Erol Önderoğlu, Turkey representative for the press freedom group Reporters Without Borders (RSF). CPJ, which works closely with RSF, collaborated with the group in its campaign to secure his release and communicated with partner organizations to coordinate efforts throughout.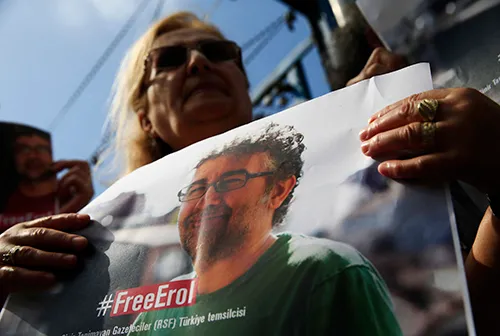 Önderoğlu, who was arrested on June 20, still faces trial on charges including "making propaganda for a [terrorist] group." The charges are in connection with articles published in the Turkish newspaper Özgür Gündem when Önderoğlu was acting as co-editor as part of a solidarity campaign to protest Turkish authorities' harassment of the paper.
"Turkey must stop using its overbroad anti-terror laws to attempt to silence journalists and press freedom advocates," Nina Ognianova, CPJ's Europe and Central Asia program coordinator, said.
In March, in response to the spike in media freedom violations in Turkey, CPJ launched the "Turkey Crackdown Chronicle," a real-time diary of attacks on journalists and other press freedom abuses. The "Crackdown Chronicle" is updated daily and features an interactive timeline that gives an overview of developments in Turkey's press freedom climate over the past two years.
Must-reads in June
Two years after the Iraqi city of Mosul fell to the militant group Islamic State, CPJ is still investigating what happened to many of the journalists who disappeared. To mark the fall of Mosul, CPJ in June published an interactive map, "Media Blackout: When Islamic State silences the press," which profiles the 27 journalists and media workers the organization has documented as being killed by the group.
In the run-up to World Refugee Day in June, Nicole Schilit, CPJ's Journalist Assistance senior associate, wrote a blog, "World Refugee Day: Fear of arrest drives journalists into exile," in which she profiled the stories of four journalists who were forced into exile. One Gambian journalist told her, "I miss my children. Every time I talk to my daughter she asks when I'm coming home."
In June, The New York Times published a story with accompanying infographics that portray the harrowing climate of impunity in journalist murders. The article, "When journalists are killed, prosecutions are rare," features CPJ data on killed journalists. Of the 788 journalists murdered in relation to their work since 1992, full justice has been achieved in only 4 percent of the cases, CPJ research shows.
CPJ welcomes new Asia and Africa program coordinators
After more than 10 years at the helm of CPJ's Asia desk, Bob Dietz has stepped down. Dietz, whose work on Asia will be remembered by scores of journalists, will continue to work on special projects for CPJ.
Dietz's position will be filled by Steven Butler, a journalist who has worked throughout the Asia region for more than two decades. Most recently, Butler was a senior editor and writer for the online magazine OZY.com. He previously served as foreign editor at the Knight Ridder Washington bureau during the Afghanistan and Iraq wars and has worked at the Financial Times and the U .S. News & World Report. Butler speaks Chinese, Japanese, and Korean. Follow him on Twitter here.
We are also pleased to welcome Angela Quintal in the role of CPJ's Africa program coordinator. Quintal, a South African, has been the editor of the Mail & Guardian, South Africa's leading investigative weekly, as well as of The Witness and The Mercury newspapers. She has participated in several press freedom campaigns as a member of the South African National Editors' Forum. You can follow her on Twitter here.
For updates on press freedom in Africa, follow CPJ's Africa team on Twitter here; for Asia, follow CPJ's Asia team here.
The passing of a legend: RIP Bill Cunningham
CPJ mourns the loss of New York Times photographer Bill Cunningham.
Cunningham was a staple of CPJ's annual International Press Freedom Awards dinner. He covered the gala for years and could often be seen quietly making the rounds, photographing guests and staff who would try–not so subtly, sometimes–to get in his line of sight.
We found some photos of Cunningham covering the gala, which we posted on our Facebook page. This one, above, is our favorite. Here, he talks to guests including Lhamo Tso, wife of then-imprisoned Tibetan journalist Dhondup Wangchen, at the 2012 dinner. He is smiling. He is doing what he loves.
"I had just the most marvelous time with that camera," Cunningham wrote in an article for The New York Times called "Bill on Bill" in 2002. "Everybody I saw I was able to record, and that's what it's all about."
CPJ in the news
CPJ highlights journalists killed by ISIL
Journalist killed in Somalia; a dangerous country for media
Int'l groups move UN to protect freedom of expression in Bangladesh
Deaths of NPR journalists underscore new risks in Afghan coverage
Committee to Protect Journalists calls on Sri Lanka to protect its scribes
CPJ notes security risks for Iranian journalists using Telegram
The UN stays silent on press freedoms
Join us in defending brave journalists worldwide!