Provincial officials ask journalists to submit to prior censorship: report
Top officials in southeastern Turkey's Gaziantep province, near the Syrian border, on June 1 convened local journalists to ask them not to report on "the bad things happening in the city," and to submit their stories to a group on the messaging service WhatsApp which would include the governor's press officer, Nurgün Balcıoğlu, Gaziantep correspondent for the pro-government daily Sabah told the news website Bianet today.
"Let us not portray Gaziantep as a city of terrorism," the officials told the journalists, according to Balcıoğlu. "If you keep writing that there are members of the Islamic State group here, no one will buy anything from us, and no tourist will visit our city."
The journalist said the governor, the mayor, the district mayors, the public prosecutor, the head of security, the chancellor of Gaziantep University, and the head of the provincial Chamber of Commerce and Industry attended the meeting.
Gaziantep has become a hub for Syrian journalists escaping the conflict in their country. A masked man shot Syrian journalist Zaher al-Shurqat in the town on April 10. He died in hospital two days later. The Islamic State group's Amaq News Agency claimed the group was responsible for the attack. Syrian journalist and documentary filmmaker Naji Jerf was fatally shot on December 27 outside a building that houses Syrian opposition news outlets in the city. The Islamic State group also claimed responsibility for that attack.
Journalist sentenced to six years in prison on terrorism charges
The Court for Serious Crimes in Midyat, southeastern Turkey, today sentenced Murat Verim, a reporter for DİHA who also works in the press office of the local government in nearby Dargeçit, to six years in prison on charges of committing a crime on behalf of a terrorist organization without being a member, DİHA reported. His conviction is the result of an article he wrote for a municipal newsletter arguing for greater local self-governance. Verim is free, pending appeal.
Columnist freed after seven months' pre-trial detention
Istanbul's 14th Court of Serious Crimes last night freed Gültekin Avcı, a former columnist for the shuttered daily Bugün, from Silivri Prison, on the outskirts of Istanbul, local press reported. Avcı was arrested in September and spent seven months behind bars awaiting trial on charges of terrorism and attempting to overthrow the government in connection with a series of columns he wrote in 2013 and 2014 in which he alleged that the Turkish spy agency had links to an Iran-backed Islamist group. His trial is scheduled to resume on August 2, according to reports.
On March 1, pro-government trustees appointed in October 2015 by court order closed Bugün and other business owned by the newspaper's parent company, the Koza İpek media group.
Reporter freed after five months' pre-trial detention
A court in the predominantly Kurdish, southeastern Turkish town Cizre today freed Nedim Oruç, a reporter for the pro-Kurdish Dicle News Agency (DİHA), on bail of 5,000 Turkish liras (roughly U.S.$1,700), DİHA reported. Police in nearby Şırnak arrested him on January 6 on suspicion of "making propaganda for a terrorist organization." The Turkish government classes the Kurdistan Workers' Party (PKK) as a terrorist organization. The court banned Oruç from foreign travel.
[June 10, 2016]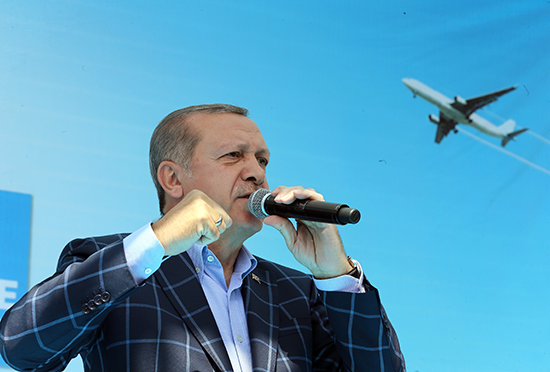 Erdoğan biographer sentenced to 14 months in prison
Istanbul's Second Court of First Instance today sentenced journalist Mustafa Hoş to 14 months in prison, commuted to a fine of 10,500 Turkish liras (U.S. $3,624), on charges he insulted Turkish President Recep Tayyip Erdoğan in his unauthorized biography of the president, Big Boss, daily newspaper Cumhuriyet reported. The verdict is subject to appeal.
Indictment names five journalists in alleged 'Sledgehammer' conspiracy
Faruk Söker, an Istanbul prosecutor from the office of terrorism and organized crime, submitted a 276-page indictment to the chief prosecutor naming five journalists as suspects in an alleged, elaborate conspiracy codenamed "Sledgehammer," according to news reports. The chief prosecutor approved the indictment, which will now be submitted to a court.
Mehmet Baransu and Tuncay Opçin face charges of "founding and running a terrorist organization" in connection with the case. Ahmet Altan, Yasemin Çongar, and Yıldıray Oğur face charges of "making propaganda for a [terrorist] organization" and exposing secret state documents, according to press accounts.
All but Opçin worked at the newspaper Taraf in 2010, when the daily published a series of articles alleging that Turkish military officers were planning to bomb mosques in the country and to shoot down a Turkish warplane in order to spark conflict with Greece and destabilize the newly elected Justice and Development Party (AKP) government. Opçin and Baransu co-authored a book published in 2012 outlining several alleged military conspiracies.
Baransu, the prime suspect in the case, stands accused of delivering a suitcase of documents supporting this claim to prosecutors after Taraf journalists had examined them to prepare their reports on behalf of the Hizmet Movement — followers of preacher Fethullah Gülen, whom the Turkish government accuses of leading a terrorist organization and "parallel state structure" in Turkey from his self-imposed exile in the United States.
In 2012, when the Hizmet Movement and the AKP were still in a tactical alliance against the military and security services' influence in politics, more than 300 military officers were convicted connection with the alleged "Sledgehammer" plot to overthrow then-prime minister Erdoğan's government. In 2014, after the Hizmet-AKP alliance had turned sour, a court found the trial of the officers had been flawed. When the officers were retried, a court in 2015 cleared 236 military suspects, partially based on its finding that documents produced as evidence in the first trial were fabricated, the press reported at the time.
[June 9, 2016]
Residents attack journalists covering bomb attack
Residents attacked three journalists covering the aftermath of a bomb targeting a police station in the southeastern Turkish town of Midyat, near the Syrian border, today, according to press reports and the journalists writing on Twitter.
Sertaç Kayar, who works with Agence France-Presse, Hatice Kamer, who works with the British Broadcasting Corporation and Voice of America, and Mahmut Bozarslan, who contributes to the website Al-Monitor, AFP and The Associated Press, were reporting at the scene of the bombing, which killed at least three people and injured more than 30 others, when residents told them to stop filming. When the journalists continued working, residents pelted them with stones, according to Turkish news websites.
The three journalists first took shelter in a store and then at a nearby hospital, where a group of angry residents gathered again, forcing the police to rescue the journalists in an armored vehicle, the BBC's Turkish service reported.
"We escaped being lynched," Bozarslan wrote on Twitter.
[June 8, 2016]
Partial ban issued on reporting Istanbul bombing
An Istanbul court imposed a temporary ban on coverage of several details regarding today's bomb attack in central Istanbul, the Russian news agency TASS reported, citing a statement from Turkey's Supreme Council for Radio and Television. At least 11 people were killed and 36 people were injured when a remotely detonated bomb exploded as a police bus traveled through a busy square in central Istanbul, the British broadcaster BBC reported.
The partial ban was instituted in order to "maintain public order, protect territorial integrity, and prevent crime," and applies to coverage of the investigation into the attack, footage showing the victims and those injured, police transcripts, and spreading materials related to suspects, according to TASS. The ruling covers all Turkish media. Similar measures have been taken following previous terrorist attacks in Turkey.
Journalist sentenced to two years in prison
Istanbul's 13th Court of Serious Crimes today sentenced Hayri Tunç, a former journalist for the independent, pro-Kurdish Jiyan news agency, to two years in prison on charges of making propaganda for a terrorist organization. According to the daily newspaper Evrensel, the court sentenced Tunç to a one year in prison for "making propaganda for a [terrorist] organization," added an additional six months because the offense was committed in the press, and added an additional year because the offense was committed repeatedly. The Turkish government classes the Kurdistan Workers' Party (PKK) as a terrorist organization.
"I received a two-year prison sentence for making 'organization propaganda' via the press… I was tried because of my news stories and pictures. The case will be appealed," Tunç wrote on Twitter today.
Tunç is free, pending the Supreme Court of Appeals' ruling on his case. Police arrested Tunç in February, CPJ reported at the time. A court ordered him released in March, pending trial.
[June 7, 2016]
EDITOR'S NOTE: The June 9 entry has been updated to clarify that all the defendants but Tuncay Opçin worked at Taraf in 2010. Mehmet Baransu was a columnist, at Taraf, the rest were editors.