Merkel approves prosecution of German comic for insulting Erdoğan
German Chancellor Angela Merkel today told reporters the German government would allow prosecutors to act on Turkish President Recep Tayyip Erdoğan's request that television satirist Jan Böhmermann be prosecuted for a profane poem about Erdoğan he read on the March 31 episode of his television program.
"The German government will give the authorization in the current case," Merkel said, according to the broadcaster Deutsche Welle, adding that the decision "means neither a prejudgment of the person affected nor a decision about the limits of freedom of art, the press and opinion."
The chancellor said her government would draft legislation to replace article 103 of Germany's Penal Code, which provides for penalties of up to five years in prison for insulting foreign leaders or officials, to make it "dispensable in the future."
Journalist among 11 detained in dawn arrest raids
Police this morning detained Muhammed Doğru, a journalist for the pro-Kurdish DİHA news agency, from his home in Sakarya province, roughly 80 miles (128 kilometers) west of Istanbul, DİHA and the news website Evrensel reported. According to Evrensel, police also detained 10 other people for attending a March 8 Women's Day demonstration.
Russian, Kurdish news websites blocked
The Turkish telecommunications authority TİB today blocked access to the Russian news website Sputnik, the website of the newspaper Hurriyet reported.
Internet users attempting to access the site from Turkey were greeted with the error message: "After technical analysis and legal consideration based on Law No. 5651, an administrati[ve] measure has been taken for this website (sputniknews.com) according to decision No. 490.05.01.2016.-56092, dated 14/04/2016, of the Presidency of Telecommunication and Communication," according to Hurriyet.
Telecommunications authorities also blocked access to the DİHA news agency for the 35th time, and blocked access to the JİNHA news agency for the fifth time, news website Demokrat Haber reported. Demokrat Haber reported the news from an alternate web address, www.demokrathaber2.net, because its own website was blocked in Turkey.
DİHA and JİNHA likewise continued to publish using the alternate web addresses www.diclenews.xyz and www.jinhanews.com, respectively.
The Committee to Protect Journalists was unable to access the websites for DİHA, JİNHA, Demokrat Haber, or Sputnik using Turk Telekom, the country's largest internet service provider, or via Turkcell, a leading mobile phone operator.
[April 15, 2016]
Journalist detained 'for crossing legs'
Police today briefly detained Zeki Dara, the news editor for the news website Yüksekova Haber, because the journalist had crossed his legs while covering a meeting attended by the governor of Turkey's southeastern Hakkâri province, Yüksekova Haber reported.
Dara was covering an event organized by the Hakkâri Provincial Mufti Directorate, a quasi-official religious institution tasked with offering religious opinions, when he crossed his legs, according to the website. Police evidently viewed the act as a sign of disrespect and brought the journalist to Hakkâri's Atatürk Police Station, where they determined his name did not appear in database of people wanted for detention, and released him, Dara told colleagues after his release. He added that he believed he might be the first person to be detained for this offense.
Court orders one journalist held for terrorism, another released
A court in the southeastern Turkish town of Nusaybin today ordered the formal arrest of Meltem Oktay, a journalist for the pro-Kurdish DİHA news agency, meaning the journalist will remain in detention and will likely face trial on charges of being a member of a terrorist organization, DİHA reported. The same court ordered fellow DİHA journalist Uğur Akgül, who faced accusations of making propaganda for a terrorist organization, to be released on parole, the news agency said.
Police detained Oktay and Akgül from their homes in dawn raids on April 12, DİHA reported. Prosecutors had been scheduled to interrogate the two yesterday, but considered Nusaybin's courthouse to be unsafe, according to a DİHA report. The predominantly ethnic-Kurdish town has been the site of fighting between youths and government security forces since a cease-fire between the Kurdistan Workers' Party (PKK), which the government has classed a terrorist organization, collapsed in 2015.
Prosecutors today interrogated Oktay and Akgül in a makeshift court on the top floor of a hospital in Nusaybin for safety's sake, DİHA reported. Police adduced as evidence their journalistic work and posts to social media websites, the news agency said.
[April 14, 2016]
Turkey releases Syrian journalist
Turkish authorities released Syrian journalist Omar Abu Khalil today, Syrian journalist Rami Jarrah, who was himself detained in Turkey in February 2016, wrote on the social media website Facebook. Turkish authorities had detained Abu Khalil for 23 days without charge, Jarrah wrote.
Jarrah noted that Abu Khalil's arrest was the latest in a series of arrests of Syrian journalists in Turkey that "left [Syrian] journalists questioning their ability to carry out their vital work on covering the Syrian conflict and using Turkey as a safe haven."
"In order to commit to our work as journalists, we need collaboration, help, and protection," Abu Khalil said in a statement following his release, according to Jarrah.
Syrian journalists in Turkey face the twin dangers of being detained by police and being killed by operatives of the Islamic State group. Yesterday Zaher al-Shurqat, a journalist for the online broadcaster Aleppo Today, died of a wound he sustained Sunday when a masked man shot him in the head in the southern Turkish town of Gaziantep. The Islamic State group claimed responsibility for that attack, the group's Amaq News Agency reported Monday. He was the fourth Syrian journalist the Islamic State group has claimed to have killed in Turkey, according to CPJ research.

[April 13, 2016]
Police raid television station
Istanbul police raided the offices Samanyolu TV today, after a court ordered its parent company, Işık Medya Planning and Advertising, and 13 other companies placed under trusteeship, according to press reports.
The Anadolu Ninth Court of Penal Peace on Tuesday ordered the companies to be placed under trusteeship for their links to Kaynak Holding, which courts have found to be linked to followers of exiled preacher Fethullah Gülen, whom the government accuses of maintaining a "parallel state structure" and terrorist group within Turkey.
The state-owned satellite operator Türksat in December 2015 dropped the signal of 14 television stations owned by the Samanyolu Broadcast Group, according to press reports.
Courts have placed several large media companies under the trusteeship of pro-government figures in recent months. On March 4, 2016, police raided the offices of Feza media group–which owns Today's Zaman, Zaman, and the Cihan news agency–following a court order appointing new trustees for the group. In October 2015, a week before elections, police raided the offices of the Koza İpek Group, which owned two television stations, a radio station, and two newspapers. The group shut its doors in March 2016, citing financial losses, according to press reports.
News agency says reporters beaten in custody
The pro-Kurdish Dicle News Agency (DİHA) reported today that police beat Meltem Oktay and Uğur Akgül, two journalists for the news agency, while arresting them from their homes in eastern Turkey yesterday morning. Prosecutors are expected to interrogate the two journalists tomorrow, the news agency reported.
DİHA reported yesterday that the Beytüşşebap Court of Penal Peace in Van Province formally placed DİHA reporter Ziya Ataman under arrest on suspicion of being a member of "a terrorist organization." Ataman is held at Van Prison awaiting trial. Her lawyers told the news agency they plan to appeal the arrest order.
German police provide protection for comic
Police in the German city of Cologne have parked a patrol car in front of the home of comedian Jan Böhmermann, a police spokesman told journalists today. Turkish authorities yesterday requested that Germany bring charges against the comedian for insulting the Turkish president in a poem he read on the March 31 episode of his television program.
Cologne police did not say if a specific threat had been made against the comedian, but told journalists: "When you can't rule something out, then you have to do something."
[April 12, 2016]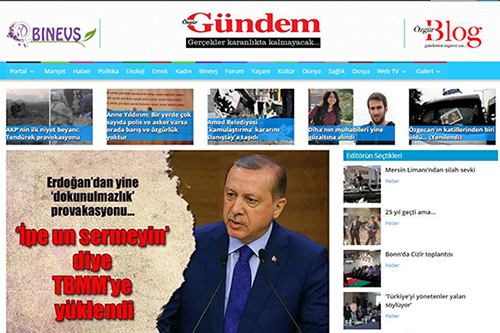 Turkey requests Germany try comedian for insulting Erdoğan
Turkish diplomats have requested that Germany prosecute comedian Jan Böhmermann for insulting Turkish President Recep Tayyip Erdoğan in a profane poem the comedian read on the March 31 episode of his television show, German government officials told the German news agency Deutsche Presse-agentur today.
Article 103 of Germany's Penal Code allows for penalties of up to three years in prison for insulting a foreign leader, or up to five years in prison if a court finds the insult was deliberate slander.
An internal German Ministry of Foreign Affairs memorandum concluded it was "highly likely" Böhmermann had broken German law, the German daily newspaper Der Tagesspiegel reported last week.
German Chancellor Angela Merkel's spokesman, Steffen Seibert, told reporters Monday that the government would decide within a few days whether to prosecute Böhmermann. He repeated that Merkel considered freedom of expression was "non-negotiable."
Police detain three Kurdish journalists, release fourth
The pro-Kurdish DİHA news agency reported that police had detained two of its reporters in the city of Nusaybin, on Turkey's Syrian border, from their homes early this morning. DİHA did not immediately say why police had detained its journalists Meltem Oktay and Uğur Akgül.
Police in the eastern Turkish province of Van on Sunday also detained DİHA journalist Ziya Ataman, press reports citing the news agency said. Ataman is still in custody, and DİHA did not immediately report any further details.
Engin Eren, a DİHA reporter detained Friday, was released the same day, the newspaper Evrensel reported.
Pro-Kurdish newspaper faces 75 anti-terrorism cases in two months, former editor says
Reyhan Çapan, who until recently held the rotating editorship of the leading pro-Kurdish daily newspaper Özgür Gündem, told Fatih Polat, editor of the daily newspaper Evrensel, that anti-terrorism prosecutors had launched 75 criminal investigations into Özgür Gündem in February and March alone.
Prosecutors started 27 new criminal investigations against the paper last week alone, 10 of which will be heard on one day, and the remaining 17 on another, Çapan said in remarks published April 8.
Last month Çapan and other journalists at the newspaper told CPJ that the newspaper regularly rotates its editorship to distribute the risk of imprisonment more equitably among staff.
More than 2,000 journalists fired in last seven months, union says
More than 2,000 Turkish journalists have been fired in the past seven months as a result of increased government pressure and moves to hollow out the leadership of media companies, the Pak Medya-İş journalists' labor union said, according to the news website Turkish Minute. CPJ was not immediately able to verify that figure.
[April 11, 2016]