Turkey releases jailed Iraqi journalist
Following months of advocacy by VICE News, CPJ, and other groups, Iraqi journalist Mohammed Ismael Rasool was released from Turkish prison on January 5. Rasool was arrested in August along with his VICE News colleagues, Jake Hanrahan and Philip Pendlebury, while they were reporting from southeastern Diyarbakir province. The three were charged with "aiding a terrorist organization."
Hanrahan and Pendlebury were released in September, but Rasool was held in Adana Kürkçüler Prison in Adana province
In October, CPJ and VICE News launched a Change.org petition calling on Turkish authorities to release Rasool. The petition, which was signed by nearly 90,000 people, was also publicized by IFEX, a network of 95 member organizations in more than 50 countries, of which CPJ is part.
CPJ conducted advocacy on Rasool's behalf for months, including writing blogs and news alerts. In a blog in September, we pointed out that when governments crack down, it's often local journalists who end up spending extended time in jail. The blog was called "Don't Forget Rasool: In international reporting, local journalists often suffer."
Conditions for journalists have taken a turn for the worse in Turkey, which doubled the number of journalists in jail over the year to 14, according to CPJ's most recent prison census. Turkey released dozens of journalists in 2014 after being the world's worst jailer for two consecutive years, but fresh arrests in 2015 caused the country to be ranked as the world's fifth worst jailer of journalists.
Imprisoned Washington Post reporter freed from Iranian prison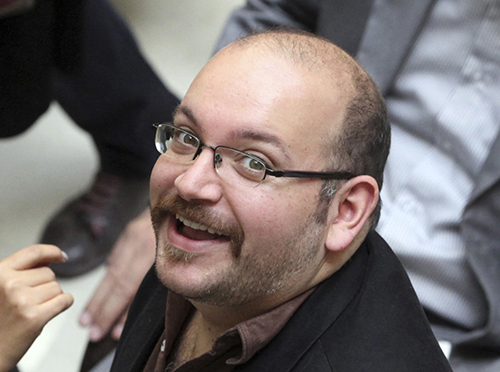 Jason Rezaian, the Washington Post journalist jailed in Iran for 544 days, was released from prison on January 16, according to news reports. The Washington Post correspondent was held longer than any other international journalist in Iran, according to CPJ research.
Rezaian was arrested in July 2014. Iranian media reported in October that he had been convicted, according to the Post. The following month, Gholam Hossein Mohseni-Ejei, a spokesman for Tehran's Revolutionary Court, confirmed to Iranian media that Rezaian had been sentenced to prison but did not specify the length of the sentence. The charges against Rezaian included espionage, which he denied, according to reports.
CPJ advocated for Rezaian's release throughout the time he was behind bars. As the one-year anniversary of his imprisonment approached, CPJ's board members wrote a letter to Ayatollah Sadeq Larijani, head of the Iranian judiciary, calling on him to intervene in Rezaian's case. Rezaian was also featured in "Press Uncuffed: Free the Press," a campaign launched by CPJ and journalism students at the University of Maryland, led by Pulitzer Prize-winning reporter Dana Priest. In a video published shortly after Rezaian's release, his wife, Yeganeh Salehi, can be seen wearing one of the bracelets.
On January 28, Rezaian and U.S. Secretary of State John Kerry spoke to a crowd gathered to celebrate the opening of the Washington Post's new headquarters. Citing CPJ data, Kerry noted that 71 members of the press were killed in 2015, and almost 200 thrown in prison. While journalists were once accidental casualties, he said, "now they are more likely to be deliberately targeted for the stories they have brought to light.
Rezaian was freed as part of a prisoner swap deal, according to a report in the Post that said U.S. and Iranian officials had confirmed his release. In his monthly column for the Columbia Journalism Review, CPJ Executive Director Joel Simon wrote that Rezaian was imprisoned by Iran to "make a point domestically, and to extract concessions from the international community." In an interview with CNN's "Reliable Sources," Simon said Iran was still holding at least 18 journalists in jail, all of them Iranians.
Iran was the world's leading jailer of journalists in 2009 and has ranked among the world's worst jailers of the press every year since.
Mexican journalist thanks CPJ for support
CPJ is in the process of revamping our Journalist Assistance program and providing comprehensive assistance to journalists who are under threat. We work with our partners around the world to provide support for journalists on the frontlines and nominate journalists at risk for Emergency Fellowships.
We received a letter earlier this month from Miguel Angel Díaz González, a Mexican journalist whom we helped place in an Emergency Fellowship late last year. Díaz, who lived in Veracruz state, said he was threatened a few days after the July 2015 assassination in Mexico City of his colleague, the photojournalist Rubén Espinosa, who fled from Veracruz state after he received threats.
In his letter to CPJ, Díaz wrote: "The fear, the sleepless nights, the paranoia consumed me, and this was only compounded by harassment I faced from the police. For at least two months after Rubén's murder, police harassed and intimidated me. They kept watch over me constantly. They tracked my entrances and exits, and, on occasion, patrols would pull up alongside me when I was walking on the street or was in my vehicle. … The fear followed me."
With support from a grant from the Open Society Foundations, CPJ placed Díaz in a three-month fellowship in Buenos Aires, where he attended journalism classes at a local university and had a desk at the local Center for the Opening and Development of Latin America (CADAL). CPJ provided a grant to cover his travel and basic living expenses.
"In the family sphere, Buenos Aires gave us back our personal security, that of not being watched or spied upon. The fear and the stress that would seize me or my family at any moment disappeared little by little. Our security had returned. … Buenos Aires was a paradise of security and freedom for us. Of gaining friends, recovering confidence in my work, that I had been thinking about leaving. Of gaining the force to continue forward, against the obstacles, because I know that one day all this will change."
"To this city, and to CPJ, I will be grateful my entire life."
Veracruz is one of the most dangerous states for the press in Mexico, according to CPJ research. Four journalists have been killed in Veracruz in direct relation to their work since 2011, according to CPJ research. Seven other journalists were killed in unclear circumstances and at least three journalists have disappeared in the state in the same time period.
EU launches probe into Poland's media law
On January 13, the European Commission announced it would launch an investigation into a law recently passed by Poland that paves the way for the government to control public service TV and radio. Frans Timmermans, the commission's first vice president, said the commission would institute the first step of the rule of law procedure, which would allow it to make a "formal assessment of Poland."
CPJ has long advocated for such measures. In our EU report, "Balancing Act: Press freedom at risk as EU struggles to match action with values," CPJ found that while the European Union strives to be a global leader in press freedom, it faces challenges from member states that have repressive laws and policies. Most recently, in a blog called "Will the EU's actions speak louder than its words on Poland's new media law?," CPJ's EU correspondent, Jean-Paul Marthoz, wrote that the January 13 meeting should "clarify whether the situation in Warsaw justifies a trigger of the EU's so-called rule of law mechanism."
This is the first time the commission has taken such an action. The next steps, according to Marthoz's blog, include a recommendation to Poland by the commission, and then a follow-up of the state's response. If Poland chooses not to comply, the commission can resort to Article 7 of the treaty, known as the "nuclear option," which can lead to the suspension or loss of voting rights in the Council of Ministers.
Media Hits
Turkey releases imprisoned journalist
CPJ says Turkey 'as dangerous as Syria' for journalists fleeing ISIL
After 544 days, Washington Post correspondent Jason Rezaian is going free
CPJ condemns attack on ARY News' office in Islamabad
Who says Sean Penn isn't a real journalist?
International press groups call on Turkey to allow visits to jailed journalists Dündar, Gül
Al-Jazeera says 3 of its reporters in Yemen likely kidnapped
International rights groups urge Kremlin response to Kadyrov 'threats'
Indonesia denies visa to reporter who covered rights abuses in Papua
CPJ, media group, condemns attacks on journalists covering Uganda elections
Missing Chinese editor's wife detained
Join us in defending brave journalists worldwide!