Today is #GivingTuesday
Please include CPJ in your plans for #GivingTuesday. For more on the work you support, visit our website at www.cpj.org.
Journalists honored at CPJ's International Press Freedom Awards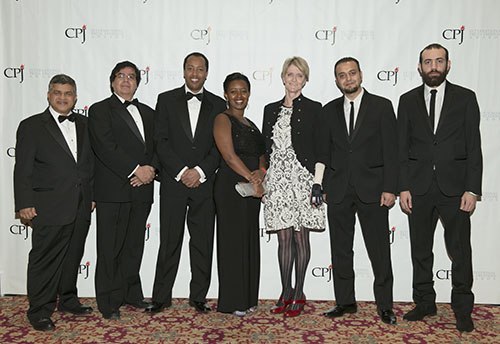 At our 25th annual International Press Freedom Awards in November, CPJ gave four awards to courageous journalists including members of the Syrian journalism collective Raqqa Is Being Slaughtered Silently. Members of RBSS, which was founded in April 2014, secretly document abuses perpetrated by the militant group Islamic State within the city and send the information to members outside of Syria, who transfer the news to local and international media. The group has established itself as a credible source among Syria monitors and journalists globally.
"I accept this award on behalf of those Syrians who have been silenced and those who are suffering in order to build a free and democratic country," RBSS said. "Finally, we dedicate this award to the undercover heroes of our campaign and to the entire people of the city of Raqqa."
CPJ also awarded Cándido Figueredo Ruíz, a Paraguayan journalist who has lived under police protection for more than two decades; the Ethiopian blogging collective Zone 9, whose members were recently released from prison; and Zulkiflee Anwar Ulhaque, a cartoonist also known as Zunar, who faces charges of sedition in Malaysia.
Thanks to Steve Swartz, chairman and CEO of Hearst, who chaired the ceremony, the dinner raised a record $2.04 million for CPJ's press freedom advocacy worldwide. Many of the guests at the ceremony pledged support during a special appeal at the end of the night. Those funds were matched dollar for dollar by the John S. and James L. Knight Foundation.
Christiane Amanpour, chief international correspondent for CNN International, presented Kathy Gannon, the AP special correspondent for Pakistan and Afghanistan, with the Burton Benjamin Memorial Award for lifetime achievement in the cause for press freedom.
"Receiving the Burton Benjamin Award is huge for me–because it has given me an opportunity to reflect on a career that has been filled with opportunities, people and places that still take my breath away and because it is given by the Committee to Protect Journalists," Gannon told the crowd. "CPJ does much but, for me, its greatest accomplishment is the voice it gives to the local journalists, the heroes of our profession."
CPJ would like to thank all of our guests at the dinner, especially David Muir of ABC News, who was our host for the evening. We are also grateful to our friends at Reuters, who hosted the pre-dinner reception, and Fusion!, who hosted the post-dinner reception.
CPJ would also like to extend our thanks to CNN, who produced the compelling and moving videos shown throughout the night. Check out RBSS' video and speech; Zunar's video and speech; Zone 9's video and speech; Cándido Figueredo Ruíz's video and speech; and Burton Benjamin Memorial Awardee Kathy Gannon's video and speech.
Q&A with an Ethiopian journalist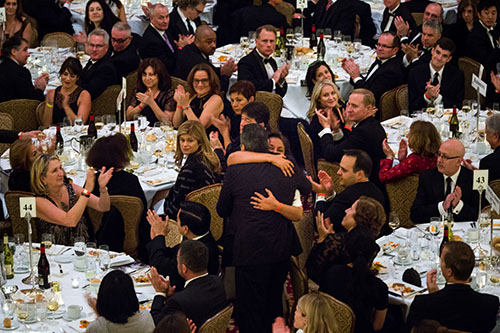 CPJ's years-long advocacy paid off in July with the release from prison of Reeyot Alemu, a journalist who has been jailed in Ethiopia since 2011.
Reeyot wrote columns critical of the government for the now-defunct independent weekly Feteh. In 2012, a court sentenced her on terrorism charges to 14 years in prison, which was later reduced to five years on appeal.
Reeyot attended CPJ's 2015 International Press Freedom Awards in November. We spoke to her about her freedom, her imprisoned colleagues, and the impact of CPJ advocacy.
Now that you are free, what are your plans?
I will continue to write. After I was released, I began immediately to publish articles on Ethiomedia website. I must get medical treatment for my breast issues–that's the main reason I'm here. I'm sure of two things: I will continue my writing and also I'm sure to struggle against our government. It goes with writing.
Is there anything that CPJ did that helped you while you were in jail? And what should we do to help others?
Yes, it helps a lot. People or governments or organizations must know about the situation. You give awareness–that's a big thing. A country or organization can't do something if they don't know about the situation. You did a great job on that. But to directly influence our government [laughs], to ensure people are released, I don't know about that, but indirectly, it has an effect. Our government works with the U.S. government or other Western governments, they have some mutual interests. [These governments] can influence, but they don't influence even if CPJ or other organizations are trying.
You [CPJ] must continue, and do more. The world must know what the Ethiopian government is like. We [as journalists] are trying to be a voice for the voiceless, but when we were arrested, now CPJ becomes our voices, therefore, it's a very good thing to be the voice of the voiceless. Also, you feel like, OK there are some organizations and people who are concerned about me, my country, about press freedom, humanity, therefore you feel good. That feeling has a very good influence on the prisoners. Because we are in the same profession and when you are in prison, it helps to know that there are organizations to protect the rights of journalists.
Stay tuned for our full Q&A with Reeyot, which will be published on CPJ's blog.
Second annual U.N. Day to End Impunity
CPJ statistics on journalist murders were the basis for the language in the 2013 UN Resolution on the Safety of Journalists and the Issue of Impunity, which also established November 2 as the International Day to End Impunity in Crimes Against Journalists. Around 96 percent of murdered journalists are local reporters, according to our research. Of every 10 journalists murdered, four received threats before they were killed. And in only 2 percent of cases are the masterminds apprehended or prosecuted.
Following the 2015 International Day to End Impunity in Crimes Against Journalists, news outlets all over the world, including in Pakistan, Sri Lanka, and the Philippines, cited CPJ data. Our research was also featured prominently in a blog on the website of the University of Austin at Texas' Knight Center, which included an interview with Carlos Lauria, CPJ's senior Americas program coordinator. "Despite the democratization in Latin America, I think that in the last two decades we've seen the expansion and growth of transnational organized crime networks that have expanded their sway," Lauría said. "And journalists have been targeted for digging into their illegal activities,"
In the lead-up to the 2015 International Day to End Impunity in Crimes Against Journalists, CPJ released our annual Impunity Index, which spotlights countries where journalists are slain and their killers go free. USAID included the index in a social media toolkit it circulated to its supporters.
Brazilian blogger freed from prison
The brother of imprisoned Brazilian blogger Paulo Cezar de Andrade Prado, who is also known as Paulinho, called CPJ to thank us for our advocacy and support that led to the journalist being freed on November 13.
"No journalist should fear going to jail for their reporting," said Carlos Lauria, CPJ's senior Americas program coordinator. "We are pleased that Brazilian authorities have released Paulo Cezar de Andrade Prado. He should never have been jailed in the first place."
Paulinho, who runs Blog do Paulinho, had been jailed since July 6 after police discovered he had never served time for a five-month sentence he received in October 2014. Paulinho was released pending appeal in that case, but neither the court nor his lawyers at the time had told him that his appeal was denied and he was to be jailed, according to both Paulinho's current lawyer and his brother.
Egypt frees prominent writer, rights defender after three days in jail
The arrest in Egypt in November of a well-known human rights defender and journalist spurred local journalists and news outlets into speaking about press freedom–and more and more of them are citing CPJ research. In a prison census in June, CPJ documented at least 19 journalists behind bars in relation to their work. Most were accused of terrorism.
Hossam Bahgat, who also contributes to the Egyptian website Mada Masr, was detained on November 7 and accused of publishing false news. He was released after three days following an international outcry by local journalists and local and international press freedom organizations including CPJ. The status of the allegations against him is unclear.
In a statement published on Mada Masr after his release, Bahgat described his detention and thanked people who advocated for his release. "In the end, I was lucky to receive an outpouring of solidarity and sympathy, which guaranteed a degree of relatively better treatment during my detention and the short duration of my stay, despite the aforementioned procedural violations of my rights as a detainee," he wrote. "I can only thank all the lawyers, colleagues, friends, comrades and Egyptian and international organizations that expressed their support and offered me their assistance."
Ensuring the free flow of news online
In November, the Ranking Digital Rights project launched the Corporate Accountability Index, aimed at ensuring technology companies safeguard the integrity of platforms on which journalists rely.
Ranking Digital Rights–which is directed by Rebecca MacKinnon, a CPJ board member and co-founder of the citizen media organization Global Voices Online–seeks to independently document the policies and practices of tech companies on issues of free expression and privacy. Academics, civil society members, and competitors can then use the data to ensure companies follow best practices.
As CPJ's Technology Program Coordinator Geoffrey King pointed out in a blog, "Like everyone, journalists use private platforms to disseminate news. Censorship by private companies poses different problems than censorship by states. Nonetheless, content takedowns, account suspensions, the compelled use of one's legal name, and the release of information to authorities can be just as damaging as when states take direct action against journalists.
Help support the Ranking Digital Rights project by sharing on Twitter.
Media Hits
Charged Malaysian cartoonist Zunar vows to fight on as he receives CPJ Press Freedom Award
When the news reads you back: Why journalists need to stand up for reader privacy
Brazilian blogger murdered after receiving death threats
The death of two Syrian journalists
Iran sentences journalist Jason Rezaian to unspecified prison term
Egypt military detains leading activist journalist
CPJ calls on Turkish authorities to release Nokta editors
Vatican puts 2 journalists on trial for reporting on leaks
Join us in defending brave journalists worldwide!