CPJ advocacy vital in release of imprisoned journalists in Ethiopia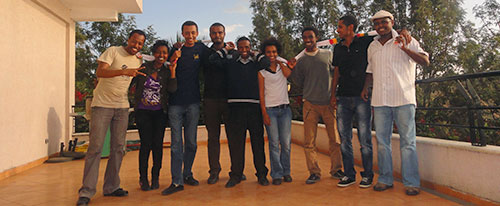 CPJ's advocacy was critical in freeing 10 imprisoned journalists in Ethiopia this year, including bloggers affiliated with the Zone 9 collective.
In the years since the government's crackdown on journalists began, CPJ has covered anti-press violations and done hundreds of media interviews to keep the spotlight on Ethiopia. A 2012 CPJ delegation to Ethiopia urged high-level government officials to release imprisoned journalists. We engaged with U.S. officials and policymakers, including State Department officials, to ensure press freedom was high on the agenda of the White House. At our urging, Ambassador Samantha Power met an exiled blogger, and President Obama hosted an Ethiopian journalist at the White House ahead of his July visit to Ethiopia.
On October 16, an Ethiopian court acquitted Abel Wabella, Atnaf Berhane, and Natnail Feleke, Zone 9 bloggers who were jailed since April 2014 on terrorism charges. The three were released from prison, while exiled blogger Soleyana S. Gebremichael was acquitted in absentia. Befekadu Hailu, another Zone 9 blogger, was acquitted of terrorism charges, but the court upheld a separate charge of inciting violence. He was released on bail.
The five others who were jailed in the same case–editor Asmamaw Hailegiorgis; freelancers Edom Kassaye and Tesfalem Waldyes; and Zone 9 bloggers Mahlet Fantahum and Zelalem Kibret–were released from prison in July. The same month, Ethiopian authorities freed Reeyot Alemu, a critical columnist jailed since 2011.
The Zone 9 blogging collective was formed in May 2012 in response to the narrowing of space for free expression. With the motto "We Blog Because We Care," the Zone 9 collective has voiced concerns over issues, including political repression and corruption. The collective's posts were frequently blocked inside Ethiopia, but gained a following with Ethiopians in the diaspora.
CPJ is presenting its 2015 International Press Freedom Award to the Zone 9 bloggers. The award recognizes the important role that bloggers play in environments where traditional media are weak or have been all but shuttered by financial hardship and direct or indirect state attacks.
CPJ's annual award and benefit dinner will take place on Tuesday, November 24, 2015, in New York City. For more information, or to buy a table, click here.
Peru's Urresti withdraws presidential bid, citing journalist murder trial
A little over a month after CPJ released a special report on a presidential bid sought by Daniel Urresti Elera in Peru–the same man who is on trial for a 1988 journalist murder–Urresti withdrew his nomination.
Urresti, a former interior minister and army general, was charged in February 2015 with the murder of war correspondent Hugo Bustíos Saavedra. But that did not stop him from seeking a presidential nomination under Peru's ruling Nationalist Party. In an interview with CPJ in April, he said, "In the army, my dream was to become a general. As a politician, my dream is to become president."
In a letter to President Ollanta Humala on October 20, 2015, Urresti wrote that he was withdrawing his candidacy for the April 2016 elections so he could focus on the trial on the Bustíos murder, according to news reports. He said the trial was estimated to last until March 2016, at which point he would have little time to prepare his campaign.
The trial sends a strong message to Peruvians that no one is sacred, Ricardo Uceda, executive director of the Lima-based Institute for Press and Society, told CPJ. "The Bustíos killing is our most important case, and the fact that Urresti is on trial for it shows that the judicial system can work," he said.
CPJ and VICE News launch petition to #FreeRasool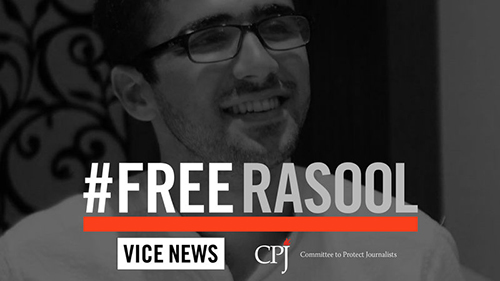 A Change.org petition launched by CPJ and VICE News that calls on Turkey's President Recep Tayyip Erdoğan to release an imprisoned Iraqi journalist has collected more than 32,000 signatures.
The petition, which was launched on October 21, calls for the release of Mohammed Ismael Rasool, who is being held in Turkey. Rasool was arrested in August alongside Jake Hanrahan and Philip Pendlebury, two British journalists from VICE News. But whereas Hanrahan and Pendlebury were released, Rasool is still behind bars.
CPJ's advocacy officer, Samantha Libby, wrote a blog to accompany the launch of the petition, which was signed by 10,000 people on the first day. Change.org has translated the petition into more than a dozen languages so it can reach others across the globe.
The day the petition was launched, VICE News blacked out all of its online channels for two hours during its highest trafficked period in the day. The move, the organization said, was in hopes that the blackout would be seen by millions.
You, too, can add your voice. Click here to call on Turkish authorities to #FreeRasool.
CPJ releases special report on Tunisia
CPJ held a press conference in Tunis on October 27 to release a special report on press freedom in Tunisia.
The report, called "In Tunisia, press freedom erodes amid security fears," examines how press freedom advances made since the 2011 Arab uprisings that began in the country have eroded as journalists are squeezed between violent extremists and sensitive security forces, particularly in the wake of two major terrorist attacks this year. The report includes CPJ's recommendations to the Tunisian government.
A CPJ delegation also met with high-level government officials, including Prime Minister Habib Essid, to discuss the findings of the report.
Cabot Prize winner donates award to CPJ
Following a CPJ luncheon honoring the 2015 winners of the Maria Moors Cabot Prize, one of the awardees, Mark Stevenson, an Associated Press reporter in Mexico, said he would donate his award to CPJ.
Stevenson was one of the five journalists honored this month with the Cabot Prize for outstanding journalism that promotes a better understanding of the Western hemisphere. The other winners were Raul Penaranda, founder of Pagina Siete in Bolivia; Simon Romero, a New York Times reporter; and Lucas Mendes, host and executive editor of a program of GloboNews in Brazil. Ernesto Londono of The New York Times received a special citation for a series of editorials about relations between the U.S. and Cuba.
Stevenson said he would donate his US$5,000 prize to CPJ. "Of the 64 journalists killed in Mexico since 2000, all have been Mexicans," he said. "The Mexican press has made great strides in recent decades, but they can't do their jobs if they're worried about being killed."
Violence linked to organized crime has made Mexico one of the deadliest countries for journalists in the region, according to CPJ research. Around 90 percent of journalist murders in the country go unsolved.
Q&A with a CPJ supporter
CPJ spoke to Dr. William Borucki, the former principal investigator of NASA's Kepler Mission, who donated $100,000 to our organization out of the $1 million Shaw Prize he received in June 2015. The gift, he said, was his way "of helping to support the heroic journalists who make our freedom possible."
Dr. Borucki said that he and his wife searched for an organization that "supports journalists in their efforts to get at the facts, especially in difficult circumstances." CPJ, he said, best fit that criterion.
"For people to maintain their freedom and to accomplish worthwhile objectives, it is necessary to obtain an accurate and comprehensive picture of the situations we face," Dr. Borucki told CPJ. "Thus, a free and unfettered press is required."
For the full interview with Dr. Borucki, click here.
Media Hits
Ethiopia opposition groups say they are uniting for change
Despite violence, journalists in Mexico innovate to report
US media body seeks probe into killing of UP TV scribe
Kenyan Parliament pass bill suppressing freedom of the press
Taliban threaten Afghan TV journalists with 'elimination'
Join us in defending brave journalists worldwide!