CPJ hosts press conference for journalists convicted in absentia in Egypt
On September 29, CPJ hosted a press conference in its New York offices for three journalists–Peter Greste, Dominic Kane, and Sue Turton–who have been convicted in absentia in Egypt. Joel Simon, CPJ's executive director, introduced the journalists and spoke about the threats local and international journalists face in the country.
In the press conference, Greste, Kane, and Turton called on President Abdel Fattah el-Sisi to pardon them and expressed solidarity with other members of the press who have been charged by the Egyptian government.
Kane and Turton said they fear being extradited to Egypt if they travel and that the convictions have made it difficult for them to work. "Once I was released from prison, I thought I was going to be free," Greste told journalists at the press conference. "It turns out that I'm not. I still have this conviction and all of its consequences hanging over my head."
On September 23, el-Sisi pardoned more than 100 individuals, including Al-Jazeera journalists Baher Mohamed and Mohamed Fahmy. Greste was not on the list. Neither was Kane or Turton.
A few days later, the president told The Associated Press that he was open to pardoning journalists who had been convicted in absentia. At least 18 journalists are behind bars in Egypt in relation to their work, CPJ research shows. At least 12 journalists have been convicted in absentia in the country, whose cases Sherif Mansour, CPJ's Middle East and North Africa program coordinator, documented in a blog published after the press conference.
CPJ's press conference was covered in local and international media, including Newsweek, the Guardian, and the Egyptian news website Ahram Online. The Associated Press also published a story about it, which was picked up by The New York Times.
Earlier that day, Greste, Kane, and Turton attended CPJ's Leadership Council meeting, where they met and spoke with a group of CPJ's key supporters and friends. The meeting was also attended by Ali Rezaian, the brother of Jason Rezaian, a Washington Post journalist who has been imprisoned in Iran since July 2014.
In April 2015, The New York Times reported that Rezaian had been formally charged with four crimes, including espionage. His lawyer said that his case file presents no evidence to justify the charges. On the one-year anniversary of Rezaian's imprisonment, CPJ's board members wrote a letter to the head of the Iranian judiciary, Ayatollah Sadeq Larijani, asking him to intervene in his case.
Press freedom at risk in the EU, CPJ special report finds
In a press conference in Brussels on September 29, CPJ launched a special report on press freedom in the European Union. CPJ board member Kati Marton; Courtney C. Radsch, CPJ's advocacy director; Nina Ognianova, CPJ's Europe and Central Asia program coordinator; and Jean-Paul Marthoz, CPJ's EU correspondent and the author of the report, spoke at the press conference and held meetings with EU officials to discuss the report's findings.
The report, called "Balancing Act: Press freedom at risk as EU struggles to match action with values," explores the impact that repressive legislation in EU member states has on the press; how calls for wider surveillance risks muzzling journalists; and how the EU has failed to take strong action against member states that backtrack on their commitments under the EU Charter of Fundamental Rights. The report also includes recommendations to EU member states as well as internal and foreign policy recommendations to the EU.
In an accompanying video, Marthoz discusses the main findings of the report. The summary of the report is available in Arabic, French, German, Hungarian, Russian, Spanish, and Turkish.
CPJ's EU report was made possible thanks to generous support from the Adessium Foundation.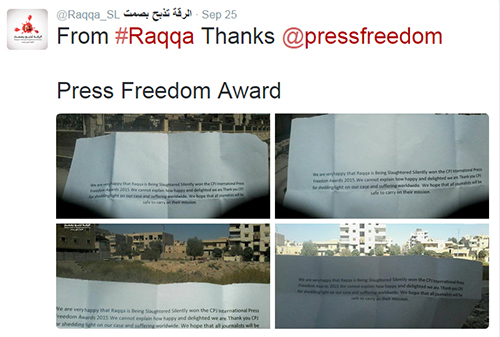 Syrian collective thanks CPJ for 2015 International Press Freedom Award
On the morning of September 25, CPJ staff received a notification about a post on its Twitter account. Two tweets, thanking CPJ, had been posted by the Syrian citizen journalist collective Raqqa is Being Slaughtered Silently, which is being honored with CPJ's International Press Freedom Award this year.
The tweets featured six photographs, taken from different parts of the city of Raqqa, all showing a note that said:
"We are very happy that Raqqa is Being Slaughtered Silently won the CPJ International Press Freedom Awards 2015. We cannot explain how happy and delighted we are. Thank you CPJ for shedding light on our case and suffering worldwide. We hope that all journalists will be safe to carry on their mission."
CPJ is presenting its 2015 International Press Freedom Award to RBSS, one of the few reliable and independent sources of news left in Raqqa, following the city's takeover by Islamic State. The Raqqa-based members of the group report from within the city and send the information to members outside Syria, who transfer the news to local and international media. At least 85 journalists have been killed in Syria since 2011, when the conflict began. The country is the second deadliest place for journalists since CPJ began documenting journalist killings in 1992.
CPJ is also presenting IPFA awards to the Zone 9 bloggers of Ethiopia, Zulkiflee Anwar Ulhaque, or "Zunar," a Malaysian cartoonist who faces legal threats, and Cándido Figueredo Ruíz, a Paraguayan journalist who has lived under 24-hour police protection for two decades. Kathy Gannon, The Associated Press's special regional correspondent for Pakistan and Afghanistan, will receive the Burton Benjamin Memorial Award for lifetime achievement in the cause of press freedom.
CPJ's annual award and benefit dinner will take place on Tuesday, November 24, 2015, in New York City. For more information, or to buy a table, click here. To inquire about press accreditation to cover the awards, please email your request to Ashley Parent at [email protected]. Press accreditation to the dinner begins November 2.
Award-winning space scientist makes generous donation to CPJ
CPJ is grateful to William Borucki, a former space scientist at NASA, for his generous support to our organization.
Borucki donated part of the Shaw Prize he received on September 29 for "his conception and leadership of the Kepler Mission." The Kepler Mission has resulted in the discovery of more than 1,000 planets. Borucki was the principal investigator of the Kepler Mission at NASA and retired earlier this year.
Look for more information in next month's newsletter.
Good News
CPJ welcomes arrests in 2011 murder of Philippine journalist
Russia charges three suspects over 2010 attack on reporter Oleg Kashin
Regional court orders Venezuela to reinstate RCTV on the air
CPJ welcomes acquittal of journalists charged with defamation in Thailand
Turkey frees 2 VICE News reporters but third remains in custody
CPJ welcomes release of Vietnamese blogger Ta Phong Tan
Ecuador won't dissolve free-speech NGO Fundamedios, for now
Media Hits
Convicted Al-Jazeera journalists appeal to Egypt for pardons
Media rights group says EU is too soft on Hungary
Egypt pardons Al Jazeera journalists Mohamed Fahmy and Baher Mohamed
Turkey says Dutch journalist detained "for her own safety"
In reversal, Ukraine removes 6 journalists from banned list
Join us in defending brave journalists worldwide!