When calls for Wang Liming to be arrested were made on a forum hosted by China's state-controlled press last year, the satirical cartoonist who lampooned the Communist Party leadership decided it would be safer to stay in Japan, where he had been traveling. But while he may have avoided possible arrest, the cartoonist, known as Rebel Pepper, says he is struggling to make a living in his self-imposed exile.
"Maybe the [Communist] Party wants to admonish people one by one as examples," Wang said in a public appeal for support this month, after exhausting his savings over the past year. "If they don't throw you in jail, they'll make it impossible for you to live."
Wang's experiences of falling foul of the authority figures featured in his satirical work mirror those of other political cartoonists around the world. Earlier this month, CPJ released its special report, "Drawing the Line: Cartoonists Under Threat," which highlights how globally cartoonists are being imprisoned, forced into hiding, threatened with legal action, or killed.
As his nickname "Rebel Pepper" suggests, Wang's sharp, satirical cartoons may not have been palatable to everyone, including China's Communist Party. The cartoonist frequently used his drawings to skewer the Chinese leadership and their authoritarianism as well as to call attention to events such as last year's pro-Beijing rally in Hong Kong, organized by a group sympathetic to Beijing.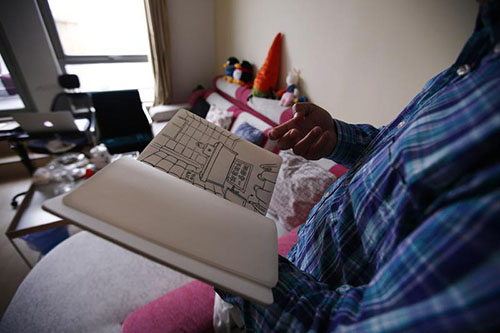 While visiting Japan in May last year, Wang was labeled a pro-Japanese traitor for his cartoons, in a post that called for his arrest. The post, written under a pseudonym, appeared on an online forum hosted by the state-controlled People's Daily website and was republished by several other Chinese news sites, according to reports.
"I wonder why [I have to be called] a traitor for conveying thoughts on Japan as I felt," Wang said in an interview. "We're not allowed even to make a joke about the government and bureaucrats. I'm pessimistic about the future of China."
Wang said he also began receiving death threats via email, according to news accounts.
Fearing he would face arrest upon returning home, Wang decided to stay put. His anxiety is not unwarranted. The cartoonist was detained in October 2013 over a microblog he had forwarded, which authorities said "was a rumor," and in 2011 he was interrogated by security officers over a cartoon titled "One person, one vote to change China," according to news reports. Moreover, China's clampdown on criticism has become ever more stifling. The country is currently the leading jailer of journalists, with 44 imprisoned according to CPJ's latest prison census.
But Wang's decision to remain in Japan has led to another set of challenges. The cartoonist, who had hundreds of thousands of followers on social media before his accounts were deleted on sites including Sina Weibo and Tencent, is now struggling to make a living. Last year, Taobao, an online shopping portal owned by Alibaba–China's biggest e-commerce company–closed Rebel Pepper's Little Shop through which the cartoonist supported himself, reports said. Alibaba has not publicly commented on why the online store was closed.
Selling the occasional cartoon to Japanese publications and his position as a visiting scholar at a Japanese university, which offers no stipend, are not enough to keep him afloat, he told the Christian Science Monitor this week. Wang added that so far, he and his wife have not been able to apply for political asylum in Japan. The pair have "cultural exchange" visas that are set to expire at the year's end, the report said.
Wang's public plea for financial assistance can be found on this post by China Digital Times.