A verdict is expected Friday in the case of veteran journalist and staunch government critic Gao Yu. The 71-year-old freelance journalist, who writes about politics, the economy, and social trends for Chinese media in Hong Kong and overseas, was tried in November for disclosing state secrets.
The announcement of the court's verdict has been postponed twice, according to reports. If a verdict is handed down Friday, details of any sentence are expected to be given at the same time, John Kamm, founder of the U.S.-based human rights organization Dui Hua Foundation, told CPJ by e-mail. In China's current anti-media climate, where the mainstream press is facing an increasingly stifling working environment through arrests, harassment, and media directives since President Xi Jinping came to power in March 2013, it is hard to believe there will be a positive outcome for her.
This month also marks one year since Gao was jailed by authorities. She is one of 44 journalists CPJ counted behind bars in China as of December 1, 2014, making the country the leading jailer of journalists. The figure marked the highest tally of journalists jailed there since CPJ began keeping records in 1990.
In pictures: China's crackdown on Gao Yu
Police gather outside a court in Beijing, above, in November 2014 for the closed-door trial of Gao Yu. The journalist is accused of leaking state secrets in a case that has drawn criticism from legal experts and journalists for violating due process and restricting freedom of expression.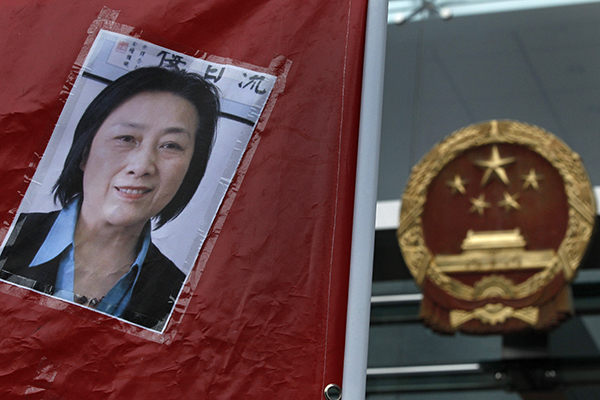 A picture of Gao, above, is held aloft during a Hong Kong rally in May 2014 calling for her release. The reporter was detained over accusations of leaking state secrets just weeks before the 25th anniversary of the bloody Tiananmen Square crackdown.
Thousands of demonstrators, above, fill Tiananmen Square in Beijing in May 1989. Gao was among many prominent intellectuals jailed during the crackdown on protesters and served 15 months in prison.
Gao, pictured with her son Zhao Meng, in Beijing in 1990. The reporter was released from jail on medical parole in 1999 after serving all but seven months of a six-year sentence for leaking state secrets, according to reports. After her latest arrest, official state broadcaster CCTV aired footage of Gao appearing to confess. Gao later retracted her confession, telling her lawyer Shang Baojun she confessed only to protect her son, according to news reports.
Award-winning journalist Gao, pictured above in an undated Reuters file photo, writes about politics, the economy, and social trends in China. She has been honored with international awards including the Guillermo Cano World Press Freedom Prize, presented to her by UNESCO in 1997.
Gao, pictured above at a press freedom conference in Paris, in April 2008, is well known for her journalism among local and international press. The critical reporter has already served more than seven years in prison.
For more information on imprisoned journalists, join CPJ's "Press Uncuffed" campaign.