"Modi has tightened the screws on information." This statement from Bangalore-based journalist Subir Ghosh underscores a common challenge repeated to me by several of India's journalists, who say the space for criticism is shrinking under Narendra Modi's rule. Since a landslide victory made him leader of the world's largest democracy nearly one year ago, the prime minister has worked to distance his government from independent reporters, they said.
While I was in India on behalf of the Committee to Protect Journalists last month, the country made international headlines over its heavy handed response to the BBC documentary "India's Daughter," about a gang rape. And earlier, a Greenpeace activist who had been due to testify in London about the impact of a coal-mining project, was barred from leaving the country in a move seen by many journalists I met with as a sign of tougher conditions for critical voices.
Although many political commentators agree that Modi has demonstrated strong statesmanship at home and abroad, freelance journalist Ghosh, told me: "There has been a concerted effort to clamp down on reportage."
Shortly after taking office, Modi instructed cabinet members and senior bureaucrats to keep their distance from the media, refrain from giving interviews, and leave the talking to official government spokesmen, according to independent news website Scroll.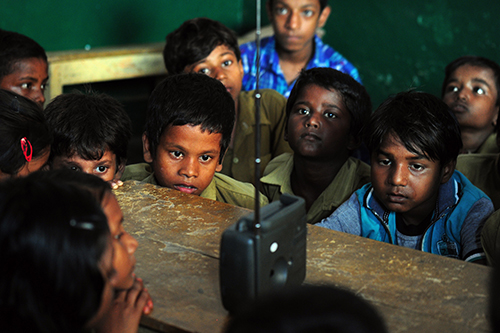 Many journalists I met with said the administration is, in effect, seeking to control the message. Modi uses his Twitter handle, with more than 11 million followers, to convey day-to-day developments. His tweets have fast become the main source of news for the Delhi press. In addition to his speeches, Modi's monthly radio program, "Mann Ki Baat" which airs on the national broadcaster All India Radio, conveys the government's message on topics such as Modi's Clean India campaign and farmer suicides. A look at the program's website, which tracks press coverage, shows how effectively the show has driven stories in the media.
The Press Information Bureau under the Ministry of Information and Broadcasting, traditionally a powerful liaison between the government and media, has also been reorganized, several journalists told me. "While they enjoyed some level of independence in the past, now they are a complete government mouthpiece," Ghosh said.
In a survey published in March by The Hoot, a South Asian media watchdog website, 74 percent of the 50 journalists surveyed, said they sensed government officials had "clammed up." Almost half the respondents asked, "Where are the stories these days?" and said most coverage was pro-Modi.
Late last year, journalist Sanjay Kumar called the government's distancing from the media "unprecedented." He wrote in The Diplomat: "Never before has an Indian leader maintained this kind of distance from the media." Modi's approach to the media was captured in a "politoon" (political cartoon) broadcast by media outlets under the India Today Group, a major media conglomerate, in which he is shown going to great lengths to avoid journalists after winning the election, and ends with him holding a newspaper that reads, "No news is good news."
A journalist I met in Delhi, who works for an international outlet, said the "spigot is smaller" under Modi. The journalist, who asked not to be named for fear of professional reprisal, added there were more leaks under the previous administration.
It's not just journalists voicing these concerns. Media bodies have been critical of what they describe as a one-sided flow of information that bypasses journalists. A statement by the Editors Guild of India, published in major Indian newspapers late last year, said: "Top-down, one-way interaction in a country with limited Internet connectivity and technological awareness cannot be the only answer for large masses of readers, viewers, surfers and listeners. Debate, dialogue and discussion are the essential ingredients of a democratic discourse."
The ruling Bharatiya Janata Party denies that it avoids the press, arguing that the government is not closed-off and that Modi and his ministers are using social media to spread necessary information to the public, reports said.
A member of a human rights organization in Mumbai, who asked not to be named for fear of professional reprisal, told me former Prime Minister Manmohan Singh wasn't the most media friendly either, but he would at least appear before the press to take questions.
Modi has also been criticized in the media for drastically reducing the size of the press corps that accompanies him on official business when traveling abroad. Whereas previous administrations would bring about 30 journalists, during Modi's high-profile visit to the U.S. in September, he took only nine journalists from state-funded outlets or large news agencies, according to reports. Modi has been quoted giving various reasons for the reduced press corps, including saying journalists no longer needed to travel with leaders to have instant access to information. Previous media advisers suggested that the government should not have to foot the bill for journalists' travel expenses.
As well as restrictions on access to officials, several of the journalists I met said there was a growing intolerance for critical reporting. The case of V.M. Vanol, an assistant director for the state-owned TV broadcaster Doordarshan appears to support this. According to reports he was transferred from Ahmedabad to the far-flung Andaman Islands after airing a report on Modi's estranged wife. Doordarshan officials said bureaucrats from the Ministry of Information and Broadcasting had visited the station to demand an explanation for the report, according to news reports. Despite the administration's claim that it played no role in the transfer, the incident led some journalists to worry that reporting on sensitive stories may land them in hot water. The Delhi-based journalist told me he thinks Doordarshan is being used as a "propaganda tool" and pointed to reports of micromanagement.
Vanol confirmed to reporters he had been transferred but did not give details of why. Doordarshan did not respond to CPJ's request for comment.
The diminished tolerance for criticism of Modi is also seen on social media. Modi's right-wing supporters, who espouse a commitment to the Hindutva ideology, which merges Hindu theology and nationalism, are "clearly a machine on social media that hurls vitriol at you through their various bots," Naresh Fernandes, editor of Scroll, told me. Fernandes said he had been labeled anti-national in dozens of tweets. And a Mumbai-based journalist, who asked not to be named for fear of reprisal, said she has had to limit her time on social media because of how "toxic" engaging with trolls can be. In the run-up to the election, CPJ documented several cases of journalists receiving threats and harassment online from professed Modi sympathizers.
Reports this month that Modi plans to spend $32 million on a journalism institute modeled after one in China, has also raised concerns. That India is looking to the Chinese government for how journalism should work makes me fear for the future of its press.
The crackdown on Greenpeace resonated with some of the journalists and media advocates I spoke to. They said non-governmental organizations faced harassment under previous administrations, but authorities' response in this case appeared particularly harsh. Ghosh added: "NGOs have become a bad word."
Authorities banned Greenpeace activist Priya Pillai from leaving the country in January, stamping her passport with "Offload" when she attempted to fly to London to testify about the impact coal mining was having on a community, according to reports. A court order later declared the travel ban illegal. The government went on to suspend Greenpeace's official registration and froze its bank accounts in India this month, over claims the environmental group was encouraging anti-development protests, news reports said. While critics may point to reports on how Greenpeace has had its non-profit status revoked over the years in countries such as New Zealand and Canada, in those instances its assets were not frozen.
India began cracking down on foreign-funded charities last year after an intelligence report released weeks after Modi took office claimed the "concerted efforts" of some foreign-funded non governmental organizations to thwart development projects led to a loss of up to 3 percent in India's GDP.
"It's disturbing to think what lies ahead," the Mumbai-based media advocate told me, adding that the restrictions sounded alarm bells. "India boasts of self-correction but a lack of critical space will hamper this."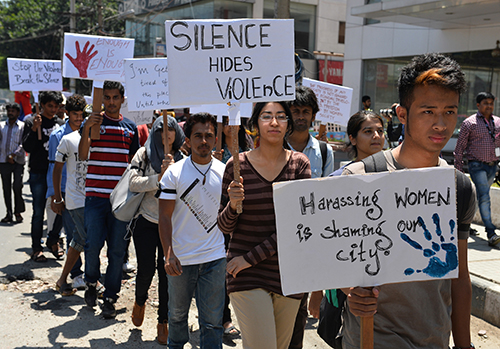 Perhaps one of the most flagrant examples of government efforts to constrict the space for criticism happened during my time in the country. In March, Home Minister Rajnath Singh led efforts to ban British filmmaker Leslee Udwin's documentary, "India's Daughter." Authorities argued that the film about the brutal 2012 Delhi gang rape could lead to "a law and order situation." Others in the government described it as "an international conspiracy to defame India." The Home Minister threatened unspecified action against the BBC for airing the film abroad, reports said.
Rather than welcoming the opening up of debate about an issue of national importance, the government has set out to tighten controls on films and documentaries being made in India, particularly by foreign crews, news reports said. Officials in the Home, Information and Broadcasting, and External Affairs Ministries have been instructed to keep a close eye on film proposals, reports said.
Supremely proud to be a part of @NDTV #NDTV #IndiasDaughters #silentprotest We don't have to shout to be heard! pic.twitter.com/mXrH9Sdhck

— Priyanka Pant (@pri_pant) March 8, 2015
For many journalists, the private broadcaster NDTV's silent protest against the ban–a blank screen during the hour it was supposed to air the documentary–renewed confidence in India's media
Over chai in Delhi with Paranjoy Guha Thakurta, the independent journalist told me the NDTV protest was similar to the press response during the 21-month period of Emergency Rule under Indira Gandhi from 1975 to 1977.
"The Emergency was arguably the darkest time for press freedom in India," Thakurta told me. "But those days are gone and we have come a long way. The government or those in position of power and authority have never been tolerant of free expression. Many people have compared NDTV's blank screen to the blank [sections] of the Indian Express during the Emergency."
In Mumbai, Bangalore, and Delhi, journalists told me they faced challenges to press freedom from other quarters too: from corporate houses, criminal elements, and parties to conflicts in restive regions such as the northeast and Chhattisgarh, to other members of the media who, the journalists I spoke to said, have engaged in corrupt or unethical practices that undermine the media's credibility as the fourth estate.
"All this is very bad for democracy," Ghosh said.