Putting Charlie Hebdo in context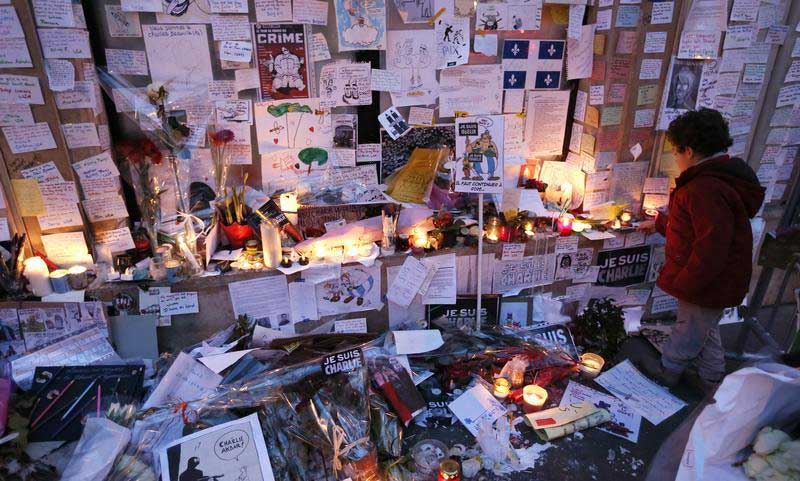 When masked gunmen raided the office of French satirical magazine Charlie Hebdo on January 7, killing 12 people including eight journalists, the media turned to the Committee to Protect Journalists to put the attack in context and comment on the repercussions for press freedom worldwide. CPJ's experts and directors gave comments to The New York Times, NPR, Reuters TV, Yahoo News with Katie Couric, BBC World Service, France 24, and The Associated Press, among others. CPJ responded as soon as details of the attack emerged, and its regional experts helped provide a global perspective on the issues surrounding the attack.
In a blog, CPJ Europe Representative Jean-Paul Marthoz examined how long the "Je suis Charlie" demonstrations of solidarity would hold. The blog discussed how the attack could widen cracks in French society that were already beginning to show. Marthoz introduced and moderated a European Broadcast Union/European Newspaper Publishers Association panel about media reactions to the attack. At the core of the discussion was the ethical rules for covering sensitive subject matter and where editorial self-regulation falls during a call for solidarity. He also participated in UNESCO's day of reflection and free speech debate in Paris on January 14.
Sherif Mansour, CPJ's Middle East and North Africa program coordinator, and Jason Stern, CPJ's Middle East and North Africa research associate, co-authored a blog on Huffington Post about the hypocrisy of some Middle Eastern governments that expressed solidarity after the Paris attack but restricted the press in their home countries. The blog was cited by several publications, including the Global Post.
CPJ researchers created an interactive map, "Charlie Censored," using the Knight Lab's new StoryMap tool, to track instances of bans and censorship of the magazine's divisive cartoons around the world.
One area CPJ did not weigh in on was the debate over whether to publish the cartoons. Joel Simon, CPJ Executive Director, argued that it was an editorial decision, not a press freedom issue. Overall, CPJ believes this is a time for unity. "Regardless of your decision to publish or not, we need to stand together behind the principle of freedom of expression," Simon told The New York Times.
Working to increase journalist safety and security
On January 20, CPJ Executive Director Joel Simon and Advocacy Director Courtney Radsch gathered with journalists, freelancers, press freedom advocates, security experts, and media outlets to discuss the challenges they face, at a conference organized by the U.S. State Department and hosted by Secretary of State John Kerry in Washington D.C. Journalists need to keep their distance from governments, so you know we've reached a crisis point when they come together to address a common problem, Simon said. Secretary Kerry set the tone at the Journalist Security Conference by saying, "We all know that journalism can be dangerous. There's no way to eliminate the risk completely, except by keeping silent, and that's what we call surrender."
There was hesitation on the part of some of the journalists at the conference about working with the State Department on safety, a tension that Simon highlighted in a blog about the event. CPJ will be one of the organizations heading a working group charged with cultivating a "climate of security" so that journalists, media organizations, non-governmental organizations, and academia are focused on addressing the threats that have made the past three years the most dangerous on record for journalists. CPJ will also update its Journalist Security Guide to include updated resources on digital security.
Six Eritreans freed
CPJ welcomed news of the release of six Eritrean journalists who had been held by authorities since 2009. They were among members of staff at the government-controlled station Radio Bana who were arrested in a raid that year. The freed journalists are Basilos Zemo, Bereket Misguina, Ghirmai Abraham, Meles Nguse, Petros Teferi, and Yirgalem Fesseha. "We are delighted at the release of six Eritrean radio journalists," said Sue Valentine, CPJ Africa Program Coordinator. "The authorities have yet to explain why they were detained in 2009 and why they were released this month. Sadly, at least 17 other journalists remain jailed in Eritrea." According to CPJ's 2014 prison census, Eritrea is the third leading jailer of journalists in the world, behind China and Iran.
In our own words: CPJ op-eds and interviews
Technology's role in the increased violence against journalists – by Joel Simon, the Los Angeles Times.
Democracy depends on freedom of the press – by Sue Valentine, the Weekend Argus and Saturday Star in Johannesburg.
Waiting for Iran – by Joel Simon, Columbia Journalism Review.
Normalization of U.S.-Cuba Relations Could Be Good for Free Expression – by Carlos Lauría, Huffington Post.
Dangerous Occupation – by Joel Simon, Cairo Review of Global Affairs.
Why journalists face greater harm in an age of abundant and accessible media – PBS Newshour special with Joel Simon.
Events: Where we were and where we will be
January 5, 2015 – Q&A with Joel Simon at Politics and Prose Bookstore, Washington D.C.
January 15, 2015 – The New Censorship: Despots, terrorists, spies, and the threat to global media, Ryerson University's Faculty of Communication and Design, Toronto, Canada.
January 22, 2015 – #JESUISCHARLIE: To Publish or Not To Publish, That is the Question, European Broadcasting Union, Brussels.
January 29, 2015 – IWMF's Women Digital News Entrepreneurs Summit, New York City.
February 4, 2015 – The News We Could Lose: New Threats to Journalism and Press Freedom, Newseum, Washington D.C.
February 7, 2015 – Inside Media: Journalists Under Threat, Newseum, Washington D.C.