Finding the Courage to Cover Sexual Violence
By Frank Smyth
A sensitive if not taboo subject in much of the world, sexual violence often goes unreported. Covering sexual assault, including rape, can bring swift and unpredictable repercussions, leaving many journalists and others torn over how best to navigate the risks.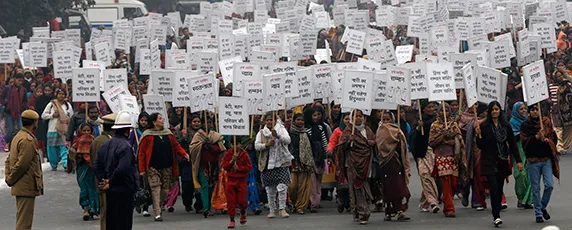 "You don't have the courage. You don't want to get into trouble," Chi Yvonne Leina, an award-winning Cameroonian journalist and contributor to the women's activist network World Pulse, told CPJ. "What you are reporting, who you are, can lead to changes in the way the community sees you," she said. World Pulse describes itself as a network using digital media in more than 190 countries to connect women worldwide and give them a global voice.
But attitudes can change. In India, a fatal gang-rape case in Delhi in December 2012 ended up generating more coverage in Indian newspapers, on television news and commentary programs, and in social media forums than ever before. Four men were eventually convicted of the crime and sentenced to death. Their lawyers have filed an appeal. The media coverage and the case itself have, by all accounts, helped reshape attitudes about sexual violence. "The way girls think now has changed dramatically after this particular case," Urmila Chanam, a columnist in northeastern India for the English daily newspaper Sangai Express, told CPJ.
Anyone reporting on sexual violence needs to be mindful of the potential risks not only to themselves, but also to the victims of the attacks.
"Think about the safety of the witnesses and sources," Abdiaziz Abdinuur, a Somali journalist who was forced into exile after reporting on sexual assaults, told CPJ.
"We could do more damage," said Chanam. Reporting sexual violence "disturbs the cultural elements in our country," she explained. Yet Chanam, who is another World Pulse contributor, ultimately wants "every case to be reported." She said that she gives the choice to the victim whether to report an individual case of rape, while collaborating more broadly with activists to change the way people perceive sexual violence.
Sometimes reporters pay a price for covering sexual attacks and their aftermaths. In July 2012, some Indian journalists were tipped off that a large group of men in Mangalore were chasing, beating, and groping teenage women at a local birthday party. The assailants were Hindu fundamentalists apparently upset at the way the women were associating with men. One local television journalist, Naveen Soorinje, called the police and filmed the scene. His subsequent TV report accused the police of responding slowly to his repeated calls about the attack.
Soorinje's footage was used to identify dozens of suspects. But four months after the episode, Soorinje was himself charged with participating in the attack. He spent four months in jail until his release in March 2013. The Committee to Protect Journalists considers the arrest to be retaliatory.
Just over a week after the 2012 gang rape on a bus in Delhi of a 23-year-old female physiotherapy student, the police in Imphal shot and killed Dwijamani Singh, a reporter for a regional satellite television network as he was covering protests against sexual assaults of women. The protesters were demonstrating against both the Delhi gang-rape attack and a more recent gang rape of an actress in Imphal. Singh was killed as the police opened fire when some protesters turned violent, according to news reports.
Attitudes about sexual attacks in India remain mixed. In the Delhi gang-rape case, pressure from the girl's parents and the nation's press gave the case unprecedented attention, which helped lead to arrests. In what seemed like a reaction to the widespread media coverage, a lower court barred journalists from covering the "fast-track" trial for two months.
But the press continued to clash with the authorities throughout the trial. In March, the Delhi High Court lifted the ban on reporters, although some restrictions remained, including allowing only one journalist from each accredited media organization into the courtroom, and prohibiting journalists from publishing the names of the victim or witnesses. In April, the judge presiding over the case arbitrarily barred a British journalist for The Independent in London from covering the trial.
Attitudes about gender in India along with the economic implications for families may help explain why covering sexual violence can be such a challenge for the press. Attitudes toward women are "the core reasons" behind both the nation's sexual assaults and why they are so often kept in the dark, said Chanam of the Sangai Express. "It starts before birth."
Girls are considered less valuable than boys, she said, and selective abortions of female fetuses are common. For every 1,000 boys, 836 girls are born in India, according to a study using birth data as late as 2005 published in The Lancet. The families of a young female rape victim may also pay an economic price if the crime is made public, Chanam said. Most Indian marriages are still arranged, and the bride's family is expected to pay a dowry to the groom's family. The family of an unmarried woman who has been raped often does not want it made public, she explained, because that would only make it harder and more expensive for her to marry.
In many nations, a gender-based sense of "honor" is another reason why sexual violence is often kept out of the press. Publicity around a rape case "can be extremely dangerous for the rape victims themselves," said Soroya Chemaly, a freelance feminist writer for various news outlets, including The Huffington Post.
Afghanistan is one nation where a family's honor, or its perception, helps keep sexual assaults from being reported. "Afghans are very sensitive about honor," Ali Shahidy, a writer and women's rights activist who has since left Afghanistan for the United States, told CPJ. If a woman in the family is sexually assaulted, he said, "they keep it as close as they can to protect their honor."
Such attitudes span the globe. "Sometimes you don't want to identify the victims to protect the victims," Achieng Beatrice Nas, an activist and World Pulse contributor from Uganda, told CPJ. "Sometimes you don't identify the victim to protect yourself."
But there's another reason why crimes of sexual violence may go unreported. Government security forces are among the most common culprits in sexual violence, according to Lauren Wolfe, an award-winning journalist and director of the Women's Media Center's Women Under Siege project, a New York-based nonprofit group that documents rape and other forms of sexual violence in conflict areas. "Most people we talk to won't speak about it because they're too scared," said Wolfe, who has helped document sexual violence in Afghanistan, Kashmir, Sudan, and Syria. While CPJ's senior editor, Wolfe wrote the CPJ report, "The Silencing Crime: Sexual Violence and Journalists."
Sexism and misogyny also play a role in keeping sexual assault stories from being reported, Chemaly said. "Male entitlement" is at the root of the challenges reporters face covering sexual violence, she said, because some men feel "they have the right to abuse, the right to rape." A study published in September 2013 in The Lancet based on interviews with men in Asian and Pacific nations noted a "high rape prevalence" that "is probably rooted in aspects of culture related to sexual entitlement and sex relations."
In January 2013, Al-Jazeera's English-language TV channel aired a report alleging that government soldiers in Somalia had raped women in refugee camps in Mogadishu. A few days later, the Somali freelance journalist Abdinuur pursued the same line of investigation and interviewed a woman who said she had been raped by soldiers. Abdinuur was promptly arrested to face a series of charges including "offending state institutions" and "false reporting," even though he had never published any report based on the interview.
The police arrested the woman he interviewed, initially charging her with similar crimes. The authorities also questioned, but did not charge, Omar Faruk, a correspondent for Al-Jazeera's Arabic service in Somalia. Abdinuur was finally released more than two months later, when the Supreme Court dismissed all charges. He fled to Uganda. "I was arrested," he later said in an audio interview with CPJ, "because of interviewing rape victims."
CPJ archives include a number of other cases of journalists' enduring reprisals after covering stories of sexual attacks. In 2000 in Kakamega, Kenya, two journalists from the daily newspaper, The People, were arrested and interrogated for hours for reporting that police officers had sexually assaulted three local women. In 2001, in Sri Lanka, A.S.M. Fasmi, a reporter with a Tamil-language newspaper, was detained and interrogated by intelligence agents after reporting a story about the rape of two women by security forces.
In 2006, Mexican journalist and activist Lydia Cacho was subjected to a trumped-up criminal defamation suit along with threats of violence. Tapes of telephone conversations between several people, including the then-governor of the state of Puebla and a local businessman, were delivered to the Mexico City offices of the daily La Jornada and W Radio, according to local media reports.
The voices of the men heard on the tape discussed plans to imprison Cacho and rape her in jail. Cacho had previously exposed a child pornography and prostitution ring involving government officials. In 2008, in western Mexico, two unidentified men beat and stabbed the deputy director of a local daily, Luis Pablo Guardado Negrete, who survived, while questioning him about a story on a sexual assault scandal at a local gym.
Of course, not all rape victims are women, as noted in a CNN report on James
Landrith, a former Marine based at Camp Lejeune in North Carolina, who has spoken out about his own rape and on behalf of other sexual assault victims, in particular men victimized by women. According to a 2010 report by the U.S. Centers for Disease Control and Prevention, nearly 1 in 5 women and 1 in 71 men in the United States have been raped. The actual number is most likely higher, experts say, as sexual violence is severely underreported in the United States as elsewhere, particularly among male victims.
Rape is also used as a tool of war. A World Bank study published in 2011 found that 48 women are raped every hour in the Democratic Republic of Congo, based on data collected in 2007. Many of the rapists are members of different armed forces. Many women and men have been reported raped in Syria since its civil war began in 2011. Government and allied militia forces committed more than three-fourths of the sexual attacks tracked by WMC's Women Under Siege project, which has documented many rapes and other crimes that were not otherwise reported in the press.
CPJ has also covered journalists who themselves were sexually assaulted or raped, most notably the widely-publicized case of CBS television correspondent and CPJ board member Lara Logan who was attacked while she was covering anti-government demonstration in Cairo's Tahrir Square in 2011.
In many other cases, sexual assaults are kept quiet because they occur within the home. Elisa Lees Muñoz is the executive director of the International Women's Media Foundation, a Washington-based group that works with some of the world's top female journalists. Muñoz said in an interview that a surprising number of the journalists from various regions, including the Middle East, are themselves victims of domestic violence. Yet this is one story that none of them will report or discuss in public.
"These are well-educated women who have a voice in their own societies," Muñoz told CPJ. "Yet they won't tell their own stories, so how could they tell others?"
These women are hardly alone.
"People are raped by their own husbands, and no one wants to talk about that," said Beatrice Nas of Uganda. Even in cases that do not involve domestic violence, she said, the perpetrators are still people "usually known in the community."
Journalists who have experience covering sexual violence counsel colleagues to respect the wishes and interests of victims, so as not to worsen their situation. "We leave it up to her," said Chanam, referring to female victims of sexual violence.
Frank Smyth is CPJ's senior adviser for journalist security. He has reported on armed conflicts, organized crime, and human rights from nations including El Salvador, Guatemala, Colombia, Cuba, Rwanda, Uganda, Eritrea, Ethiopia, Sudan, Jordan, and Iraq.
UPDATE: This essay has been corrected to reflect that Women Under Siege is a project of the Women's Media Center.