Skip to content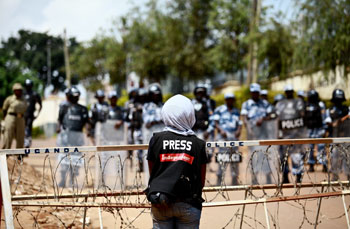 Front-line reports and analytical essays by CPJ experts cover an array of topics of critical importance to journalists. Governments store transactional data and the content of journalists' communications. Media and money engage in a tug of war, with media owners reluctant to draw China's disfavor and advertisers able to wield surprising clout. In Syria, journalists are determined to distribute the news amid the chaos of conflict. In Vietnam, the government makes a heavy-handed bid to bring the Internet under control. And globally, eliminating witnesses has become an all too easy method of stymying justice when journalists are assassinated.
---
Surveillance
Governments' capacity to store transactional data and the content of communications poses a unique threat to journalism in the digital age.
---
Internet
The scope of the National Security Agency's digital surveillance raises doubts about the U.S. commitment to freedom of expression online.
---
Nations at Risk
Surveillance, restrictive Internet legislation, and cyberattacks compel CPJ to add cyberspace to the list of places trending in the wrong direction.
---
---
---
---
---
Deaths Year by Year
You need to upgrade your Flash Player
Imprisoned Year by Year
You need to upgrade your Flash Player
---
---