Skip to content
Front-line reports and analytical essays by CPJ experts cover an array of topics of critical importance to journalists. Governments store transactional data and the content of journalists' communications. Media and money engage in a tug of war, with media owners reluctant to draw China's disfavor and advertisers able to wield surprising clout. In Syria, journalists are determined to distribute the news amid the chaos of conflict. In Vietnam, the government makes a heavy-handed bid to bring the Internet under control. And globally, eliminating witnesses has become an all too easy method of stymying justice when journalists are assassinated.
Americas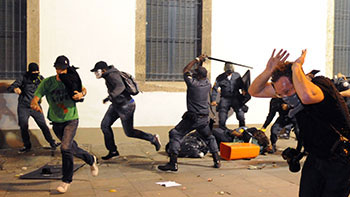 ---
Analysis
The Brazilian government's concern for the safety of an American journalist stands in contrast to a dismal performance protecting its own reporters.
Analysis
Politicians say there are no organized crime cartels in the capital's metropolitan area. Journalists know better, but they are afraid to report it.
---
Analysis
The inability to solve journalist murders in Arauca feeds an atmosphere of hostility and intimidation for the media there.
---
---
---
---
Country reports in this chapter were researched and written by CPJ Research Associate Sara Rafsky, with reporting by Senior Program Coordinator Carlos Lauría.
---
---