Chilling conditions for the press ahead of Sochi Games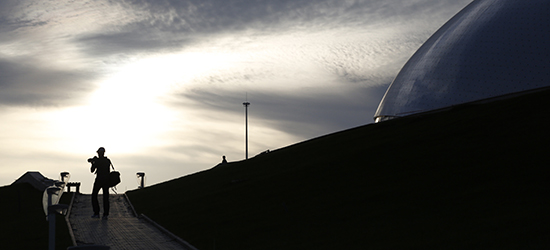 CPJ's special report, "Media suffer winter chill in coverage of Sochi Olympics," which was released on January 28, garnered significant coverage in the local and international media, including CBS Sports, the Huffington Post, Al-Jazeera America, and other outlets. CPJ also issued a Russian translation of its Journalist Security Guide to accompany the report.
The report examines how both local and international journalists have been harassed and prevented from covering topics such as the exploitation of migrant workers, environmental destruction, forced evictions, and discrimination against lesbian, gay, bisexual, and transgender persons in the lead-up to the Games. The report also explores how Russian state-controlled media have ignored these issues or instead published propaganda that smears the victims of human rights abuses and the activists who defend them.
In the report's recommendations, CPJ calls on the International Olympic Committee (IOC) to ensure that host countries that fail to reach international standards for press freedom and freedom of expression suffer repercussions; on the Russian government to repeal laws that chill freedom of the press; on corporate sponsors of the Games to insist that the IOC speak out on media freedom violations; and on journalists covering the Games to report violations of press freedom.
To help monitor potential restriction on press freedom during the Games, CPJ is encouraging journalists to use the hashtag #CoveringSochi if they encounter problematic constraints. CPJ also published a blog on the digital surveillance of journalists covering the Sochi Olympics.
New push to free jailed Ethiopian journalists
With at least eight journalists behind bars in Ethiopia, CPJ continues to draw attention to their plight and to advocate for their release. This month, CPJ highlighted the urgent need of medical treatment for two of the journalists–Woubshet Taye, who has a kidney infection, and Reeyot Alemu, who has a tumor in her breast.
CPJ spoke directly with Med S.K. Kaggwa, the Africa Union Special Rapporteur on Prisons and Conditions of Detention in Africa, and Pansy Tlakula, the African Union Special Rapporteur on Freedom of Expression and Access to Information. Both officials subsequently raised the cases of the imprisoned journalists to Ethiopian officials.
At the same time, CPJ launched a Thunderclap appeal of support for Reeyot on January 21, which was her 33rd birthday. Thunderclap sent out a timed Facebook post or Tweet from accounts of individuals who signed up to support the campaign. Reeyot's campaign had a potential reach of 1.48 million people, thanks to the individuals who signed up, including Samantha Power, U.S. Ambassador to the U.N, Times journalist Nick Kristof, actress Mia Farrow, tennis player Martina Navratilova, and the global petition site Change.org.
CPJ enlisted the help of Nigerian news outlets, which not only joined the Thunderclap campaign but also published stories about Reeyot's case, making them the first Africa-based news outlets to publish original articles about Reeyot. The South African public broadcaster's "Channel Africa" also gave CPJ airtime to discuss both Reeyot's case and her health, as did the BBC French service to Africa.
Reeyot's family has been touched by CPJ's advocacy. The journalist's sister sent this message to CPJ: "I would like to thank you all on behalf of Reeyot, and also on behalf of our family, for your great support for Reeyot. Thank you and God bless you."
Press freedom featured in Turkey-EU discussions
CPJ Europe Representative Jean-Paul Marthoz attended a meeting in Brussels this month in which participants discussed the impact of Turkish Prime Minister Recep Tayyip Erdoğan's repressive policies and their implications on Turkey's EU accession process.
At the meeting, which was convened by the European Policy Centre and the Turkish think-tank Tuskon, a top EU official said that some of the discussions that had taken place earlier in the week between Erdoğan and EU officials were based on CPJ's reports, including the organization's most recent figures that show Turkey as the world's leading jailer of journalists for the second consecutive year.
The meeting reinforced the point that press freedom is considered one of the key barometers of Turkey's acceptance of the values upon which the European Union is based. The EU official assured CPJ that the way Turkey treats journalists is being closely scrutinized during the accession process.
Thanks from Guatemala, Bahrain
Nothing gratifies us more than receiving thanks from the journalists we help. We received two notes in the past couple of weeks that remind us how important our work is.
The son of one journalist, Guatemalan editor José Rubén Zamora Marroquín, contacted us to thank us for our support in his father's case. Zamora, editor of elPeriódico, had found out on January 7 that President Otto Pérez Molina had filed a criminal complaint against him. A separate injunction had also been filed in December 2013 that prohibited him from "disturbing or intimidating" Vice President Roxana Baldetti Elias or any member of her family. A restraining order had also been placed against Zamora for six months.
Zamora's son told the CPJ Americas team that the complaints had been withdrawn and that CPJ's support had been vital to the case. Zamora is also a 1995 CPJ International Press Freedom awardee.
Another journalist, Bahraini photographer Ahmed al-Fardan, thanked us for successfully seeking his release from jail. Al-Fardan, photographer for the Nur Photo agency, was arrested on December 26 and charged with participating in illegal protests. CPJ called for his release and used his work on its social media pages to help raise awareness of his arrest.
Al-Fardan was released on bail on January 9, but the charges against him still stand. CPJ will continue to urge authorities to drop all charges against al-Fardan.
Upcoming reports
February 12: CPJ will release its annual flagship publication Attacks on the Press.
Donate
CPJ's Distress Fund provides emergency grants to journalists facing persecution for their work. Support our work and make an end-of-year gift today.
Highlights of CPJ in the news
Ukraine: un journaliste battu par la police
Le Figaro
01/23/2014
Cartel Censorship Reaches Mexico City
Newsweek
01/16/2014
CNN Reliable Sources
01/12/2014
Blogger's Incarceration Raises First Amendment Questions
The New York Times
01/11/2014
Where are the deadliest places for journalists?
The Guardian Data Blog
01/07/2014
Best of the blog
Correa steps up fight; hacking alleged on both sides
Shan Dahar's death underscores impunity in Pakistan
India's independent journalism in doubt in election year
Tunisia constitution needs stronger free press guarantees