New York, February 17, 2012–Yemeni authorities must ensure the safety and protection of journalists covering protests in the country and allow them to carry out their work freely, the Committee to Protect Journalists said today after a BBC Arabic correspondent was attacked for the third time in a year.
Abdullah Ghorab was covering a protest in Sana'a on Wednesday when he and his two brothers were attacked by a group of men carrying knives and batons, the BBC reported. The broadcaster said the men "appeared to be supporters of the outgoing president Ali Abdullah Saleh" and had deliberately targeted Ghorab and his brothers.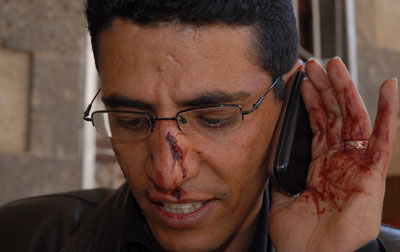 Ghorab managed to escape the assault unharmed, but his brothers were injured and taken to a hospital, the BBC reported. CPJ could not confirm the severity of their injuries.
Ghorab has been assaulted twice before while covering protests in Sana'a, according to CPJ research. In February 2011, a group of unidentified men beat the journalist and his photographer, and in September, armed men beat and interrogated Ghorab and his cameraman and smashed their camera, CPJ research shows.
"The fact that Abdullah Ghorab has been attacked for the third time is evidence of the government's abysmal failure to protect journalists who are performing a vital public service by reporting on Yemen's political upheaval," said Robert Mahoney, CPJ's deputy director. "Yemeni authorities have a duty to ensure that all journalists can carry out their work without fearing for their lives."
CPJ has documented attacks on journalists since political unrest erupted in Yemen last year. In December, at least eight Yemeni journalists covering protests were attacked in the span of two days, CPJ research shows.