Detained without charge for 18 days, tortured, and released without explanation, South Sudanese journalist Peter Ngor plans to fight back. "I am going to sue them [in] court. What they did to me was completely, utterly wrong," said Ngor, the editor of a new, private, English-language daily called Destiny.
Still, Ngor believes that his illegal detention was the work of a few individuals, and that ultimately, the world's newest country will support freedom of the press. "There are powerful individuals who want to stop the press for their own interests," he said.
On November 1, security agents arrested Ngor and detained him at the national security headquarters in the interim capital, Juba. "The room was completely dark, you could not see anyone. The only way to identify people was through touch," he said.
For the next 18 days, Ngor said, security agents tortured him with repeated beatings. Someone walked on his back. They forced him to stand for two days straight. "The cell was designed in such a way you could not sit. I am now having trouble walking." He had no access to family or counsel.
Then he was mysteriously released. "I assume they could not find anything to charge me with so they just released me. I was detained illegally and released illegally." According to South Sudan's constitution, a suspect cannot be detained over 24 hours without being presented charges in court.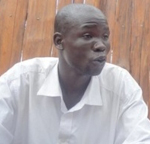 What prompted such hostility? Ngor's newspaper published an opinion piece on October 26 criticizing the marriage of President Salva Kiir's daughter to an Ethiopian national. Ngor's colleague Dengdit Ayok, who wrote the piece, was detained four days after Ngor was arrested. "They kept him in a separate cell in the same security facility. I never saw him, but they treated him like they treated me until we were released last week."
Ngor said he had not approved publication of the opinion piece, and that he would have changed its language. Indeed, one can see how Ayok's story could cause a stir – it accused the president of "staining his patriotism" for allowing his daughter to marry a foreigner. As such, Destiny's editorial team wrote an apology to the first family for the critical piece soon after its publication, and suspended Ayok for one month.
Nonetheless, South Sudan National Security Services suspended the publication upon Ngor's detention November 1, saying the paper did not adhere to "the media code of conducts and professional ethics" and instead "continued to publish illicit news that are inciting, personalities invasion and defamation," news reports said.
On November 10, President Salva Kiir commented on the matter, saying "media freedom should not be abused to the extent of attacking personalities. In any case that will be defamation."
Defamation currently falls into a legal gray area in South Sudan. Under a set of three proposed media laws, which would create a self-regulatory media council, a public broadcaster, and provide greater access to information, defamation cases would be handled through civil arbitration. The bills, pending ratification since 2007, are allegedly under review by the Information Ministry. (South Sudan became a semi-autonomous entity with a peace agreement in 2005, allowing the interim government to initiate certain legal initiatives.) Information Minister Benjamin Marial assured me in September during a visit to Juba that the bills would be passed "soon."
Ngor believes his illegal detention and mistreatment may have been avoided if the media laws had been in place. The chairman of the Association of Media Development in South Sudan, an organization that has advocated for their enactment, agrees. "Without the media laws we are like footballers playing without rules," said Jacob Akol, who is also online editor of Gurtong. Akol started to doubt the government's commitment to press freedom after "the prolonged delays in passing these laws and the continued intimidation and arbitrary arrest of journalists by individual 'referees' applying their own rules in the absence of official ones," he wrote in Gurtong.
Even if the bills are passed, Ngor acknowledges that the same people who arbitrarily detained him, contravening the country's constitution, could still do so.
"These people thought they could silence us by intimidating me and breaking the law," Ngor told me. "But I told them even if they killed me they could not kill the freedom of the press." He is still in pain from his ordeal.
Despite his ordeal, Ngor believes there is press freedom in South Sudan and that many in the government support it. "It is a question of individuals within the government," Ngor said. Destiny has consulted the Information Ministry and hopes suspension of the paper will be lifted in the near future, he said.
South Sudan fought a protracted civil war with Sudan in a bid for greater autonomy and civil rights, culminating in its independence in July this year. Ngor said: "It's as if they have forgotten what we were fighting for. How can you lose millions of people for freedom and now this?"