New York, October 31, 2011– Authorities in the Angolan enclave of Cabinda should take all steps necessary to ensure the safety of independent journalist José Manuel Gimbi, the Committee to Protect Journalists said today following reports that unidentified armed men raided Gimbi's residence Thursday and threatened to harm him.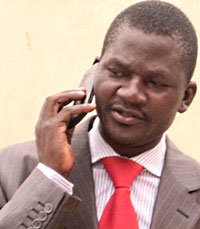 Gimbi, a local correspondent for U.S. Government-funded international broadcaster Voice of America, is one of only two independent journalists based in Cabinda, a region holding most of Angola's oil wealth which is contested by armed separatists and the government.
On Thursday at 8 p.m. local time, armed men in plain clothes with walkie-talkies went to Gimbi's residence, where Gimbi's children and an eyewitness overheard the men threaten him with unspecified harm, according to local journalists and news reports.
The raid is part of a pattern of intimidating Gimbi, who is also a lawyer, in connection with his critical coverage of the government, according to news reports and CPJ research.
Three days before the incident, Gimbi reported that, while Angolan authorities are welcoming refugees of the Cabinda conflict back from neighboring Democratic Republic of Congo, some in the government suspect that armed separatists are hiding among the refugees. On October 18, Gimbi filed an interview with Father Raúl Tati, an outspoken priest and civil society leader, in which Tati criticized President Jose Eduardo Dos Santos for omitting the conflict in Cabinda from a recent national address and accused Dos Santos of using courts and security forces to wage a campaign of repression in the province, according to local journalists.
"We hold authorities in Cabinda responsible for Gimbi's safety and call on police to conduct an investigation into the incident," said CPJ Africa Advocacy Coordinator Mohamed Keita. "These intimidation tactics are an attempt to silence a crucial source of independent news from this oil-rich region."
Gimbi reported the incident to police and went into temporary hiding, according to local journalists. VOA quoted Oliveira da Silva, director of the police's criminal investigations department, as saying that the journalist was not in danger.
"VOA is always concerned about reported incidents of harassment and threats to our reporters. We're currently looking into the incident," David Borgida, VOA public relations director, told CPJ.
In 2010, Gimbi reported receiving death threats over his coverage of a deadly attack on a bus carrying Togo's national soccer team to a local stadium, according to CPJ research. In December 2009, police detained Gimbi and Dow Jones reporter Benoit Faucon as they took photographs of that stadium, according to news reports. A VOA press statement reported in September that authorities threatened Gimbi with a lawsuit over his reporting on the brutal dispersal of protests by students calling for peace and dialogue between the government and the separatists.