New York, September 28, 2011–The Committee to Protect Journalists condemns today's decision by the appeals chamber of Bahrain's Court of National Safety to uphold lengthy prison terms for 21 individuals, including two online journalists and a prominent human rights defender. In separate press freedom violations, authorities prevented a newspaper from covering Saturday's parliamentary by-election, and an independent journalist has faced persistent harassment.
The appellate ruling, which was reported by the official Bahrain News Agency, upheld the June convictions of journalistic bloggers Abduljalil Alsingace and Ali Abdel Imam and human rights activist Abdulhadi al-Khawaja, a leading defender of free expression rights, on a series of charges related to "plotting to topple" the regime. The court also let stand the life prison sentences given to Alsingace and al-Khawaja, and the 15-year term handed to Abdel Imam. The original proceedings in the Court of National Safety, a tribunal made up of civilian and military judges, were marred by a lack of due process and fairness, according to news accounts and human rights defenders. Defense lawyers had limited access to both their clients and to the evidence in the case, according to those accounts, and the court did not fully investigate reports that the defendants were tortured in custody.
"Journalism, no matter how adversarial to the government, does not amount to an antistate crime," said CPJ Middle East and North Africa Program Coordinator Mohamed Abdel Dayem. "The prosecution failed to produce evidence implicating the two journalists in a crime, and the courts did not ensure fair and just proceedings."
Alsingace and Abdel Imam were arrested last year on antistate conspiracy charges during a government crackdown. They were released in February as the government sought to appease a then-nascent protest movement, but Alsingace was re-arrested in March as authorities cracked down again. Abdel Imam went into hiding at the same time to avoid his own re-arrest. Al-Khawaja was arrested in April and suffered extensive physical abuse, CPJ research shows.
In a separate case, the government's election committee delayed granting ID passes to journalists for the independent daily Al-Wasat, thus preventing them from covering the government's by-elections on Saturday, local journalists told CPJ. The government-issued ID passes allow journalists to enter and report from polling stations. The election was scheduled to fill 18 empty seats in the 40-seat parliament that had been vacated by Shiite lawmakers six months ago to protest the crackdown. On September 21, just days before the election, the Bahrain News Agency published an Interior Ministry statement that "warned against posting illegal calls on social networking and Internet websites inciting people to break the law," adding that circulating or publicizing calls to take part in rallies is a "crime punishable by the law."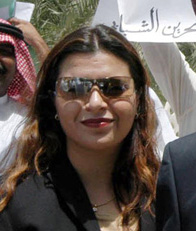 In a third press freedom violation, government proxies continue to harass independent journalist Reem Khalifa on social media websites, CPJ research shows. Khalifa has been regularly targeted by baseless smears, particularly on the micro-blogging site Twitter. One post called her a "sectarian … filthy apostate." In July, a government supporter described the journalist as a terrorist, and posted on Twitter the time and place she picked her children up from school, urging readers to "go say hello," CPJ reported.
Also in July, government supporters prevented Khalifa from conducting an interview, goaded her, and falsely accused her of hitting one of them, CPJ research found. CPJ's review of the video footage and still shots of the incident indicate that the journalist did not strike the woman. Pro-government media have since engaged in a smear campaign against Khalifa, reporting on the episode as if she had committed a crime. On September 13, the state-aligned newspaper Al-Watan published an opinion piece that took prosecutors to task for not pursuing legal action against the journalist.
In 2011, independent and opposition journalists in Bahrain endured the worst conditions since King Hamad bin Khalifa assumed the throne in 1999. Journalists have been subjected to summary firings and countless instances of harassment. CPJ has documented two journalist deaths in custody, dozens of detentions, arbitrary deportations, government-sponsored billboards and advertisements smearing journalists, and numerous physical assaults, among other violations.
EDITOR'S NOTE: The original text of the alert said both Abduljalil Alsingace and Ali Abdel Imam were arrested in March, citing news reports. This is incorrect. Abdel Imam went into hiding to avoid arrest.