New York, August 1, 2011–The Committee to Protect Journalists welcomes the decision by authorities in Puntland, Somalia's northeastern semiautonomous region, to set free reporter Faysal Mohamed Hassan on Sunday. Mohamed, who wrote for the private news site Hiiraan Online, was serving a prison sentence over a story claiming that two murdered men belonged to Puntland's security personnel.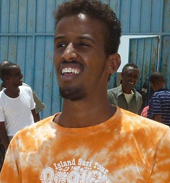 Puntland President Abdirahman Mohamed Farole granted a pardon to Mohamed ahead of the holy month of Ramadan, local journalists told CPJ. The journalist had begun serving a one-year prison sentence in the port city of Bossasso following his July 2 conviction on charges of endangering state security and publishing a "false news report." Authorities arrested Mohamed over an article claiming that two beheaded corpses found near a Bossasso road were members of Puntland's security services. Police denied the claim, local journalists told CPJ.
"I am very pleased to be able to reunite with my family," Mohamed told Somalia Report shortly after his release.
"While we are extremely pleased that Faysal Mohamed Hassan was released, he should not have spent even a day in jail on the original, flimsy charges against him," said CPJ East Africa Consultant Tom Rhodes. "Puntland authorities should not use their positions to arrest and release journalists at will and should allow the press to report without harassment."
Puntland authorities arrested Horseed Media Radio Director Abdifatah Jama on treason charges last year for allowing an interview with an Islamist rebel leader, Sheikh Mohamed Said Atom, to be broadcast. Farole issued a pardon releasing the journalist two months after his arrest.