New York, July 5, 2011–The Committee to Protect Journalists condemns a prison sentence given to a reporter of an online news Web site on Saturday in the semi-autonomous region of Puntland.
Judge Sheik Aden Aw Ahmed of the First-Level Court in the port city of Bossasso sentenced Hiiraan Online reporter Faysal Mohamed to one-year imprisonment under Puntland's criminal code for jeopardizing security and publishing false news, according to local reports. Mohamed has been jailed since Thursday.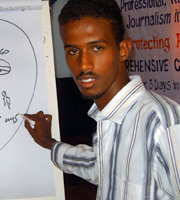 State Prosecutor Bashir Mohamed had requested a three-year prison sentence for Mohamed, at right, over his Hiiraan Online news article that claimed that two dead bodies found on a roadside just outside Bossasso were those of Puntland security agents, local journalists told CPJ. Puntland authorities said the report was false. Defense lawyers Mohamed Abdi Gurey and Ahmed Taran said they have filed an appeal. Local journalists told CPJ that the sentence was pronounced after only two hours and that the prosecution brought no evidence to support the charges.
"This rushed ruling appears to be politicized and designed to intimidate critical reporting," said CPJ East Africa Consultant Tom Rhodes. "We hope this conviction is overturned on appeal. We call for the immediate release of Faysal Mohamed."
Mohamed, 24, is currently being held in the port city's central prison. He told family members that the conditions in the prison are unbearably hot as the cells lack adequate ventilation, local journalists said.
The privately owned Hiiraan Online is one of the more popular online news sites in the region, local journalists told CPJ.
Authorities arrested Horseed Media radio director Abdifatah Jama on treason charges for airing an interview with an Islamist rebel leader last year. President Abdirahman Mohamed Farole issued a pardon two months after the journalist's arrest.