When I awoke on the morning of July 8, 2010, in the Guamajal Prison in Villa Clara, I couldn't have imagined that five days later I was going to be landing at Barajas International Airport in Spain, accompanied by five of my comrades.
On July 10, we had been taken out of our respective prisons, and, after a rushed medical exam at the National Hospital for Prisoners in Havana, were driven to the José Martí International Airport where, without passing through customs, we were put on a Madrid-bound Air Europa plane with passports in our pockets that read: "Definitive Departure from the Country."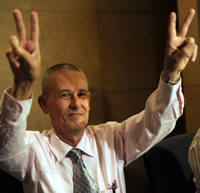 That is how we left Cuba on July 12, between 9 and 9:30 p.m. (Cuban time), without the opportunity to say goodbye to friends or family that were staying in Cuba. We joined the family members that would be traveling with us shortly before boarding the plane. It was our first embrace outside of a prison and I remember it as the biggest hug I've ever given my wife and young son, the only family that would accompany me into this forced exile.
And so we became the pioneers of the largest release of political prisoners since 1979, although our release was different given the fact that we had to choose between exile and remaining behind bars.
We arrived in Madrid around noon on July 13, a date on which the superstitious would be ill advised to marry or board a plane. Nonetheless, for those of us that had just landed at Barajas airport, it was the best day of the last 2,684 days of our lives.
We had left behind the land of our birth, the beloved friends that had accompanied us spiritually through seven years of captivity and who, like some of our family members, we might never see again. But despite being in a different land, we were free men, and we had also left behind us seven years of dark cells, vexation, humiliation, malnutrition, nights of insomnia, and sudden jolts–every horror of prison, made worse by the lack of motive for being there.
On arriving at the airport in Spain's capital, we were greeted by officials of the Ministry of External Affairs and a swarm of cameramen, photographers, and journalists–tightly packed into one room–who were eager to ask questions and hear answers. The External Affairs official who moderated that farce of a press conference allowed just two questions following the reading of a short statement by a colleague who we had chosen as our spokesperson. I should clarify that we were instructed by the External Affairs officials to select a spokesperson.
We were driven to a hostel in a Madrid suburb, where, despite being without the comforts of a hotel, we began to get acquainted with the technological advances of modern life, previously unknown to us. Faucets with hot and cold water in the showers and sinks, hallways with lights that turn on as soon as you set foot in them, automatic machines that serve coffee or sodas, mobile phones and the Internet. In short, all that can be achieved when there are no limits on the free initiative of the individual.
After one week at the hostel, where I had the my first opportunity tell the world about the realities of the Cuban prison system, my family and I were relocated to the province of Málaga, a little over 310 miles (500 kilometers) from the south of Madrid, to a center for refugees run by the Spanish Commission for Refugee Assistance. We're still living here, alongside refugees from other countries, especially those from the African continent.
Life here hasn't been completely easy; living side by side with other cultures and customs never was. But even when one doesn't have to share a dining room or patio, exile is rarely easy. At the least, you're going to be hindered by the uncertainty and apprehension that go along with being submerged into the depths of the unknown in a land that isn't your own.
Nonetheless, when I look back, I have to thank God that I've ending up where I am, for having facilitated the miracle of my freedom and that of my brothers for the cause, even if we're in a foreign land. I am also grateful for being able to freely express myself without fear of repercussions.
This exile has given me the opportunity to experience in-situ, beyond the comforts afforded by modern life in a first-world country, how dynamic a democratic country can be, where opinions don't always travel in the same direction and where the people, through the ballot boxes, have the final word.
(Translated by Karen Phillips)
This entry is part of an ongoing series of first-person stories by Cuban journalists who were imprisoned in a massive roundup of dissidents that has become known as the Black Spring of 2003. All of the reporters and editors were convicted in one-day trials, accused of acting against the "integrity and sovereignty of the state" or of collaborating with foreign media for the purpose of "destabilizing the country."
El mejor día de los últimos 2.684: Un preso cubano deportado
Por Omar Moisés Ruiz Hernández
Cuando desperté en la mañana del día 8 de julio de 2010 en la prisión de Guamajal, en Villa Clara, no podía imaginar que cinco días después iba a estar aterrizando en el aeropuerto internacional de Barajas-España, en compañía de cinco hermanos de causa.
El día 10 habíamos sido sacados de las diferentes prisiones donde nos encontrábamos, y tras un precipitado chequeo médico en el Hospital Nacional de Reclusos, en La Habana, fuimos conducidos al aeropuerto internacional José Martí, donde sin pasar por los controles normales de aduanas, fuimos puestos en un avión de Air Europa con destino a Madrid con un pasaporte en el bolsillo que decía: "Salida Definitiva del País".
Así fue que salimos de Cuba el día 12 entre las 9:00 y 9:30 p.m. (hora de Cuba) sin poder despedirnos de amigos o familiares que quedaron en Cuba. La familia que viajó con nosotros la vimos poco tiempo antes de abordar el avión. Fue el primer abrazo fuera de una prisión y lo recuerdo como el abrazo más fuerte que le he dado a mi esposa e hijo pequeño, la única familia que me acompañaría a este exilio forzado por las circunstancias.
Nos convertíamos de esta forma en los pioneros de la más grande excarcelación de presos políticos ocurrida desde el año 1979, aunque a diferencia de aquella, en esta, teníamos que escoger entre el exilio o permanecer tras las rejas.
Llegamos a Madrid alrededor del mediodía del martes 13 de julio, día en que para los supersticiosos no es aconsejable ni casarse, ni embarcarse. Sin embargo, para quienes acabábamos de aterrizar en el aeropuerto de Barajas, fue el mejor día de los últimos 2,684 de nuestras vidas.
Habíamos dejado atrás la tierra que nos vio nacer, a amigos muy queridos que nos acompañaron espiritualmente durante esos siete años de cautiverio y a quienes, igual que a familiares, tal vez nunca volvamos a ver. Pero, aunque en otra tierra, éramos hombres libres y atrás, también habían quedado, siete años de celdas oscuras, vejámenes, humillaciones, mala alimentación, noches de insomnio y sobresaltos, en fin todo el horror de una cárcel, que se hace mayor cuando no hay motivos para estar en ella.
En el aeropuerto de la capital española nos esperaban funcionarios del Ministerio de Relaciones Exteriores y un enjambre de camarógrafos, fotógrafos y periodistas, apretujados en un salón, que se quedaron con los deseos de hacer preguntas y escuchar respuestas. El funcionario de Exteriores que hizo de moderador en el simulacro de lo que pretendió ser una rueda de prensa, solo permitió dos preguntas, luego de que uno de mis compañeros nombrado por nosotros como portavoz del grupo, diera lectura a un breve comunicado. Debo aclarar que fuimos instrumentados por los funcionarios de Exteriores a que debíamos elegir a un portavoz
Conducidos a un hostal en un suburbio de Madrid, y a pesar de no contar con las comodidades de un hotel, comenzamos a conocer los avances tecnológicos de la vida moderna, hasta ahora desconocidos por nosotros. Grifos de agua fría y caliente en duchas y lavamanos, pasillos cuyas luces se encendían con sólo penetrar en ellos, máquinas automáticas que sirven café o refrescos, teléfonos móviles e Internet. En fin, todo lo que se puede lograr cuando no hay límites en la iniciativa libre del individuo.
Luego de una semana en este hostal, donde tuve la oportunidad por primera vez de revelar ante el mundo las experiencias vividas en las cárceles cubanas, fui reubicado con mi familia en la provincia de Málaga a pocos más de 500 kilómetros al sur de Madrid, en un centro para refugiados administrado por la Comisión Española de Ayuda al Refugiado (CEAR) donde aún convivimos con refugiados de otros países, especialmente provenientes del continente africano.
La vida aquí no ha sido del todo fácil, pues convivir con otras culturas y otras costumbres nunca lo ha sido. Pero ningún exilio suele serlo aunque no haya que compartir un patio o un comedor. Siempre, por lo menos, te embarga la incertidumbre y el temor, propios de quien se sumerge en las profundidades de lo desconocido en una tierra que no es la suya.
No obstante, cuando miro atrás, tengo que dar gracias a Dios por encontrarme donde me encuentro, por haber hecho posible el milagro de mi liberación y la de mis compañeros de causa, aunque en una tierra extraña. También agradezco por poder expresarme libremente sin temor a represalias.
Este exilio me ha dado la oportunidad de conocer in- situ, aparte de las comodidades que ofrece la vida moderna en un país del primer mundo, la dinámica de un país cuando se vive en democracia, donde las opiniones no van siempre en una misma dirección y donde es el pueblo, a través de las urnas, quien tiene la última palabra.
Este artículo es parte de una serie de historias escritas en primera persona por periodistas cubanos que fueron arrestados en una redada masiva contra disidentes conocida como la Primavera Negra de 2003. Todos los reporteros y editores fueron condenados en juicios de un día de duración, acusados de actuar contra la "integridad y la soberanía del estado", o de colaborar con medios extranjeros con el propósito de "desestabilizar el país".