New York, April 22, 2011–David Niño de Guzmán, news director for the La Paz-based Agencia de Noticias Fides, was found dead on Thursday, the apparent victim of an explosive device, after being reported missing two days earlier. The Committee to Protect Journalists called on authorities today to thoroughly investigate the death.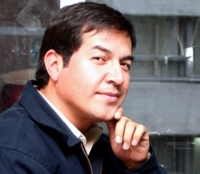 Niño de Guzmán's body was discovered around midday in La Paz's Retamanis neighborhood near the Orkojahuira River, news reports said. A forensic report indicated an explosive device had destroyed the journalist's abdomen, according to press reports. News reports, citing police, said the death occurred sometime early Wednesday. La Fuerza Especial de Lucha Contra el Crimen, the special investigative unit of the Bolivian police, is investigating several hypotheses for the journalist's death, news reports said.
Julieta Tovar, a reporter for Agencia de Noticias Fides, told CPJ she was not aware of any threats against Niño de Guzmán. Police said none of Niño de Guzmán's belongings were stolen, news reports said.
"CPJ is saddened by the brutal death of David Niño de Guzmán," said Carlos Lauría, CPJ's senior program coordinator for the Americas. "We call on Bolivian authorities to conduct a thorough investigation that covers all possible motives."
During his 16 years as a journalist, Niño de Guzmán, 42, worked for several top news dailies, including La Razón and El Diario, and for Cadena A television. He joined Agencia de Noticias Fides, a Jesuit-affiliated agency, as a reporter in 2006 and became news director in March 2010. In a statement, five Bolivian press organizations called on authorities to investigate Niño de Guzmán's death, adding that a journalism-related motive should not be ruled out, Los Tiempos reported.