New York, December 7, 2010–
T
he Committee to Protect Journalists condemns today's arrest of four Iranian journalists at the daily Sharq. CPJ is also disturbed by

recent news reports that indicate the abusive treatment endured by dozens of imprisoned Iranian prisoners has adversely affected the health of many of them–including
Issa Saharkhiz, at left, a
founding member of the now-defunct Association of Iranian

‎

Journalists, who has reportedly undergone
surgery for internal hemorrhaging at Rajaee Shahr Prison.
Sharq's offices were stormed twice by plainclothes forces today. During the first raid, officers beat several journalists and arrested Editor-in-Chief Ahmad Gholami, International Desk Editor Farzaneh Roostaei, and Political Desk Editor Kayvan Mehregan. Officers returned a second time and arrested Ali Khodabakhsh, the newspaper's managing director, according to multiple news and human rights websites. The U.S.-government funded Radio Farda quoted an unidentified journalist with Sharq as saying he thinks the paper was raided because of an upcoming issue on Student Day, which commemorates the 1953 day when Iranian students demonstrated against the U.S.-backed coup. Since then, it has become an occasion for Iranians to demonstrate against foreign interference and the government.
Saharkhiz underwent a complex surgery in the prison infirmary because prison authorities reportedly refused to allow him to be transferred to a hospital, multiple news websites reported. No additional news about his condition is available. Saharkhiz, an experienced journalist who worked for 15 years at IRNA, Iran's official news agency, was arrested in July 2009 and was charged with "participation in riots," "encouraging others to participate in riots," and "insulting the supreme leader." He was sentenced to three years in prison. He has been subjected to torture and ill-treatment while in custody, CPJ research shows.
"It is evident the government is going out of its way to physically and mentally harm the dozens of journalists it has behind bars even as it continues to round up more," said Mohamed Abdel Dayem, CPJ's Middle East and North Africa Program Coordinator. "Our colleagues are detained unjustly and the least Teheran can do is to ensure that they are treated properly. We hold Iran's political leadership responsible for the well-being of every detained journalist."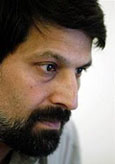 On Sunday, veteran journalist and human rights defender Emadeddin Baghi, at left, turned himself in to authorities at Tehran's Evin Prison to begin serving a seven-year prison term, despite serious health complications that occurred during previous stints in custody. Baghi suffers from a variety of ailments, including severe respiratory and back problems, according to news reports.
In 2000 and again in 2007, Baghi was convicted on antistate charges, spending nearly four years in prison, CPJ research shows. Baghi was detained again in December 2009, after the BBC Persian service rebroadcast a two-year old interview he conducted with Ayatollah Montazeri, a prominent cleric who had fallen out of favor with the political leadership. In May, His wife told reporters that his health has since deteriorated in prison, and that he has lost 44 pounds (20 kilograms). He has developed respiratory problems as a result of poor detention conditions, the news website Saham News reported, and has been hospitalized several times. He also suffers from severe back problems, which were aggravated by two months in solitary confinement.
Baghi's seven-year term stems from two cases: He was sentenced to one year in connection to his activism in an organization he established, the Society for the Defense of Prisoners Rights, and to six years for the Montazeri interview.
Mehdi Mahmoudian, a political journalist and a blogger arrested in September 2009, has developed severe respiratory problems in prison his father recently told reporters. Mahmoudian, at right, is serving a five-year term on charges of "mutiny against the regime" for his role in documenting complaints of rape and abuse of detainees at the Kahrizak Detention Center. His health problems developed when he was forced to endure freezing temperatures in the prison yard without any clothes, according to the news website Norooz News. The same tactic was employed against Saharkhiz during the early days of his detention, according to CPJ research. Mahmoudian is also suffering from kidney ailments, according to Deutsche Welle. The authorities have refused to grant him a medical furlough, Norooz News reported.
Mohammad Seddigh Kaboudvand, at left, is a journalist and human rights activist who is currently serving his fourth year of a 10-year sentence. Kaboudvand's health has been steadily deteriorating in prison, multiple news websites have reported. Most recently, he suffered from seizures, temporary blindness, fatigue, and mental stress, according to the U.S. government-funded Radio Farda. He was transferred to the prison infirmary to receive treatment but was returned to his cell within 30 minutes, the same source reported.