News from the Committee to Protect Journalists, November 2010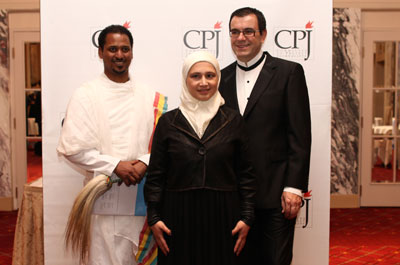 CPJ honors journalists on the frontlines of press freedom
Journalists at the forefront of the battle for press freedom in Ethiopia, Iran, Russia, and Venezuela were honored at the Committee to Protect Journalists' 20th Annual International Press Freedom Awards benefit dinner, held on November 23. The awards dinner was chaired by Sir Howard Stringer, chairman, CEO, and president of Sony Corporation, and hosted by Tom Brokaw, special correspondent for NBC News and CPJ advisory board member. The event raised a record of nearly $1.5 million for CPJ's work helping journalists who are targeted for their reporting.
Celebrating at New York's Waldorf-Astoria, about 900 guests paid tribute to the courage shown by Dawit Kebede (Awramba Times, Ethiopia), Nadira Isayeva (Chernovik, Russia), and Laureano Márquez (Tal Cual, Venezuela) in defying repression to report the news and keep citizens informed.
A fourth award winner, Mohammad Davari, (Saham News, Iran), remains imprisoned in Iran for his reporting on prisoner abuse. Christiane Amanpour, host of ABC News' "This Week," honored Davari in absentia and urged dinner guests to sign a petition for his release.
We were reminded of the power of these international advocacy efforts by the presence this year of J.S. Tissainayagam, who was honored in 2009 while serving out a 20-year prison term in Sri Lanka. CPJ's campaigning helped win the journalist's release and an eventual presidential pardon this year. Tissa received his overdue award from Gwen Ifill, senior correspondent for "The PBS NewsHour."
The Burton Benjamin Memorial Award for distinguished achievement to advance press freedom was presented to Aryeh Neier, president of the Open Society Institute.
The event also served as an occasion to commemorate the anniversary of the massacre in Maguindanao province, Philippines, in which 32 journalists and media support workers were killed–the single deadliest attack on the press ever recorded. A documentary about the killings and CPJ's work advocating for justice premiered at the dinner.
CPJ pushes for justice for victims of the Maguindanao massacre in the Philippines
Over the past year, CPJ has joined relatives of the victims, journalists, and media and human rights groups in the Philippines and around the world in a series of actions to secure the prosecution of those responsible for the Maguindanao massacre.
In early November, amid fears that the perpetrators of this atrocity may go unpunished, CPJ issued a special report documenting a prosecution effort hampered by bribery, intimidation, and flawed detective work. The report, "Impunity on Trial in the Philippines," received international media attention and reminded the government of its pledge to make the Maguindanao case a "litmus test" for the country's judicial system.
We used our website to promote the Global Day of Action Against Impunity, organized by the National Union of Journalists in the Philippines together with the International Federation of Journalists. CPJ's Journalist Assistance program is providing financial and legal aid to surviving family members.
Our work in the Philippines is part of the Global Campaign Against Impunity, which is supported by the John. S. and James L. Knight Foundation.
Cuban journalists finally free to tell their stories to the world
After years of CPJ advocacy, 17 journalists were released from prison in Cuba over the past several months under a deal brokered by the Spanish government and Cuba's Catholic Church. These journalists had been imprisoned since 2003, arrested during a massive crackdown on dissidents that became known as the Black Spring. CPJ is celebrating the releases by publishing a series of blog entries written by several recently released journalists. "After the Black Spring" is a riveting journey through the silence of solitary confinement, the horrors of torture, and the loneliness of exile. The first piece, by Ricardo González Alfonso, describes his efforts to smuggle a book of poems out of his cell–rolled up in cigarettes.
Russia reopens investigation into Beketov attack
CPJ advocacy prompted Russian authorities to reopen a probe into a near-lethal November 2008 attack on Mikhail Beketov, editor of the independent newspaper Khimkinskaya Pravda. The order came a day after a court in the Moscow suburb of Khimki convicted Beketov of criminally slandering local Mayor Vladimir Strelchenko. The conviction, coming at a time when Beketov's assailants are walking free, drew international condemnation. CPJ board member Kati Marton, who led a CPJ mission to Russia in September and visited Beketov in a Moscow hospital, sent a letter to Strelchenko asking him to drop what she called a cruel and unwarranted complaint.
Beketov survived a brutal beating by unidentified assailants, but he lost a leg and several fingers and suffered serious brain injuries. Today, he is unable to walk, speak, or write. CPJ has been providing Beketov with financial support since the attack, and we are committed to ensuring that he receives the long-term care he needs. We will also continue to fight for justice on his behalf. To contribute to CPJ's Journalist Assistance program, which benefits many cases like Beketov's, please click here.
CPJ Internet Channel tracks challenges to free expression online
The CPJ Internet Channel, a new blog devoted to free expression online, is attracting a wide following among the digerati. The blog is written by Danny O'Brien, our Internet advocacy coordinator, who is based in San Francisco. In addition to news alerts and analysis, Danny is now publishing a regular Internet Blotter, an expert selection of links to must-read articles culled from the Web. A recent edition of the blotter included news that Egyptian blogger Karim Amer was finally released after four years in prison, an update on Iran's new police force assigned to patrol the Internet, and Google's white paper on how online censorship effectively restricts free trade.
CPJ special report on China reveals growing media rights movement
At the end of October, CPJ published a special report on the emergence of a homegrown fight for media rights. The report, by CPJ Asia Program Senior Research Associate Madeline Earp, "In China, a Debate on Press Rights," was based on her trip to Beijing, Shanghai, and Guangzhou. It describes an evolving media culture in which Chinese journalists are increasingly willing to speak out on behalf of their colleagues, publicly condemning physical attacks, harassment, and arrests. Interviews with more than a dozen journalists, lawyers, and analysts point to a journalism community asserting the principle of press rights–if not press freedom–and finding at least limited success. Online outlets and digital distribution methods have been crucial for organizing protests and fostering debate.
UNESCO suspends prize named after leading press freedom abuser
A months-long campaign led by CPJ and other media and human rights organizations led to UNESCO's suspension of a new prize for life sciences that would have been named in honor of one of Africa's most notorious enemies of press freedom, President Obiang Nguema Mbasogo of Equatorial Guinea. In June, CPJ published a letter opposing the Obiang award signed by winners of the prestigious UNESCO/Guillermo Cano World Press Freedom Prize. Cano laureates, including Lydia Cacho from Mexico, Nizar Nayyouf from Syria, and Geoff Nyarota from Zimbabwe, sent a strong message to UNESCO that an organization whose mandate is to promote freedom of expression cannot give a prize named after one the world's worst abusers. After sustained advocacy efforts, both public and behind the scenes, UNESCO's executive board decided in October to suspend the prize indefinitely.
Best of the CPJ Blog
Cuban deadline passes for dissident releases: What next?
Alfredo Corchado: 'Trust No One'
From grief of Maguindanao, a woman finds meaning
In France, is Sarkozy spying on journalists?
Uganda lifts ban on CBS, staff celebrates with caution
In South Africa, echoes of Black Wednesday