New York, September 1, 2010—Unknown assailants fatally stabbed radio journalist Abdullahi Omar Gedi in the Galkayo district of Puntland, a semi-autonomous region of Somalia, on Tuesday evening. Gedi, 25, had just left work at Radio Daljir when attackers stabbed him repeatedly and left him unconscious, the station's managing partner, Jama Abshir, told CPJ. Gedi died of his injuries in the General Hospital of Galkayo.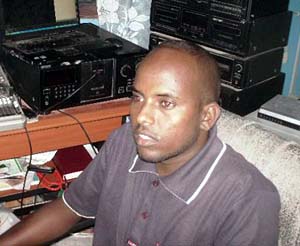 The motive for the attack was not immediately clear, Abshir said. Gedi primarily worked as a technician for Radio Daljir, although he also did some local reporting and on-air presentation. Local radio broadcasts today were filled with condolence messages from the public, Abshir said.
"CPJ sends its deepest condolences and sympathies to the family and colleagues of Abdullahi Omar Gedi," said CPJ East Africa Consultant Tom Rhodes. "We urge Puntland authorities to do their utmost to bring these perpetrators to justice."
Two journalists were killed for their work earlier this year in Somalia, one of the world's deadliest places for the press. A week ago, a stray bullet killed Barkhat Awale, director of Hurma Radio, during a period of heavy fighting between Al-Shabaab insurgents and African Union troops in the Somali capital, Mogadishu. Al-Shabaab insurgents killed Radio Mogadishu journalist Sheikh Nur Mohamed Abkey on May 4 near his home in the capital.