On June 3, I took a six-hour-long drive from Almaty to Taraz with local press freedom advocate Rozlana Taukina and two family members of imprisoned editor Ramazan Yesergepov to visit him. Yesergepov has been a long-term case for CPJ. In November 2008, he published two internal Kazakh security service (KNB) memos in his now-defunct newspaper, Alma-Ata Info, which attested to the KNB's attempts to influence a prosecutor and a judge in a criminal tax evasion case.
Instead of investigating the KNB members who appeared to be responsible for the wrongdoing, the KNB went after Yesergepov. In January 2009, agents seized the ailing editor from his bed in an Almaty hospital, where he was being treated for hypertension. Eight months later, after a sealed trial riddled with procedural violations, Yesergepov was sentenced to three years in prison for "collecting state secrets." All of his appeals have been denied.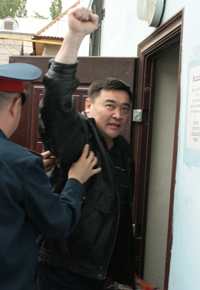 My initial requests to be allowed to visit with Yesergepov, at right, in Kazakhstan had gone unanswered. Then, once at Prison Colony No. 158/2 in Taraz, I received permission to visit him. I was relieved and hopeful that, at long last, I would be able to see Yesergepov, talk to him about the conditions of his imprisonment, relay to him the greetings and support of his colleagues at CPJ, and witness his physical condition firsthand. I was just about to be led to the colony for the meeting when the prison administrator who had granted me the access received a phone call on his mobile phone. His superiors at the Taraz penitentiary service (KUIS) under the local branch of the Ministry of Justice wanted to meet with me and the rest of the group, the administrator said.
We drove to KUIS. After waiting in front of the agency's closed gates for about an hour, a guard called in Rozlana Taukina. He said it was his orders to only let her inside. When Taukina came back, she conveyed what KUIS's deputy chairman, Didar Rakhymberdiyev, had told her: that Nina Ognianova of the Committee to Protect Journalists is to never receive access to Yesergepov.
Deeply disappointed, I asked the KUIS guard to please call Rakhymberdiyev and ask him to allow me in so he can deny me the access face-to-face. I felt it was only fair, since I had travelled to his doorstep, that he would give me a personal explanation as to why I was to be denied a meeting with Yesergepov. The guard did make that call, but Rakhymberdiyev's response was curt: he would not talk to me directly. I asked the guard to pass me the receiver so I can try and persuade Rakhymberdiyev to change his mind. The guard gave me a knowing look and, in an almost compassionate voice, said to me: "You understand, these are my orders."
And so it was that I came within several feet from the colony where Yesergepov was held—having travelled first thousands of miles from New York to Almaty, then another 300 miles (483 kilometers) from Almaty to Taraz—but was left waiting outside the gates.
The good news was that at least my colleague Rozlana Taukina with the Almaty-based Journalists in Danger foundation was allowed to meet with Yesergepov. Before she went in, I jotted down some questions for her to ask him for me. Here, then, is my interview with Yesergepov, as recorded by Taukina:
Nina Ognianova (through Rozlana Taukina): How is your health? Do you receive adequate medical help?
Ramazan Yesergepov: First, I would like to thank the Committee to Protect Journalists for the support you have given me during my legal persecution and imprisonment. Your arrival in Kazakhstan and your attempt to visit me in jail is a huge psychological boost for me. By banning you from meeting with me, Kazakh authorities have further discredited themselves in the eyes of the world—especially now that they chair the Organization for Security and Co-operation in Europe (OSCE).
As for my health, I try to keep myself in good shape. Of course, the conditions I was subjected to when I was held in pre-trial detention [a unit maintained by the KNB] for more than 11 months were torturous: I was sent tuberculosis patients as cell mates; I was denied medical help even when my blood pressure had hit critical readings. These conditions took a toll on my health but I became stronger in spirit.
Here in the prison colony the conditions are better, but even here the medical facilities lack equipment, specialists, and medicine.
N.O.: How can we, as representatives of the international press freedom community, effectively help you from abroad?
R.Y.: Your coming here at the colony is already a real support for me. I would like you to carefully read the article for which I was imprisoned, to read the letters [the two internal KNB memos Yesergepov published] that have been labeled "top secret," and to see for yourself that I have not revealed any state secrets. I just could not ignore the wrongdoings of the secret services, of which these documents attested.
The mechanisms for influencing a country where the principles of democracy are being violated are many. Those should not include only monitoring but also some resolute actions—for instance, the adoption of sanctions against certain politicians, such as denying them entry to democratic countries, banning them from buying property in those countries, and so on. All these actions are well known to you; the question is whether [Western] governments would [apply them]. Enough painting rosy pictures of the life Kazakh citizens presumably live while in reality the country is slipping deeper and deeper into the abyss of authoritarianism!
N.O.: Is there anything that you would particularly like the world to know, to pay attention to?
R.Y.: The cynical actions of our authorities with regards to the human rights of Kazakhs can be considered a laugh in the face of the OSCE as an institution. Others have spoken about the harassment of independent media, and of the increased repression against opposition members and critics. I only want to add that, lately, authorities have been using sealed trial proceedings against dissidents, where all kinds of violations can happen and be concealed from the public.
I went through all the stages of the Kazakh court system—including the Supreme Court. And all of the courts diligently neglected the apparent violations in my case. The announcement of my verdict was made in the absence of a defense lawyer. Every lawyer I had suggested to represent me was rejected by the prosecution. The official explanation for the rejection was that this was done "to prevent the further revealing of state secrets." In addition, no defense witnesses were allowed to take part in my trial. I was also refused access to my own verdict, and, as a result, I could not prepare a good quality appeal.
N.O.: How do prison guards treat you? How about other inmates?
R.Y.: The authorities at the prison colony treat me rather positively. It is not they who are preventing representatives of international press freedom groups from meeting with me. In prison, I actively help other inmates with advice on how to defend their rights in court. They treat me with respect.
I have little hope that I will be released early. But I do hope that with the support of international organizations the issue of the lack of fair trial for political prisoners in Kazakhstan will be put on the international agenda.
(Translated from Russian by Nina Ognianova)