Kensuke Nishioka, 42, looked different from the other Japanese journalists I encountered in Tokyo during a February trip. Maybe it was the pink hair. "Don't believe any journalist who says they're at risk in Japan," he declared, shrugging off the time, at age 32, when two members of a nationalist group cornered him in his office, broke his ribs, and injured three others in protest against an article he wrote. (Police arrested and charged the attackers.) Or the following year when the Japanese mafia, the yakuza, kidnapped him for a day and threatened him to stop reporting.
In general, Nishioka confided through a translator, he selects his stories with an eye to readership, not social justice—a strategy that keeps him safe and once garnered him an industry award for writing about a prostitution scandal involving former Prime Minister Yoshiro Mori. Mostly, yakuza violence is like a nuclear weapon. The chance it'll be deployed is deterrent enough.
Lawsuits seem to be going the same way. Nishioka co-authored a book, Getting SLAPPed, due out in Japan today, with friend and fellow freelancer Hiro Ugaya. They and other critics use the term SLAPP, or "Strategic Lawsuits Against Public Participation," to refer to lawsuits they believe are misused to inhibit free speech: A corporation or other entity able to pay for legal defenses files a charge, such as defamation or invasion of privacy, against an individual who has been publicly critical of them or their product. The charge might have no basis, or be wildly out of proportion to the offense, but the prohibitive cost of making that clear in a court could ruin the defendant and foster self-censorship in anyone else tempted to make critical comments of their own.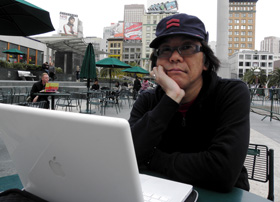 Nishioka and Ugaya have identified a trend of unnecessary or inappropriate lawsuits used to punish Japanese journalists and bloggers for reporting, and fear tools intended to defend privacy and reputation have the potential to muzzle investigative reporting. Each learned the hard way what it's like to get hit with an avalanche of litigation. Nishioka was recently indicted on 50 counts of defamation—one for every district court in the country. The union of Japan's railway workers, one of the biggest in Japan, wanted to sue him for a report he wrote alleging the financial links between the union and a radical leftist political group. Once apparently wasn't enough.
Ugaya was in California during my visit to Tokyo. He told his story by e-mail: In February 2003, he penned an article in AERA, a national weekly magazine published by the Asahi Shimbun newspaper, arguing that Oricon, a company that issues the Japanese popular music charts, should be more transparent about the methods they use to compile the figures. A new, rival chart didn't match, and record companies were asking whether the hit list could be manipulated to affect sales, the piece said. "That's all," Ugaya assured me in his message. "Three months after the article I left the Asahi newspaper company, where I had worked for 17 years, and completely forgot about Oricon."
Fast forward to 2006, when another magazine, Cyzo, called him out of the blue for comment about Oricon. Ugaya responded, and was, Cyzo confirmed much later, misquoted in an article that tried to establish an irregular link between Oricon and a prominent talent agency. It was Ugaya's first mention of the company in three years, made in an even more critical context, and Oricon sued for 50 million yen (about US$561,000) in damages—not the journalist, editor, or publisher of the Cyzo piece, but Ugaya himself, now freelancing, a notoriously hand-to-mouth endeavor in Japan. What's more, the charge sheet listed the AERA article among his crimes, until the very end of the proceedings when it was excised because the three-year deadline for filing suit had already passed. The slip was telling. "They got nervous," Ugaya explains, "presumably because they had never been checked or criticized in public before. They used the lawsuit as a means to intimidate me."
In April 2008, Oricon was awarded 1 million yen (US$11,000) in the case, and Ugaya's subsequent countersuit was dismissed. But he was vindicated on appeal, at least on paper. A Tokyo High Court judge negotiated a settlement in August 2009, in which Cyzo (not Oricon) paid Ugaya 5 million yen (US$56,000) and corrected the record about his published remarks. All parties paid their own legal fees. As victories go, it rang hollow: Ugaya estimated his costs (Kazuo Hizumi was one of his three lawyers) and loss of income came to almost double that amount.
The specter of massive legal damages, like yakuza violence, threatens to puts a damper on the Japanese media. But Nishioka and Ugaya are still going out of their way to make themselves unpopular with all the wrong people. "I've stopped putting my name into Google," Nishioka grinned as we conclude out meeting in Tokyo. "It's my policy for peace of mind." Ugaya is looking for a publisher for his next anti-SLAPP project, and self-funding his research in the meantime. "I will find a way," he signed off one e-mail. "I believe."