Newsweek journalist Maziar Bahari helped us launch Attacks on the Press at the United Nations in New York today. Bahari, an Iranian-Canadian citizen, was labeled an enemy of the Iranian regime and cruelly imprisoned for 118 days last year in Tehran. His very presence today, CPJ Deputy Director Robert Mahoney noted, was testament to the "tremendous efforts of press freedom groups around the world" that have advocated for the release of jailed journalists. But with at least 47 journalists in jail in Iran as of February 1, according to CPJ research, it's still a "pretty grim picture," Mahoney said.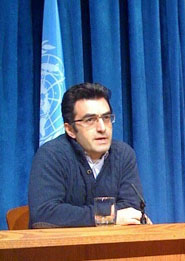 As part of CPJ's efforts to engage the global community in protecting journalists and their right to report, Mahoney called on U.N. Secretary-General Ban Ki-moon to make freedom of expression a top, ongoing U.N. priority.
Bahari, who was held in solitary confinement for much of his imprisonment, credits international pressure in part for his freedom. "I think, as in my case, patience and piling on pressure through publicity eventually should have results," he said. Asking the secretary-general to prioritize press freedom will have a ripple effect, he said, and "that ripple effect helped free me."
Speaking alongside Mahoney and Bahari, CPJ Asia Program Coordinator Bob Dietz stressed the need to keep press freedom abuses high on the international human rights agenda. In Attacks on the Press, Dietz wrote about the escalating dangers to reporters working in conflict zones in Afghanistan and Pakistan.
When asked by a reporter for the Canadian broadcaster CBC whether it is too dangerous now for foreign news outlets to send reporters into war zones, Dietz said the alternative is "much, much worse"—creating a vacuum in which not enough people will be on the ground to bear witness and report what they see to the world.