January 6, 2010


His Excellency Abdirahman Mohamed Mohamud Farole
President of Puntland
Presidential Palace
Garowe, Puntland
Via e-mail
Dear Mr. President,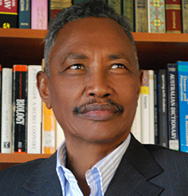 The Committee to Protect Journalists is concerned about deteriorating press freedom conditions in Puntland, including detentions, censorship, harassment, and direct attacks by police officers. Many of these disturbing attacks have targeted the U.S. government-funded Voice of America and one of its reporters, although several local reporters say they are seeing an overall pattern of harassment.
Mohamed Yasin Isak, a local correspondent for Voice of America, was released from custody today after being held without charge for 17 days at the offices of the Puntland Intelligence Services in Bossasso. The detention appears to contravene Puntland law requiring that charges be filed within 48 hours of arrest.
Isak has faced prior harassment as well. In August 2009, police briefly detained Isak and Radio Galkayo reporter Abdullahi Hersi, local journalists told CPJ. Police told Isak to stop his work for VOA, they said. The detention came shortly after VOA aired a report detailing allegations that the son of a former governor was involved in a killing.
In October, Deputy Information Minister Abdishakur Mire ordered FM stations not to air VOA reports for one week, and he directed Isak and two other VOA journalists, Abdulkadir Mohamed and Nuh Muse, to stop working in the region. The ministry said in a statement that the station had not reported objectively, but it did not elaborate.
One month later, police shot at least 15 times at Isak's car at a checkpoint in front of the regional governor's office in Galkayo, the Media Association of Puntland reported. Isak suffered a wound to his left arm, local journalists told CPJ. Police commander Col. Muse Ahmed Muse Hasasi told local reporters that an unidentified officer fired because the journalist's car was speeding and appeared suspicious, according to news reports. Speaking to CPJ, Isak denied the allegations. Hours before the shooting, local journalists told CPJ, Hasasi had come uninvited to a meeting of local reporters and threatened Isak with unspecified harm. Journalists had gathered to discuss a recent episode in which security forces assaulted several reporters and blocked others from attending a local government meeting.
Police shot at another reporter in December. An unidentified officer at Galkayo Airport opened fire on Radio Galkayo Director Hassan Jama without provocation, according to local reports. Jama, who did not know why he was targeted, said two of the shots narrowly missed him.
That no officer has been held accountable in these attacks reflects a climate of impunity that undermines the rule of law and contravenes constitutional protections for freedom of the press. Mr. President, many local journalists saw you as a supporter of press freedom when you were elected in January 2009. But the actions of your government in these cases reflect intolerance and repression. In addition, several local journalists have told CPJ that they face ongoing threats and intimidation from Puntland security and police officers.
We call on you to order an immediate investigation into the shootings of Isak and Jama, to halt government-sponsored harassment and censorship, and to ensure journalists are allowed to work without threat or intimidation. Thank you for your attention to this matter.
Sincerely,
Joel Simon
Executive Director